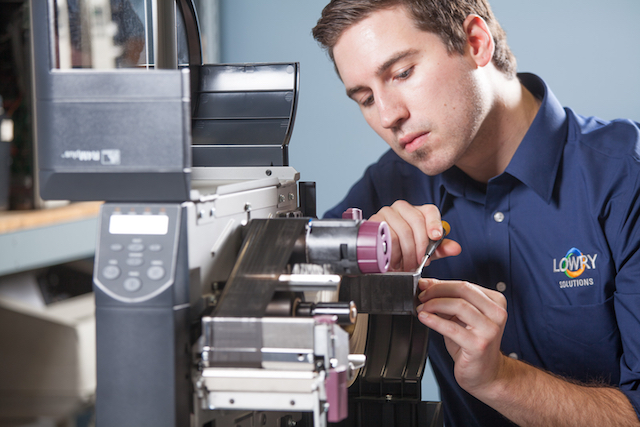 Its experienced staff helps enterprise mobility, IoT and Blockchain solutions provider Lowry Solutions retain and delight its clients.
By Jim Harris
Lowry Solutions' thousands of clients may work in a variety of industries and in different locations around the world, but they are all a participant in a formal supply chain. "In more than 40 years, you will not find a Lowry client that would complain that we had not delivered what we said, when, how we said we would deliver it and continuously provide support services to foothold our solutions," says Mike Lowry, CEO of the Brighton, Mich.-based company.
The company prides itself on being available to its clients on the highest level including having direct contact with CEO Mike Lowry, who co-owns the company with his brother Steve Lowry. "Although we are a large company, the nature of our customer service model is to do it now, and do it right," stated John Greaves, IoT, RF and Blockchain architect for Lowry. "When we onboard a new client or a new project, our methodology is first-class. We know what we're doing and do it well."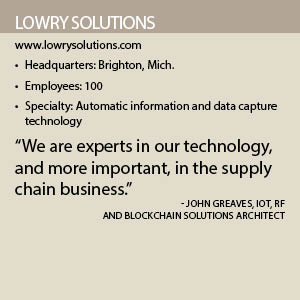 All of Lowry's executives and staff are well versed in the technology solutions. "None of us are new to the game; we are all highly qualified and can serve clients because we are industry-aware," he adds. "We are experts in our technology, and more important, in our clients' business."
Founded in 1974, Lowry Solutions provides enterprise mobility solutions and automatic information and data capture (AIDC) technology to clients. Solutions provided by the company include barcode, radio frequency identification (RFID), biometrics and asset management. "We are a state-of-the-art company that helps our clients comply with the needs of the Industrial Internet of Things [IIoT]," Greaves says.
The company offers solutions that allow cost reduction, improved business process efficiency, improved staff productivity, improved asset/inventory visibility, supply chain standards and compliance to its clients. "Most, if not all, Lowry projects support IT, operations and finance," he adds.
Client Service
Lowry serves clients in the manufacturing, transportation and logistics, warehouse and distribution, healthcare, retail and government sectors.
"Our 40 years of experience as a technology solutions provider focused on these sectors has allowed us to bring innovative solutions to our clients," Greaves says. "We couldn't be more excited about our opportunity to deliver the new for IoT and Blockchain technologies to them, as well."
A typical client engagement starts with a site assessment that benchmarks their current technologies and business processes versus a best practices future state in where they could reduce costs and increase efficiencies and productivity.
Lowry's corporate headquarters in Brighton stocks products from major manufacturers including Zebra, Honeywell, Intermec, Datalogic, Getac, Epson and Printronix. "We believe our fulfillment meets current industry best practice, and we regularly review it," Greaves says. "Many of our clients visit our headquarters because it is a world-class facility."
The headquarters also incorporates a simulation center, conference facilities and an education center. Their simulation center includes an indoor/outdoor test lab, distribution racking and warehouse racking that can handle a full-scale model of technology validation. "Our simulation center allows us to demonstrate our clients' own products," Greaves adds. "Many of our clients visit our facility to learn about new technology and to become aware of their own capabilities and how other businesses are benefitting from the use of our solutions."
Lowry contracts with logistics suppliers as well as shipping companies to send products to clients. "When embarking on a supply chain project, Lowry's operations team identifies the best partners that can drive economic value with the best digital integrated services," Mike Lowry says. "We actively seek out partners that understand state-of-the-art digital supply chain requirements and have a proven track record in developing and implementing those pieces. We take pride in our ability to build long-term relationships with our partners that bring a proven commitment to clients, on-time deliveries, quality and services to match our own."
Diverse Offerings
In addition to its AIDC and RFID hardware, services and software solutions, Lowry Solutions operates four other business units. The newest of these units is Sonaria, a hybrid cloud and on-premise software platform enabling IOT use cases for industry and supply chain.
"Lowry has a widely established customer base operating on our enterprise software for supply chain traceability, manufacturing execution, packaging automation, inventory management, and asset tracking," said Joe Leone, Lowry's chief technology officer. "Sonaria represents the next step in the evolution of our software to integrate these capabilities in a common platform to generate additional value for our clients with emerging technologies in Industrial IOT (IIoT) and blockchain."
Sonaria connects with a wide variety of data sources and devices allowing clients to harness that data for real-time process automation, error proofing, and optimization. In addition to orchestrating improved operations, Sonaria provides analytics and dashboards allowing managers to gain insights for further improvement.
"Sonaria will revolutionize our clients' businesses by harnessing the power of their data through IoT to create the digital supply chain," Leone says. "The dynamic workflows, business rules, and alerts of the Sonaria decision engine easily adapts to changing business conditions and to the precise needs of each clients' industry, personnel and resources."
In 2017, the company established an enterprise online portal where its B2B clients can purchase barcode scanners, mobile computing devices, RFID devices and switches and software. On the portal, clients can see their product management, corporate approved wireless devices, RFID, barcode, GPS sensors and other IoT devices. They can also see corporate supplies such as barcode label, barcode ribbons, RFID labels, RFID tags and other IoT supplied items. In addition, there is a services area where clients can see all assets under service by serial number and location and view real time dashboards of Lowry's performance against service level agreements. They will also get flash notices of upgrades available, end of warranty, end of service contract and assets end of life. "The portal has become increasing popular and we are staying relevant with the ecommerce side of business as it's the preferred method of purchasing," Lowry says.
Lowry Solutions' other businesses include a government service unit led by by Steve Lowry that offers total AIDC solutions to the federal government for mission-critical operations. "Lowry currently holds the following contract vehicles- we have AIT5, GSA, pRFID III and DLA supplies contracts," he adds.
Lowry's remaining unit, Print Management Services, includes a division called Paragon Labeling Machinery based in Minnesota. "The print services division is a one-stop shop for label print software, printers, print and apply systems, labels, ribbon, tags and comprehensive services from software design to full asset life cycle management," Lowry says.
Projects and Investments
Lowry Solutions' ongoing projects include expanding its presence at Troy Design & Manufacturing (TDM), a company that converts vehicles into police cars used by law enforcement agencies around the world. TDM recently enlisted the company to implement a vehicle work in progress (WIP) and tracking solution. Lowry provided the total solution from software design, all necessary ADIC equipment and full asset life cycle management.
"TDM needed a highly automated, computerized infrastructure to track and report every step of the vehicle conversion process in real time, from receipt to completion," the Lowry says. "Acting alone, barcode technology would not be able to provide the level of automation that TDM's new operations required."
Implementing Lowry's total solution allowed TDM to maintain its quality while getting products to market faster. "Our total solution and full asset life cycle management services allow TDM to maintain its quality and get products to market faster and keeps them up to date on job progress," Lowry adds.
As Lowry Solutions continues to invest in technology and ahead of the curve, it also ensures the top quality products and services for its clients.