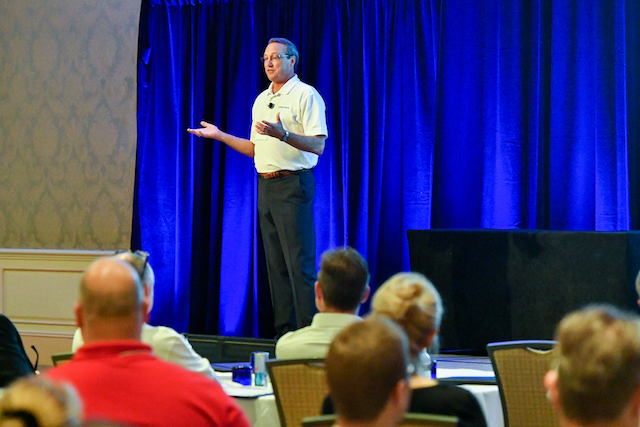 Maine Pointe gives companies the tools to turn their supply chains into competitive weapons.
By Tim O'Connor
Steven Bowen has been involved in consulting for most of his career. Fifteen years ago, while serving as president and CEO of Alaris Consulting, an Illinois-based firm that specializes in strategic sourcing and logistics, Bowen began to formulate the idea that would lead him to start his own consulting business. He realized that no one had properly addressed the end-to-end supply chain from an implementation perspective in a way that also valued doing the right thing, even when no one was looking.
In founding Maine Pointe, Bowen had an opportunity to build a firm based on his own operational values. The Boston-based company focuses on helping clients solve end-to-end supply chain challenges for procurement, logistics and operations using data analytics and supporting technologies. "I see that as one of the biggest bottlenecks every company faces," says Bowen, Maine Pointe's chairman.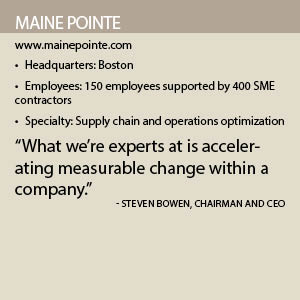 "They lack the appropriate information because they haven't assembled that data into useful, insightful information," he continues. Companies needed a better way to understand that data so they could tap into the true potential of their supply chains. Bowen's experience and philosophy led to the development of Total Value Optimization (TVO), an end-to-end supply chain model that assesses a business' buy/make/move/fulfill maturity.
Transforming Supply Chains for Competitive Advantage
At its core, TVO is a visualization of how a supply chain performs as represented by a three-sided pyramid. Three functional areas, procurement, logistics and operations, each make up one of the pyramid's vertical edges, while data analytics and leadership comprise the foundations. Along those edges, from bottom to top, are five points that mark the maturity level of each functional area.
As an organization optimizes its operations, it elevates itself along the maturity curve and reaches closer to the tip of the pyramid. Once all three areas have reached the top, the organization has achieved Total Value Optimization.
By using the pyramid, companies can see what areas they must improve to optimize their supply chains and what must be done to get there. Maine Pointe maps the journey to efficiency in an understandable and digestible way so that companies can actually act upon it and achieve full collaboration and integration. "It's being able to take the demand profile of the true customer and integrating that demand back into your supplier's suppliers," Bowen says.
The assessment process typically takes between four and 12 weeks and involves a sit-down with top-level executives to develop an in-depth analysis of the client's business. The extent of the analysis depends on each individual client's need. "We define a journey that might be across that whole supply chain or it might be an engagement that deals with only one function of the supply chain," Bowen says.
Once supply chain operations are mapped out and the client has an understanding of its maturity levels within the TVO pyramid, Maine Pointe works with employees at every level of the business – from senior leadership to the people on the loading dock – to implement solutions and achieve the defined outcomes. "What we're experts at is accelerating measurable change within a company," Bowen explains.
On average, clients see a return on investment of $6 in annual savings for every dollar invested. One executive, a repeat customer that applied TVO across three different companies, saw $310 million in cash savings and $290 million in earnings before interest, taxes, depreciation and amortization (EBITDA). The staggering results show that TVO is about more than efficiency – it's a total change in the way businesses think about their supply chains. "It's really about transforming that global supply chain into a competitive weapon for growth," Bowen states.
Many business leaders are already believers, but Bowen is now working to bring the TVO concept to an even wider audience. In November, he
published his first book on the subject, "Total Value Optimization: Transforming Your Global Supply Chain into a Competitive Weapon." The book is aimed at CEOs through to entry-level managers who want to learn how to optimize their supply chains through real-world examples.
"Where most companies have the hardest struggle is 'how do we take our great thoughts, our strategies, and actually implement them?'" Bowen says. "As the author of the book, what I hope is that people would develop a passion for what's possible."
More people and organizations are waking up to those possibilities. Last year, the University of Tennessee's Global Supply Chain Institute endorsed TVO as the best methodology it has seen for implementing collaboration and integration across the supply chain.
TVO Potential
Since its founding in 2004, Maine Pointe has grown from its initial five employees – three of whom are still with the firm – to a workforce of 150 direct employees and supported by 400 specialist contractors operating out of offices in Boston; Calgary, Alberta; Schaffhausen, Switzerland; and Shanghai. "We've been on a mission to grow to be known as one of the most sought-after operational implementation consulting firms in the business," Bowen says.
With locations strategically placed around the world, Maine Pointe can better serve its customers' global supply chains. The company's clients come from a range of markets, including private equity portfolios, chemicals, oil and gas, manufacturing and food and beverage. Most recently, Maine Pointe began helping industrial manufacturers optimize their supply chain operations. "We're now going after that space outside of the private equity space directly," Bowen explains. "That's a growing entity we expect to see substantial growth in this year."
That growing workforce and expanding footprint represent that potential for TVO to shake up how supply chains operate. Bowen believes TVO could someday be for the supply chain industry what lean concepts were for manufacturing. "If I have my ultimate dream, that's what TVO would become," he says.