MoneyGram invests in people, processes and technology to increase its speed and efficiency and improve its customer service.
By Janice Hoppe-Spiers
As one of the world's largest money transfer and payment services companies, MoneyGram focuses on becoming faster and more efficient to better serve its customers. "Our new mantra today is 'send money your way,'" Vice President of Global Strategic Sourcing Chris Chandler says. "We see our business as a way of connecting people in the global economy. It is all about giving people the ability to transact whenever and wherever is most convenient for them."
MoneyGram can trace its roots back to 1940 with the founding of Minneapolis-based Travelers Express Co. Under parent company Viad Corp., Travelers Express quickly became one of the world's largest processors of money orders and a key player in the electronic payments industry with ties to big-name businesses, including Greyhound Corp. and The Dial Corp.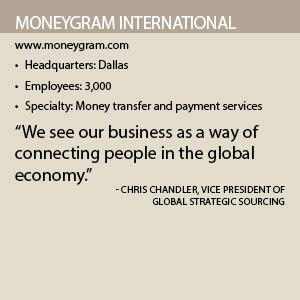 In 1998, Viad Corp. purchased Denver-based international money transfer company, MoneyGram Payment Systems, which was founded in 1988. Travelers Express and MoneyGram were seamlessly united to form MoneyGram, which quickly became a globally recognized and well-trusted brand. In 2004, Viad sold MoneyGram and it became a publicly traded individual entity.
Today, MoneyGram is the second-largest money transfer and payment services industry in the world with approximately 350,000 agent locations. "We have an aggressive expansion plan that includes 15 to 20 percent of money transfer revenue from self-service channels including online, mobile, account deposits, ATMs and kiosks," Chandler says. "We believe that self-service investments focused on an exceptional consumer experience are integral to our continued success."
CEO Alex Holmes' vision for MoneyGram is to not just be viewed as a financial services or money transfer company, but more of an innovative technology company. Through innovation, the company believes it can service its customers better, faster and more efficiently.
"MoneyGram is committed to being an innovative company," Chandler says. "We want customers to be able to send, receive and transact whenever and wherever they choose. Strategic Sourcing will help us deliver on commitments by providing the most cost-effective services."
Successful Sourcing
There was a time that MoneyGram had no central sourcing operations and most of the decision-making was left up to the individual business units. The company was not leveraging the potential of its purchasing power because of it.
"We play a key role in bringing all of the regions of the world together wherever it makes sense," Chandler says. "Some of the business we oversee works on a global scale and some of it works on a regional scale, but we look for cost savings on the expense side. At the same time, we are focused on mitigating risk and making sure we have the right agreements with our suppliers and are adhering to regulations within each market."
Global strategic sourcing came into greater focus for the company a few years ago. "Global strategic sourcing is a fairly new function for the company, as this department used to be focused on procurement alone," Chandler says. "Procurement is part of strategic sourcing, which requires looking further down the road and being more than just transactional."
The biggest challenges for the Global Strategic Sourcing function of MoneyGram is to be more agile, move faster and try to make things easier for the customer. "My vision here is to make things easier for our internal customers and the same type of process goes for our stakeholders," Chandler says. "It can't take three weeks, for example, to get something fairly simple done. We have to have the right processes in place and do it efficiently to not hold up growth and enhancements to the business."
The Sourcing team has come a long way over the past three years. Having laid the foundation for the function in its first two years, Sourcing is now focused on process improvement and efficiency, as well as how to further support the business rather than being a support function.
This year, the team will focus on proactively addressing stakeholders' needs and addressing contracts that will be expiring or renewing, for example. "We are the ones doing analysis on spend, so we should be showing where you spent the most money on vendors and activities and we should be going after those," Chandler explains.
The Sourcing team expects in the future to be able to give greater insight to leadership on how process improvements will drive down cost. "In order to be viable in the future if you are in sourcing and supply, it is not just about cost reduction," Chandler says. "It's about bringing valuable insights and having a unique view that allows the leadership to see the linkage between everything they do. That's our unique perspective and we need to leverage that."
Right Processes
There was a time when MoneyGram received feedback from its customers that things were not working for them the way they wanted. For example, things weren't moving fast enough and urgent initiatives took longer than they should, Chandler remembers. "Myself and the leadership team looked at the current landscape and asked, how do we change things?" he says. "We had to set expectations."
MoneyGram created "somewhat of a triage process," Chandler says. "If you come to us with a request that meets these requirements, we can turn that around in x amount of days and that's our service level commitment to you," he explains. "As the request gets more involved, complex and has a higher level of risk, the more time it will take and we communicate that."
By increasing its level of transparency, Sourcing sees its internal customers now understand why certain processes take as long as they do. The Sourcing team tracks, reports and shares its metric data internally. "We see whether we are meeting the metric or not," Chandler explains. "This process has helped increase visibility and will alert us if there is a critical problem that needs to be fixed or if there was just a hiccup."
Digital Space
MoneyGram is investing in technology to remain a leader in the money transfer and payment services category. When it comes to Global Strategic Sourcing, the company invested in a new contract management tool that will move it out of the paper filing system and into the digital age. "It will centralize and tie together the sourcing process," Chandler says.
The company has also been focused for years on ensuring it has the right vendor relationships. MoneyGram fosters a competitive environment around expense management while also looking at contract lifecycle management. Building strong supplier and vendor ties is critically important as the company has addressed competition through RFPs and risk management initiatives in contracts. At the same time, contract lifecycle management enhances the company's focus on deriving maximum value out of the contracts it negotiates.
Investing in a new vendor management system will help the company oversee contingent and outsourced labor, which is the largest category of spend. "As the Sourcing group, we are bringing it all under one umbrella to streamline the entire chain for better control and visibility," Chandler says. "The platforms will eliminate what we do today in our ERP system. Everything will be done seamlessly and take a lot of hands out of the process in that regard."
Once the vendor management system is in place, MoneyGram will be taking a hard look at its existing vendors and identifying the ones that add value and are the right partners for the company. "We have to make decisions about rationalization and look out into the marketplace and see who is out there that we haven't had conversations with that may be a good fit," Chandler says. "We can plug them in and see how they play. If they are successful, they can grow with us."
The goal is to truly partner with vendors so they bring added value to the table and help MoneyGram to be innovative about what it buys and how it is buying. "Our team has to be in front of people internally and externally in order to proactively manage relationships and get our partners to bring more to the table than just a transaction," Chandler says. "We've built a diverse group utilizing best practices so we can leverage our knowledge and achieve optimal operations."
Moving forward, MoneyGram plans to stay innovative by implementing the latest technology and moving faster, which will increase the ease of use for its customers. "I don't see things slowing down," Chandler says. "With this move into the digital space means the folks in this group are going to be busier. We are embarking on this digital transformation and things will come at them even faster.
"The more technology and digitization we have we can deliver things faster and faster as we go," he concludes. "Speed to market is going to be critical."