Schneider Logistics transforms its operations to better serve its customers.
By Alan Dorich
Schneider Logistics is not a firm that is set in its ways. Instead, "We're a strong learning organization," Senior Vice President and General Manager Erin Van Zeeland declares.
The company continuously looks for ways it can "take our customers to the next level," she says. "We have caring leadership that is absolutely invested in our people, and that translates in how we develop our customer relationships – we have passion to make shipping a competitive advantage for customers and to make their jobs easier."
Based in Green Bay, Wis., the Schneider Logistics is a segment of Schneider National Inc., a premier trucking, intermodal and logistics company. Schneider Logistics itself offers brokerage (truckload, LTL and intermodal), supply chain solutions (consulting, procurement and network design/optimization) and Port Logistics (warehousing, transloading and port dray).
Founder Al Schneider started the company in 1935 with a single truck from the proceeds when he sold the family car. Today, "Schneider offers one of the broadest portfolios of service in the industry," Van Zeeland says, adding that the company's trademark orange tractors and trailers can be easily spotted everywhere.
"It makes it a very recognizable brand," she continues, noting that Schneider added logistics and intermodal services over time. "Logistics has seen rapid growth over the last 10 years and now, with intermodal, makes up nearly half of Schneider's corporate revenues."
Best of the Best
Schneider Logistics manages approximately $2 billion in third-party freight annually. It serves a broad customer base that ranges from major retailers and manufacturers to small family-owned companies.
"We help customers find the right way to get their product where it needs to be by providing smart solutions depending on the shipper's cost, service and capacity requirements," Van Zeeland says, noting its customers choose and trust Schneider because of its capabilities and reliability.
"Our customers are successful because we continually assess the service and quality of our carriers and providers," she says. "We work with the best of the best so our customers can count on us to execute."
Changing Expectations
This year marks Van Zeeland's 25th with Schneider. After graduating from Penn State University, she went to work for the company as a business leader in Harrisburg, Pa.
"The rest is history," she says, adding that Schneider Logistics thrives by employing a team focused on creating real value for shippers and carriers alike.
This has helped Schneider Logistics with recent challenges, including a market shift in the third quarter of last year "which disrupted six quarters of excess capacity in truckload," Van Zeeland recalls. Shippers, carriers and drivers also had to work around such natural disasters as hurricanes.
Despite those hurdles, "We're doing well," she asserts, adding that the company continues providing customers the services they need to be successful in their own markets. "We've been able to bring capacity solutions and exceed expectations through our broad portfolio of services."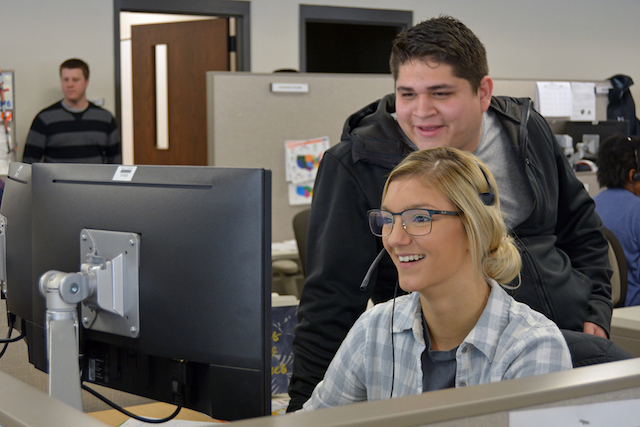 Top Tech
Schneider Logistics recently evolved the way it completes work. "We've taken almost every bit of legacy technology we've had over the last several years and replaced it with our Quest end-to-end technology" Van Zeeland says.
This helped the company gain a better understanding of its market and costs. But its work is not done. "We're going to continue to leverage this investment so we can do a better job of understanding the full network of supply we can offer customers," she describes.
The firm's investments also have given its customers more control. Recently, it introduced OrangeHub powered by Schneider, a shipper portal that connects users to all types of LTL delivery services that they need. Shippers can quote and track freight, get notifications and make decisions on costing and capacity ╨ all at their fingertips on a desktop, tablet or smartphone.
During the development of the OrangeHub powered by Schneider, it spent time with shippers, "understanding what caused them the most frustration with their LTL shipments," Van Zeeland recalls, noting that the final product has been a game changer for Schneider Logistics' customers.
"They absolutely love it," she says. "It takes all of the guesswork out of the different options that they would have in working with LTL providers."
Best Days Ahead
Van Zeeland is proud of what Schneider Logistics is able to accomplish for its customers. "I believe we have some of the most talented people in the industry ╨ not only smart and hard-working, but long-tenured with the company," she says, noting that this is due to the current leadership and legacy of Schneider's former CEO, Don Schneider, the son of Al Schneider.
Before his death in 2012, Don Schneider stressed such values as safety, integrity, respect and excellence. "Those pieces became so enduring in how we execute, our focus on operational excellence and the concern we have for customers and associates," Van Zeeland says. "It's really amazing what this small family from Wisconsin was able to establish and we are proud to be entrusted with."
She anticipates growth for Schneider Logistics, as it continues to serve shippers that experience new opportunities and challenges. "We will ensure that we can help them engineer and manage their processes so that we can help them win at what they're trying to achieve," she says.