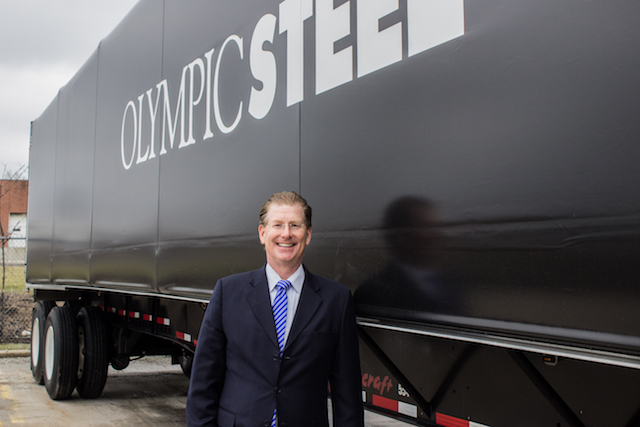 Olympic Steel creates customized solutions to satisfy OEM customer challenges.
By Tim O'Connor
One of the marks of a successful supplier is its willingness to expand capabilities to meet customer needs. In a commodity-driven industry such as metals – where the market sets prices – added services are essential to standing out.
As a national service center for steel and specialty metals, Ohio-based Olympic Steel Inc. is susceptible to the fluctuating prices of its raw materials, making it difficult to compete purely on price. Instead, the company prioritizes customer service and long-term relationships.
"We focus on providing value outside of the metal itself because that's changing in price every day," says Frank Ruane, vice president of corporate purchasing and material management for Olympic Steel. "We take [price] out of the metric by emphasizing our processing and service attributes."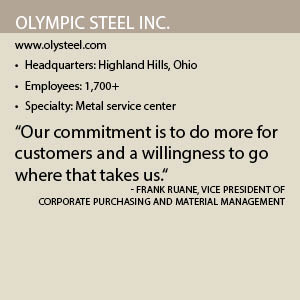 Ultimately, the desire to better serve customers led the longtime distributor into value-added manufacturing. Over time, Olympic Steel management realized it was advantageous to deliver processed steel to customers, thereby allowing its customers to streamline their supply chain. Now, about 20 percent of the company's business is pre-production processing and fabrication.
"Today, we have many more customers that prefer receiving precision parts versus unfinished raw materials," Ruane says.
"It's a commitment to doing more for customers and a willingness to go where that takes us."
Relationship Driven
Brothers Sol and Sam Siegel founded Olympic Steel in 1954 with a focus on warehousing and distributing steel. Ruane joined the company in 1986 when it was still privately held and generated about $80 million annually. In the 32 years since, he's watched Olympic Steel grow into a publicly held company that generated $1.1 billion in revenue in 2016 and now employs more than 1,700 people.
Today, Olympic Steel distributes and manufactures steel and aluminum products to OEMs throughout the Midwest and Eastern Seaboard, with smaller operations on the West Coast and in Mexico. Carbon steel products make up about 65 percent of the company's business. Olympic Steel also distributes specialty metals such as stainless steel and aluminum, tubing and pipe products, as well as alloy, heat-treated and abrasion-resistant coil, sheets and plates.
"The products we deal in are usually considered raw materials by our customers," Ruane says. "It's a big opportunity to help our customers decide what their materials management strategy will be."
The combination of distribution and production helps set Olympic Steel apart from its competitors.
"The idea is to be the best at the combination of services you organize for each client," Ruane says. "(For us) that's distribution, processing and fabrication."
In all, the company operates 30 locations, each of which caters to its own markets and operates with some independence. "Each of the divisions is a unique business but they often share suppliers, " Ruane says. "The ability to share some resources provides a competitive advantage for us and, in turn, for our customers."
Ruane's team coordinates those shared suppliers and materials and sets the high-level guidelines that facilities follow. The individual facilities execute their orders in collaboration with the corporate group. Materials are typically received at the respective facilities and then orders are shipped directly to customers. Olympic Steel owns a proprietary fleet of flatbed trucks, however other carriers move the product too. The company has contracts with more than 300 carriers nationwide and uses third-party logistics providers when appropriate.
Flexible shipping methods enable Olympic Steel to customize delivery for each customer's unique requirements. Some customers want Olympic Steel to store metal at an on-site warehouse for immediate access when needed, while others prefer to receive several shipments a day to keep a continuous stock. Some ask the company to deliver materials not only to their manufacturing facility but to bring it to place it adjacent to the piece of equipment that uses it.
The customization of delivery options is an example of how Olympic Steel's supply chain is designed to seamlessly support customer operations in the most effective way.
"We'll come up with whatever the innovation is that's most efficient for that individual situation," Ruane says.
Setting up truly integrated solutions requires extensive communication between Olympic Steel and those customers. "What we really like to do is have a layered relationship," Ruane explains.
Instead of providing an individual who acts as the sole liaison between Olympic Steel and a customer, it prefers to have multiple points of contact across similar departments. The customer's accountant might have a contact within Olympic Steel's accounts payable department, for example, or the customer's purchasing agent will have another counterpart within the distributor.
For large accounts, Olympic Steel will send an employee to work at the customer's facility full-time to better manage materials purchases, inventory and product shipping. "Relationships get as deep as right on site," Ruane says.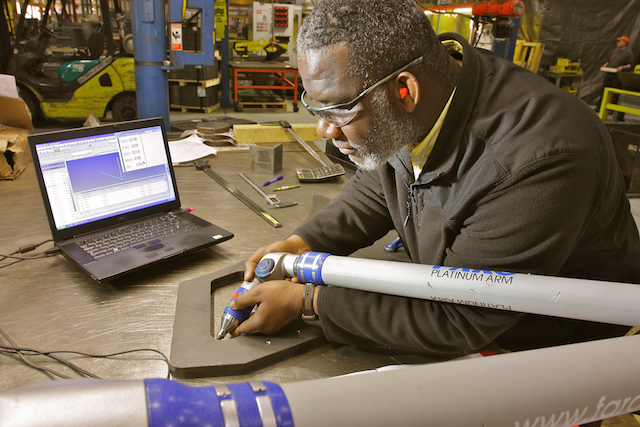 Creating Capacity
New regulations such as the federal electronic driving log mandate coupled with the nationwide driver shortage have made it increasingly difficult to secure trucking capacity. To counteract this challenge, Olympic Steel invested in an internal fleet to reduce reliance on outside carriers. The company has grown this fleet to 90 power units, which now handle a majority of deliveries within 180 miles of a facility.
The expansion of the company-owned fleet has alleviated some of the external pressures, but, like all shipping companies, Olympic Steel still struggles to find enough qualified drivers.
"It's not so challenging to buy trucks; someone will make you a trailer," Ruane says. "It's much harder to locate the high-quality person to drive it."
Company recruiters lure drivers by making Olympic Steel an appealing place to work. Drivers operate new, high-end tractors, utilize Quick Draw Tarp systems, have an excellent benefits package and scheduling for work-life balance. In short, they are important professionals. By improving the working environment, reliable drivers can be attracted who will also leave a positive impression on the customer. "These drivers are ambassadors of the company when they interact with the customer," Ruane adds.
In the end, solving that driver and flatbed capacity problem is about providing reliable service to Olympic Steel's customers.
"For us, creating solutions is the core of being a merchant," Ruane says.