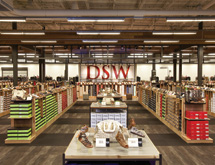 You know how you go into a shoe store, find a style you like and they never have it in your size? Well, Jeff Girard, vice president of distribution and direct fulfillment, is the guy at DSW who makes sure that never happens to you at his stores. One way he is ensuring that is with the company's new store-replenishment system.
The company has so many stores that if Girard had sent a box of shoes to one store a day starting on Jan. 1, 2013, he would not have to send a shoebox to the first store again until the following New Year's Eve. Of course, by then, DSW probably will have 30 stores more than the 364 it has currently, since that is roughly how many stores the company plans to open this year. In 2012, it opened approximately 40 locations.
DSW also has 346 leased locations in the United States. It moves approximately 50 million units annually from a 700,000-square-foot fulfillment center in Columbus, Ohio, another 120,000-square-foot facility in Los Angeles and handles its Internet sales from a separate fulfillment center in Columbus. Internet sales are shipped from Columbus via Fedex. Most DSW stores are in the Midwest and Northeast, but the company also has stores in the South and West.
DSW says its success depends in part on reliable vendors such as National Retail Systems, which manages DSW's Los Angeles warehouse. "We pay them to manage the whole process," Girard says. "They use their lease, their equipment and their labor; we have a DSW on-site director on location."
A different arrangement is used at the Columbus Internet distribution center, where OHL provides managers and labor for DSW. "We have the lease on the building, and we have paid the costs to outfit the facility with material-handling equipment," he explains. "OHL manages it."
Equipment Upgrade
In fall 2009, DSW tested the concept of replenishing its stores with the specific sizes and styles of shoes that had been sold. "The way DSW originated was as a closeout opportunities retailer," Girard explains. "We weren't able to dictate what sizes we were going to get because most of our merchandise was bought through the closeout process. With our closeout routes, we were never able to replenish at the size level – meaning if a store sold a size 8 of a certain style and color, I wasn't sure if I would have another size 8 in the distribution center to send back to that store. Once we became bigger, we started buying more in-season styles from our vendors, and we were able to order the size mix we wanted."
The test results indicated that replenishing specific sizes and styles would generate additional sales and reduce unproductive inventory in sizes that required markdowns for selling. However, DSW had to install upgraded material-handing equipment in the distribution center to support the different replenishment method. The 15-month project of installing a cross-belt sortation system was completed last December.
Costs Cut
Although it is not possible to do size replenishment for all the company's merchandise, Girard estimates that 10 to 12 million units – approximately 33 percent of the company's volume – is replenished at the size level. The sortation system makes that possible. "Overall, we basically cut our costs per unit from a labor standpoint in half," Girard declares. "We also dramatically improved our accuracy of fulfilling at the size level."
Before the new sortation system was installed, the distribution center could ship approximately 40,000 units a day using manual methods. Now, it ships 50,000 units in a shift. Each store has a chute into which the sorter deposits shoes. When enough shoes are in a chute to fill a carton, a light indicates to an operator that the carton should be packed and shipped to the store.
For outbound shipments, DSW uses an outbound network of 18 pools around the country. Besides leaving shipping to trucking specialists, pool networks relieve DSW of the responsibility of filling trucks on the backhaul from stores.
Another improvement due for completion in August is a 40,000-square-foot expansion of the Columbus fulfillment center that will have a 40-foot clear height space. "That will increase SKU capacity by about 40 percent," Girard says. The company does not have the capacity to split an order between two distribution centers yet.
"Setting up regional distribution is a project we will be undertaking later this year," Girard forecasts. "About 18 months ago, we went live with a new warehouse management system. That is going to help us as we pursue becoming more of an omnichannel retailer. The way we're looking at omnichannel is making all our inventory available to all our customers anywhere, anytime. Part of being able to do that would be the capability of being able to ship to any customer from any of our facilities wherever we have inventory." ­­­