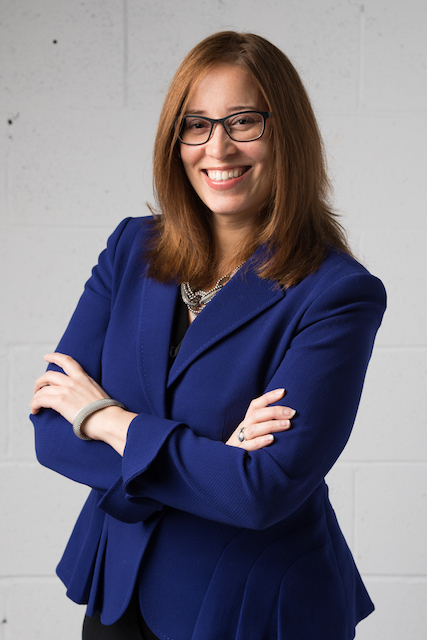 Rogers Communications' newly formed supplier management team keeps customers in mind as it builds tools to improve collaboration with vendors.
By Tim O'Connor
Building a new team within a larger organization starts with finding the right talent. That's especially true for the supplier management group within Canadian telecom giant Rogers Communications, which consists of only eight people but is tasked to drive change that ripple throughout a $14.1 billion (CAN) business (revenue in 2017).
When forming that new group last year, Director of Contract and Supplier Management Samantha Crawford drew from a pool of candidates both inside and outside the company from a range of disciplines, including banking, analytics and category management. "It's really hard to find somebody that has got everything," she says. "In some way, I prefer you have a variety of strengths because I think that rounds out the team."
Building a team with diverse skillsets better enables the newly formed group to consider every decision through three key lenses: Will it meet Rogers needs, will it meet its customers' needs and will it meet its suppliers' needs? "It's a good variety of folks that have played and sat in different seats," she says. "They help us think about all aspects of what we are doing."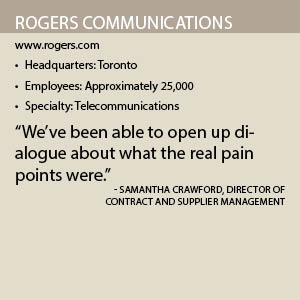 Relationship Management
Canadian entrepreneur Ted Rogers founded his namesake company in 1960 with the establishment of the first private television station in Toronto. Seven years later, Rogers started its own cable TV network, setting the foundations for what would become one of Canada's largest multimedia companies.
Today, the company Rogers founded has a hand in nearly every field of telecom and entertainment. The company offers internet, cable and cellular services; it operates television and radio stations, including a sports network; and it owns the Toronto Blue Jays and has partial ownership of the Maple Leafs, Raptors and Toronto FC.
"It's an ever-growing and changing industry," Crawford says, "which is one of the things I really like about it."
Managing the supply chain for such a large company that touches so many different fields is a monumental task. Creating efficiencies within that multi-faceted business requires a clear strategy to spark change, which is why Rogers has bolstered its focus on procurement with the creation of Crawford's supplier management team.
Crawford's goal is to turn that new group into a best-in-class supplier management organization that lives up to Rogers' commitment to putting customers first. On the procurement side, that means thinking about its selection of suppliers and identifying products that meet quality standards. "We have always had a vision to move here," Crawford says. "Being able to get that kind of insight, to see where there were opportunities within supply chain for supplier performance … that was one of the catalysts."
The supplier management team governs about half of Rogers' external spend and is involved with nearly every area of the business aside from athlete contracts, television content development and procuring the products sold on The Shopping Channel. The team itself is still small so it can't be hands-on with every purchase made or contract signed. Instead, the group is creating a consistent framework of guidelines and processes for the operational supplier managers within those various business units and divisions to follow.
Although the supplier management team is responsible for setting those standards it does not function inside a silo. Crawford works with her peers in compliance departments and vendor management teams to address a variety of topics related to supplier performance. With input from those other parts of the company, the supplier management team is developing a supplier code of conduct policy that will guide interactions with external partners to ensure positive outcomes for both Rogers and its suppliers. Companies such as SCI, a third-party logistics provider, welcome the change and see the benefits of working towards total relationship management.
Crawford refers to the intra-company effort as a supplier performance community – a group dedicated to creating company-wide training tools that can be used by both Rogers' employees and suppliers during the onboarding process. Having those tools in place and actively teaching them to employees and suppliers will help set expectations for interactions and ensure both sides adhere to Rogers' ethics and code of conduct. "It's one thing to read it, it's another thing to think about how to apply it to everyday life," Crawford says.
Company-wide training through the supplier performance community is expected to roll out this year, but it's only one part of the supplier management team's near-term goals. The group has soft-launched an executive-level supplier council that provides input on how to better align Rogers with its third-party suppliers. "If there are things we are trying to get approval on, or change-manage, we can go through this supplier council and get their feedback and support," Crawford says.
If creating transparency across its entire supply chain network was the first catalyst for establishing the supplier management group, then the second was the potential to enhance the customer experience. "The only way to really do that is to have a good framework and have a good governance with your suppliers around performance," Crawford says. "While we've had some success, we realized we really needed to make it more formulaic."
Social Responsibility
Having better tools in place to manage supplier relationships will position Rogers to meet its larger goals, including sustainability and social responsibility. In 2015, it became the first Canadian company to join the Joint Audit Cooperation (JAC), a telecom operators association that shares best practices and sets social responsibility guidelines for member companies and their suppliers.
The organization audits suppliers to ensure they are adhering to labor, ethics, environment and health and safety standards. The results are then shared between JAC members so that companies can make informed decisions about which suppliers are adhering to their corporate social responsibility commitments.
"What we find is suppliers really appreciate the audit," Crawford says. Some Tier 1 suppliers don't have the scale to do such detailed reviews of their own supply chain, and the JAC reports can notify them of issues they might not have otherwise discovered. "They're usually very responsive and very quick to help with the corrective actions," Crawford continues. "It's been a very powerful tool for us."
Setting Expectations
After only a few months in existence, the supplier management team has already made much headway in improving communication between Rogers and its suppliers when issues arise in a service level agreement or performance. "We've been able to open up dialogue about what the real pain points were," she says.
But Crawford cautions that trying to do too much at once could compromise quality and follow through. "It's great we have such ambitious goals and have so much we want to accomplish quickly, but sometimes we have to remind ourselves of our pace," Crawford says.
There's a trade-off between capacity and desire when it comes to what is possible. The team must ensure it delivers something solid and valuable before it tries tackling the next layer. To hold itself accountable, the supplier management team is designing its own set of key performance indicators and is developing a maturity scale that will mark milestones on its roadmap of digital procurement tools and systems. "We wanted to have a way to measure the holistic view of the elements that move us from operational management up to relationship management," she says.
"We're trying to make sure we've got measured elements throughout that process," Crawford notes. "It's really foundational because it's helping us understand our own workflows and requirements we'll need when we want to automate those aspects."
Crawford believes it will take about three years to create true clarity around supplier performance and expectations. "Right now, I'm most proud of Rogers' commitment to supplier management as a way of ensuring we are delivering the best products and services to our customers – and we're doing it in an ethical and socially responsible way."