Sedlak Supply Chain Consultants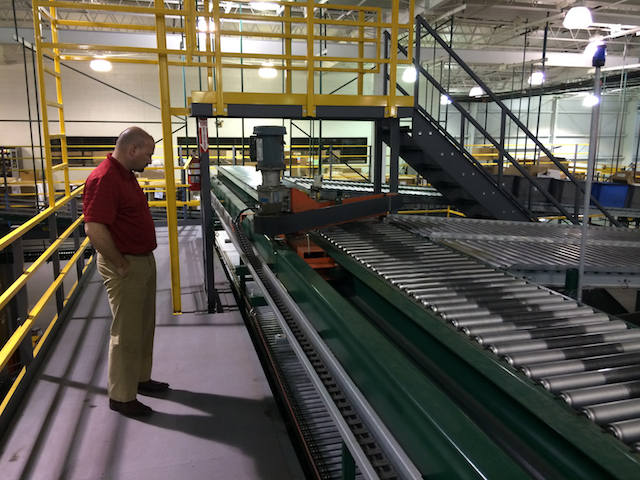 Sedlak Supply Chain Consultants helps retailers and others improve their supply chain and distribution operations.
By Jim Harris
For the past 60 years, Sedlak Supply Chain Consultants has helped retailers and others navigate through a constantly changing marketplace. "There are existential challenges for retailers who are trying to deal with today's market, and our job is to help them through that space," says Dave DuBose, vice president of business development.
One of the most obvious of these challenges is competition from e-commerce giants such as Amazon. Meeting next-day and same-day delivery expectations without driving up costs is a constant challenge for retailers. The Cleveland, Ohio-based company helps many of its clients build their e-commerce distribution capabilities. "In-store sales might be declining and stores are closing across retail, but online sales are growing by double digits," DuBose adds. "We help retailers think about ways they can leverage the assets in their in-store networks to creatively meet online sales demand, such as shipping from stores or using stores as pop-up distribution centers."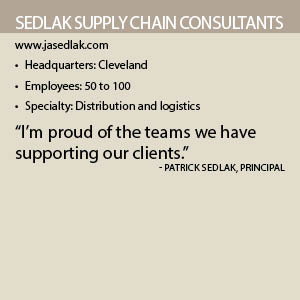 Amazon and others also absorb a lot of labor in many markets, which places an additional challenge on retailers. "If Amazon puts a 1-million-square-foot distribution center in their backyard, that puts a lot of pressure on retailers who are scrambling for labor," he says. "We help companies stay on the cutting-edge of material handling – such as automatic sorters and robotics systems – to help them operate more efficiently."
As the industry has changed over the years, Sedlak has been successful at understanding clients' needs and bringing order to chaos. On one of its recent projects, the company worked with a retailer that wanted to bring its distribution in-house. "They had a number of reasons for wanting to do that, predominately because they wanted to have greater control over the service and customer experience," DuBose says.
Sedlak worked on a network strategy with the retailer that included outlining several logistics scenarios. "We compared and contrasted the relative cost and service factors of each scenario, so the client would know what each would look like, what it would take to execute it, and how much it would cost," he adds. The client ultimately decided to re-engineer its supply chain to bring its distribution in-house.
Client Support
Sedlak has served more than 1,200 clients through more than 2,500 projects. The company provides services related to supply chain and distribution strategy, distribution center planning and design, material handling solutions, facility and operational improvements, warehouse management and control systems, project management, omni-channel fulfillment solutions, and third-party logistics provider selection.
"We can work with a client from strategy to implementation in a robust way, and that is borne out by the longevity of the clients we have and the work that we do," DuBose says.
The company works with all types of retailers, including those who sell soft goods, hard goods, and food and beverages. In addition to its work in the retail sector, Sedlak provides consulting services to a broad range of industries.
One of the company's fastest growing client bases is the healthcare sector. "We stay up on technology and apply it appropriately for our clients; we have always adapted to changes in the environment," says Patrick Sedlak, one of the company's three principals along with his brother Ned Sedlak and brother-in-law Jeff Graves. "Healthcare and healthcare systems today are changing, and we are involved headlong into that by supporting materials management and consolidated service centers."
The company in recent months has performed strategic assessments in healthcare networks that have focused on ways to drive out costs while improving services. "If you're a health system that includes four hospitals and 30 regional locations, the movement of blood samples, charts and basic materials is being done in a non-integrated network because optimization was never a priority," he adds. "However, with the pressure of modern healthcare costs, everything is being reviewed and the old ways are being challenged. These are exciting times to support healthcare systems because there is lot of opportunity out there for improvement."
Sedlak's ongoing initiatives include connecting its retail, healthcare and other clients with software companies that provide prescriptive analytics software and material handling systems. "We are not a software company, but we can expose our clients to that technology and help them navigate its deployment," DuBose says. "As an independent consulting firm, we can offer an unbiased and broad perspective on providers in the technology marketplace and help our clients determine best-fit solutions for their business."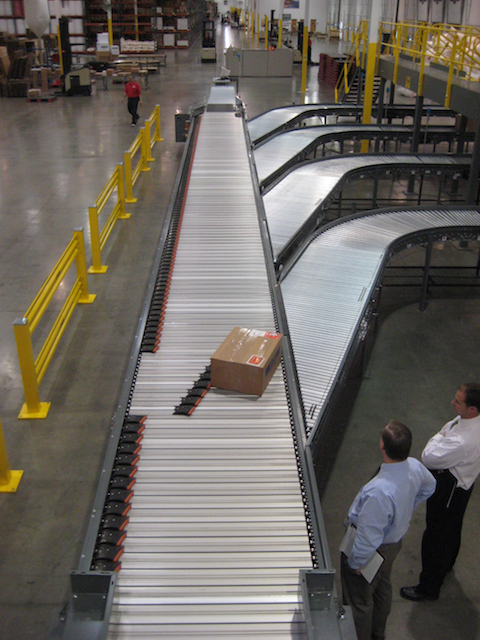 The Long View
Joseph A. Sedlak, Patrick's father, founded the company in 1958 after designing a new, state-of-the-art facility in Cleveland for women's apparel manufacturer Bobbie Brooks.
Sedlak met Bobbie Brooks CEO Maurice Saltzman at John Carroll University in Ohio, where Sedlak taught engineering courses. Sedlak – who studied industrial engineering at the school – had previously designed a material handling system for another company.
The distribution center attracted the attention of companies who came from New York City to tour the facility. Sedlak, who led these tours, would frequently receive calls from companies on evenings and weekends asking for his help, his son says.
The company continues to follow one of Joseph Sedlak's founding principles. "One of the things my father believed in is that in order to be successful you needed balance between your personal life, your religious faith and your business life," says Patrick Sedlak, who has worked with the company for 34 of its 60 years in business. "That has remained with us and is still the fabric of our organization."
Sedlak will celebrate its 60th anniversary throughout 2018 during a number of events including a client appreciation day. Roughly 75 percent of Sedlak's business is repeat customers and referrals. Many of the company's clients have worked with it for 10 years or more.
"We take a long view of our client relationships and successes," Patrick Sedlak says. "We are a family-owned and run business, so we can make investments into our business that other, publicly owned firms cannot."
The company will also host events recognizing the work of its associates, many of whom have worked there for 13 or more years. "We would not have made it as far as we have if we didn't have the best associates," he adds. "I'm proud of the teams we have supporting our clients."