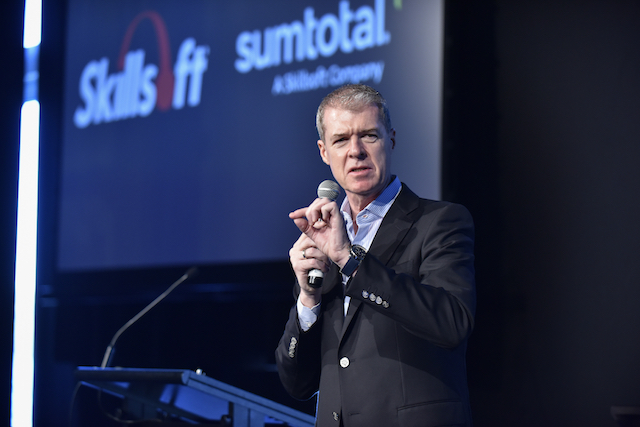 Skillsoft is working to create a centralized procurement department to spend its money more efficiently and effectively.
By Bianca Herron
Skillsoft is the global leader in corporate learning, providing engaging experiences with high-quality content for more than 20 years. The Dublin, Ireland-based company, with its U.S. headquarters in Nashua, N.H., is a trusted partner of some of the world's leading organizations, including 65 percent of the Fortune 500.
Skillsoft says it aims to build technology and content that drive business impact for today's modern learners. Its 500,000-plus multi-modal courses, videos, authoritative content chapters and micro-learning modules are accessed more than 130 million times every month in 160 countries and 29 languages. The company also supports 6,700 customers in several markets, including business services, construction and engineering, education and training, financial services, government and healthcare.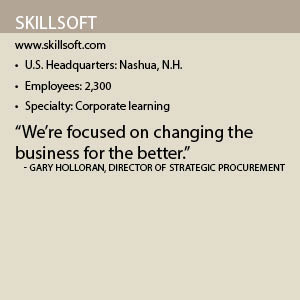 In addition, Skillsoft prides itself on training more professionals than any other company in the world, according to Director of Strategic Procurement Gary Holloran. With 400 million users, one billion learning modules – and counting – Skillsoft sets itself apart from the competition with 120,000 pieces of content, including more than 7,000 courses, 65,000 videos, and 46,000 book options.
"We cover all aspects of eLearning, from business skills and leadership, IT skills, digital skills to compliance," Holloran says. "We have award-winning customer service with exceptional customer loyalty that we focus on our customers."
He adds that 94 percent of users say they'd recommend Skillsoft. "We have a proven track record for business impact and ROI," Holloran says. "Eighty-six percent of end-users apply what they learn in six weeks or less."
Keys to Success
With more than 40 percent of its employees working in customer support and eLearning consulting, Skillsoft ensures the success of its customers' eLearning programs by aligning it to their business needs.
"We begin by developing the eLearning program in conjunction with your strategies, culture and events to leverage best practices," Holloran explains. "Then we work with you to maximize your eLearning success. Our consultants, customer support and application engineers provide core program support services, which is a fundamental value-add. These teams deliver the expert corporate learning services and advice to help establish our customers' general strategy for deployment and adoption of powerful learning programs."
Skillsoft is leading the way in training, according to Holloran. He adds that the company is developing new leadership development courses to offer foundational content for signature or custom leadership development programs for emerging, high-potential, front-line and mid-level leaders in today's agile organizations.
"The rigorous and relevant content coverage, with ancillary assets for reflection and application, will be an optimal combination of timeless and timely topics for 21st century digital leaders," he explains. "This includes topics on agility, leading virtually, embracing diversity, collaborative leadership and leading with digital technology."
Also, Skillsoft is releasing a new digital transformation solution to address the digital transformation needs of today's organizations. This suite of modern video-based courses helps organizations prepare their workforces for digital transformation at scale and unlocks digital readiness for the business.
Performance Driven
Holloran joined Skillsoft in 2017 to centralize procurement activities that were being done by separate functional groups across the company with the objective to gain greater efficiencies and structure. He has since added two new people to his team, with plans to add more, and aims to make the department successful by focusing on key areas of spend.
"I think the success of any procurement team is understanding where the team is spending money within the organization," Holloran says. "From a budget perspective, we need to know what departments, individuals and internal stakeholders have that responsibility."
He notes that this allows Skillsoft to partner with its internal stakeholders and provide them with value-added things as an additional resource. "In addition, we also have to figure out how to save dollars so that we're spending our money more effectively and efficiently," Holloran says, adding that he has run into a few challenges.
"There's always a systems challenge because we want to choose the correct tools to use," he explains. "Then we need to figure out how we will roll those tools out to the organization."
Another challenge is choosing the right processes. "We know that people want to do the right thing," Holloran says. "However, people need to know what we are doing, and we need to be able to communicate that to the organization, no matter the department. Our challenge is determining how we take that process of early involvement, supplier selection, contract legal review, budgeting review, and simplify them so that it is easy and streamlined for the end-user."
Currently, Skillsoft has a desire to improve its travel and expense system using automated tools that offer the company the ability to leverage data to negotiate with travel partners, and offer employees a more efficient process. "It's a win-win solution," Holloran says, noting that Skillsoft will have one consolidated travel management company and its employees can access that specific platform from their mobile devices.
"All these elements give us better data, which allows us to provide better reporting," he explains. "From a procurement and supply chain perspective, this also allows us to manage our suppliers better and provides us with better visibility into our data, which leads to better deals."
Holloran is a "big believer" that establishing internal stakeholder relationships will be key to the procurement department's success. "When you understand what they're trying to do, and vice versa, you then become an extension of their team," he says. "For example, to me, a good guide to success is if someone from the IT team wants to come and get someone off my team. That's success because they know what they are capable of, how valuable they are and what they bring to the table. So that's always my objective: build a great team that the business wants to take."
Working Together
Skillsoft's suppliers also play a key role in the centralization of its procurement department. Holloran notes that his first approach with each of the company's suppliers is to understand its value to the company.
"Part of that is my being new to the organization," he explains. "I want to understand what they have done, and how they are involved in our business or not for many reasons. For example, maybe they aren't keeping up with us, or we aren't keeping up with them in terms of where our direction is going.
"They have been very understanding of the function and what we are working to achieve," Holloran continues. "Everyone has a job to do, so they appreciate it. From a historical nature, they have been very supportive by providing the background and relationships they have with the company. We have many longstanding relationships, so they've been good about connecting the dots with me regarding how they fit into the business. They are also working to help reduce costs for us as well."
Skillsoft will celebrate its 20-year anniversary this year. Holloran says that he most appreciates the support the procurement department has received from the organization. "I know things are just getting started and we have a long way to go, but I know we're on the right track," he says. "I'm proud of the fact that we're centralizing procurement and are working to bring more value to the organization, whether it's process or policy improvement, or cost efficiencies. We're focused on changing the business for the better."
Once the procurement function is centralized, Holloran aims to continue growing the department. "I'm one that never settles," Holloran notes. "I think part of it is continuing to evolve as a function as the business grows to meet our customers' changing demands. It's about integrating ourselves into the business and the business strategy on an on-going basis."
For anyone working to centralize a procurement function, Holloran advises them to listen, learn and deliver. "You have to listen to your internal stakeholders who are your customers," he concludes. "Learn from them and your supply base. Listen and learn from your boss. Find out all of your key performance metrics so that you are in alignment to drive the organization."