Mitchell Gold + Bob Williams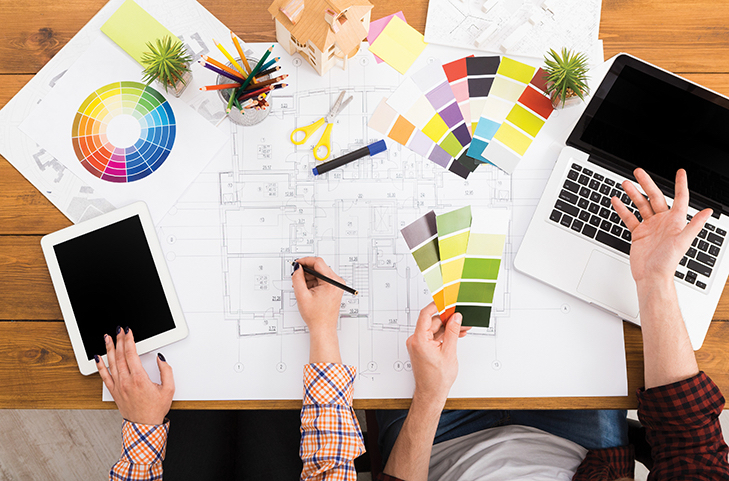 Mitchell Gold + Bob Williams continue to create a more comfortable and stylish world while focusing on eco-friendly manufacturing.
Mitchell Gold and Bob Williams (MGBW) embarked on a journey to share their vision of a more comfortable – and stylish – world almost 30 years ago. "Mitchell Gold + Bob Williams' singular style has made us one of the most sought-after tastemakers in the business with an approach that encourages style for all," the company says. "Our collections can be found in many famous people's homes, many not-so-famous people's homes and on screen. We are regularly featured in magazines, TV and a variety of media locations."
The Taylorsville, N.C.-based company is located in the heart of Furniture Row and the plant is the "heart and home" of the MGBW brand. Mitchell Gold + Bob Williams makes everything in the United States, building all of its frames and springs. It pads and covers its furniture by hand in its on-site factory. "Each piece is assembled carefully by skilled artisans to bring you a true work of art that will stand the test of time," the company says.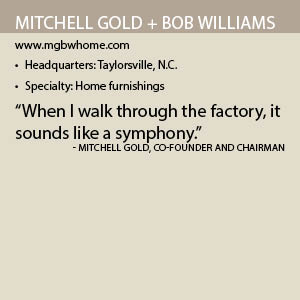 Each graced with a very different background, Gold and Williams are said to have provided the ingredients for the perfect blend of fashion, fun and functionality for the MGBW brand. Gold, co-founder and chairman, served on the Board of the Human Rights Campaign for seven years. During the 2004 presidential campaign he was a North Carolina delegate to the Democratic Convention and fundraiser who raised more than $1 million for the Democratic Party.
Williams, co-founder and president of design, leads the award-winning design efforts that combine style, value and quality. He graduated from Parsons School of Design in 1985 and met Mitchell while working as promotions art director for Seventeen Magazine in New York.
"Early in their partnership, Bob inspired Mitchell by saying he simply wanted to create the kind of company where people want to come to work," the company says. "Today, that company offers a truly inspiring work environment, including an education-based not-for-profit daycare, corporate chef and health-conscious gourmet café, gym, walking track, annual health fairs, an on-site nurse and college scholarships for employees' children."
In-Home Design
To celebrate its 25th anniversary in 2014, Gold and Williams authored the coffeetable book "Who We Are," which offers an introduction to Mitchell Gold + Bob Williams, the company's values and its style. The founders share their "unique take on business, life and design."
Gold and Williams also released The Comfortable Home: How to Invest in Your Nest and Live Well for Less in 2009. The business partners share their insights, experience and practical knowledge to make a home that is both designed and designed for living. "With a focus on spending money wisely – investing in pieces you will have forever and making strong statements with affordable ╘pretty little things' – all aspects of creating a beautiful, inviting living space are covered," the company says.
Mitchell Gold + Bob Williams offers a personal touch to home design and believes in giving great service. The company's designers are available to visit customers' homes to create with them a welcoming space that suits their needs and tastes, featuring its signature MGBW pieces. "The balance of creating an everyday haven and comfortable welcome for guests is paramount," the company says. "We are proud to bring our expertise to our customers in their homes."
Carefully Orchestrated
A team of skilled local artisans works hand-in-hand with the in-house designers to bring the MGBW brand to life. Manufacturing at Mitchell Gold + Bob Williams means ensuring master-level quality every step of the way and keeping jobs in the country. "When I walk through the factory, it sounds like a symphony," Gold says. "To us, ╘Made in America' is more than a catchphrase. It's the very heart and soul of our company."
Mitchell Gold + Bob Williams' cutting-edge manufacturing and warehouse facility encompasses about one million square feet. Its products include slip-covered and tailored upholstery in fabric and leather. Its home furnishings range from sleepers, sectionals, chairs, beds, ottomans and dining chairs to tables and storage, lighting, rugs, bed linens, accessories and artwork.
Mitchell Gold + Bob Williams' factory is integrated with intelligent software that monitors the company's energy consumption to increase its overall efficiency while reducing waste and expense. Energy-efficient lighting is used throughout the facility and monitored by the intelligent software for maximum efficiency.
The company uses eco-friendly packaging material, as well. Mitchell Gold + Bob Williams uses eco-friendly cartons and updated the liner that wraps around each upholstered piece to one that is made with earth-friendly material and easily recyclable.
"We invest in innovative technology and machinery in an effort to reduce material and paper waste while increasing efficiencies throughout the manufacturing process," the company says. "We are exploring future projects such as solar energy production, which could allow us to produce 100 percent of our current electrical demand, and water-based finishes, which would reduce our VOC emissions by 50 percent."
Sustainable Furnishings
Mitchell Gold + Bob Williams prides itself on its eco-friendly initiatives. "At Mitchell Gold + Bob Williams, we recognize that our home is the planet we share and we are dedicated to preserving it as a proud member of the Sustainable Furnishings Council," the company says.
For example, MGBW cushions are free of fire-retardant chemicals and the back pillows on its upholstery styles are partially composed of recycled fibers that were once plastic bottles. Wrapped in 80 percent regenerated fibers, its ozone-friendly foam and padding are composed of up to 10 percent soy, which is an all-natural, renewable resource, the company says.
Wood frames are sourced from local domestic suppliers that are compliant with U.S. forest requirements for harvest and forestation. The trees are precision cut by computers, which Mitchell Gold + Bob Williams says is best for the environment because it provides the highest yield from each tree cut. "Many components for our upholstery frames are earth-friendly, including water-based biodegradable glue with springs and mechanisms made from 65 percent recycled metal," the company says.
Mitchell Gold + Bob Williams' finishing supplier develops finishes that reduced its VOC emissions by 38.6 percent. The company prides itself on an extensive recycling initiative for paper, plastic and aluminum materials that furthers the product lifecycle while reducing its carbon footprint. It is also able to reduce its landfill waste by more than 200 tons annually by selling its fabric and leather scraps to manufacturers who will make them into a variety of products.