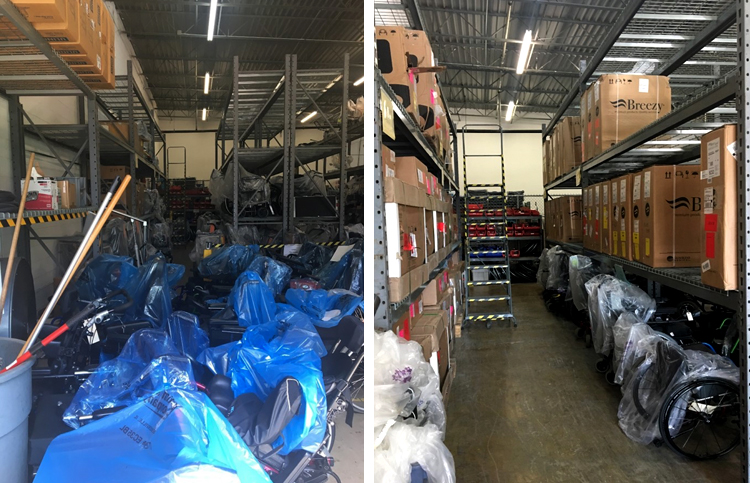 Numotion focuses on improving every aspect of the supply chain to ensure timely deliveries of high-quality products to its customers.
By Janice Hoppe-Spiers, Senior Editor at Knighthouse Media
As a leading provider of complex rehab technology (CRT) in the United States, Numotion continuously improves its supply chain to ensure it offers the highest level of customer service. Customers are the company's purpose as it strives to improve the lives of people with disabilities by enabling them to actively participate in everyday life.
Numotion was established in 2013 after the merger of two large complex rehab technology companies. The Brentwood, Tenn.-based company has 140 Numotion locations across the country with more than 2,400 employees to serve more than 250,000 people annually.
"We are helping thousands of people with individually configured, medically necessary mobility products and services," says David Mapes, vice president of supply chain. "From manual and powered wheelchairs to disposable medical suppliers that serve unique medical and functional needs, we are helping more people live more freely."
Numotion's staff of more than 400 Assistive Technology Professionals (ATP) is the "best in the industry," Mapes says. They are the primary customer-facing team that works directly with a physicians and therapists to match a customers' unique needs with the correct mobility solution. The company also works directly with more than 2,000 private and government insurances, and helps its customers finance products they need.
"One of the process challenges we saw with clients is that they come from all avenues of life and some aren't in a position to acquire the products they truly need to lead an independent life and they walk away from those orders because of financial constraints," says Harbinder Johl, vice president of lead process excellence. "The financial solutions partnerships we have developed allows customers not to have to defer the opportunity."
Reducing Turnaround Time
Numotion strives to deliver an exceptional customer experience from the very beginning. "We continuously focus on the entire process from not only the customer's perspective, but also the perspectives of their insurance provider and family members. From the first touch point when we learn we are going to be working with them to when the customer gets their chair, it is all important," Mapes says. "We focus a lot on compressing the cycle time to get our customers the device they need.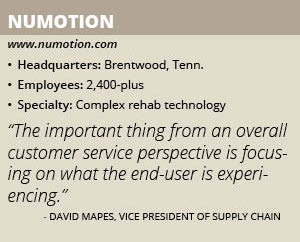 "A lot of our customers have sustained an injury that requires a mobility device and the faster we get them fitted with the correct equipment, the sooner they can more actively participate in everyday life," he continues. "We are working with insurance providers to reduce and in some cases eliminate the paperwork to further compress the delivery cycle time."
In January, Numotion CEO Mike Swinford announced the company's plans to drastically reduce the cycle time to process orders and provide chairs. The timeframe for turning orders around has a huge range: from two weeks up to four months for more complex orders. "It's going to take hard work and collaboration with a lot of partners, including external parties," he says.
Numotion created a preferred product list based on its customers' needs assessments. The company also has developed strategic partnerships with key suppliers that can deliver products within a timeframe that meets the end-users' needs. "Instead of having 500 different supplier relationships, we limit the suppliers we work with to the ones who can deliver on the experience we are trying to give our customers," Johl says.
The company created supplier scorecards with key attributes it wants to measure – cycle time being one of them – to determine those that are best in class. "If the supplier gives us a delivery date of April 4, for example, we expect it to be that day so we can accurately schedule the customer's delivery," Mapes explains. "If it's April 10 and the product shows up, that negatively impacts our ability to provide an outstanding customer experience."
"Some of our customer's lives literally change overnight because of an accident or rapidly progressing medical condition," Mapes adds. "Our preferred supplier list allows our ATPs to have access to a wide range of CRT solutions that will support their customer assessments. We partner with our suppliers to streamline the ordering process through product configurators to reduce the overall ordering cycle time."
Improving Service
Numotion's supply chain team is not only focused on reducing the turnaround time, but also works with the company's service team to implement remote wheelchair assessments that enable a more proactive service model. "The important thing from an overall customer service perspective is focusing on what the end-user is experiencing," Mapes says. "We are utilizing tools like remote assessment services to proactively fix issues and schedule service events before equipment actually fails."
Looking at the entire ecosystem relating to how Numotion works with their suppliers is important. "Our company has a much greater focus on the total cost of ownership, so we really make sure and hold manufacturers accountable for product quality," Johl adds.
Mapes and Johl are both lean Six Sigma certified and focus on continuous process improvements within the supply chain. "Before you throw technology at a problem, we make sure that we have the people closest to the process involved to determine the as-is state, what's broken and what we need to fix," Mapes explains. "Then we look at whether we can apply technology to sustain long term changes."
"You really want to understand the change that you are proposing and really make an impact," Johl adds. "One thing I've always told our people is test before tech. Walk in the shoes of the people you represent and fulfill the requirements they are asking for and not what you think it should be. Same goes for process excellence and improvements."
In addition to focusing on customer-facing process improvements, Numotion utilizes LEAN/5S (sort, straighten, shine, standardize and sustain) processes within its 140 branches to optimize inventory stocking, repair operations and equipment assembly operations. "Driving out waste and inefficiencies in these areas ultimately benefits our ability to provide world class customer service," Mapes says.
Moving forward, Numotion plans to continue improving its supply chain to always meet the needs of its customers. "There is not one part of the business we aren't touching to drive improvements and cycle time, and maintain quality," Johl says. "In the absence of clear understanding of what a need is, customers ask for everything. We are making an effort to really sit down and partner with everyone involved to separate the needs from the wants to get our customers what they need when they need it."