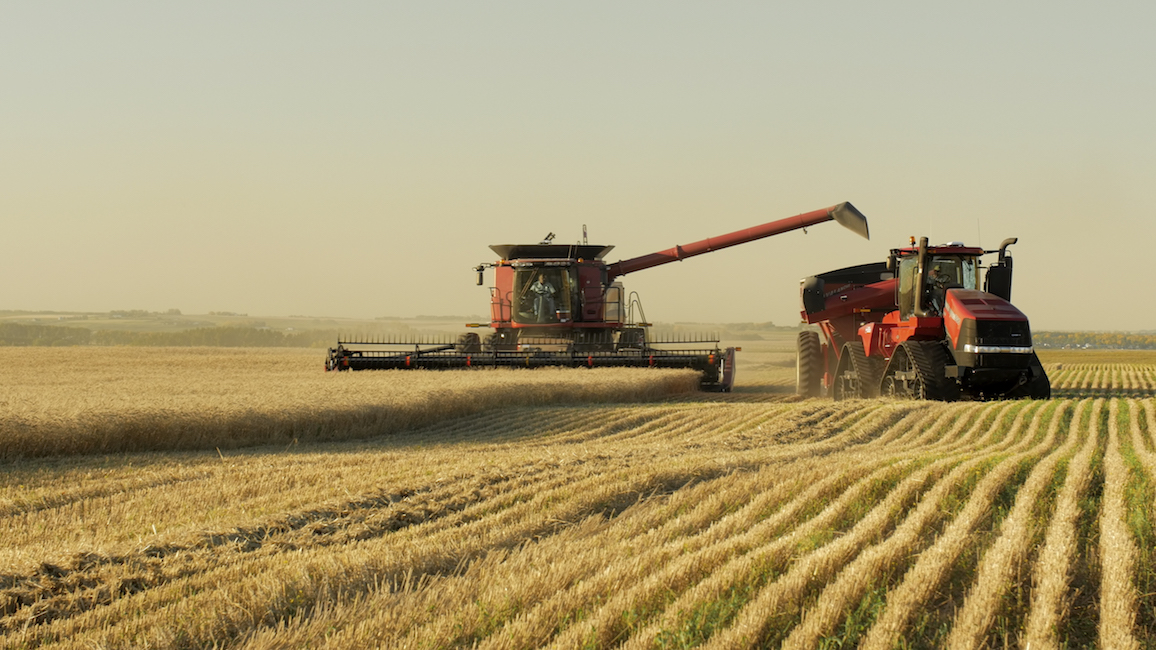 Rocky Mountain Equipment combines its agriculture and construction equipment stores to increase exposure as it expands.
By Janice Hoppe-Spiers, Senior Editor at Knighthouse Media
Rocky Mountain Equipment is ripe for expansion as it continues to strengthen its balance sheet and gain efficiencies through the consolidation of its stores. "Our latest strategic move was consolidating our construction equipment with our agricultural offering, which cut costs and increased the exposure of our equipment to more customers," Chief Sales and Operations Officer Jim Wood says.
The Calgary, Alberta-based company is one of the largest dealers of agriculture and construction equipment in Canada. Major brands sold at the company's dealerships include Case IH, Case Construction and New Holland, along with a range of smaller manufacturers. "We are performing well and our relationships are amicable and solid," Wood notes. "We've got the relationships with our customers and the brands we represent. We're well respected in the agriculture industry."
Rocky Mountain Equipment began with 11 stores in 2007. Today, the company has grown to operate 34 in Alberta, Manitoba and Saskatchewan with the goal of bringing professional, stable and dependable equipment partnerships to its customers. Rocky Mountain Equipment closed four of its standalone construction equipment stores to move that equipment into its agriculture stores.
Roughly 95 percent of sales are tied to the agriculture industry with the remaining 5 percent consisting of construction clients. The farmers and agriculture workers who purchase from Rocky Mountain Equipment need more than the latest technology and reliable equipment; they want to buy from a company that will truly partner with them to more easily do business. "It's a very relationship-focused business," Wood notes.
In 2015, Rocky Mountain Equipment acquired RME Geomatics, a company that uses drones to create surveys, maps and imagery, to stay a leader in supplying the technology its customers need. The Ottawa-based company remains the most unique acquisition for Rocky Mountain Equipment in years.
Adapting to Change
Despite a year-over-year decrease in used equipment sales at the close of 2017, President and CEO Garrett Ganden said the company's "strong margins and lower costs" allowed it to deliver a strong fourth quarter to close out the year. "As expected, our inventory levels went through their seasonal expansion in the fourth quarter and we remain satisfied with the composition and size of our inventory profile," he added. "Our confidence in the Canadian agriculture equipment market continues to grow and we remain focused on customer service and financial performance in our market."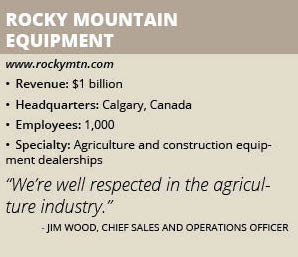 One of Rocky Mountain Equipment's greatest challenges continues to be the fluctuating Canadian dollar, which increases the price of new equipment and the value of late-model used equipment. Because of this, Rocky Mountain Equipment's total dollar investment in used equipment is higher although it carries fewer units.
Used machinery is a large part of Rocky Mountain Equipment's business, Wood says. Manufacturers' certified pre-owned warranty programs have been assets in keeping used machines moving off the lot. Rocky Mountain Equipment's new machinery sales are on pace with the industry, according to Wood.
Community Investment
Rocky Mountain Equipment attributes its continued success to its ability to recruit employees who are passionate about building partnerships with customers. Although it continues to be a challenge for the company to attract solid talent to the agriculture industry due to the branches being rural based, Wood says the company has about 1,000 employees today and is finding success in recruiting.
"We're a large company but we're made up of small stores where the employees actually give a [darn] about the customers," Wood says. "Our staff is very customer focused."
Rocky Mountain Equipment focuses on investing more in the rural communities in which it is located. The company prides itself on nurturing and attracting the "homegrown talent" by partnering with trade schools and co-op programs, Wood says.
Increasing its Presence
As Canada's largest dealer of Case IH and New Holland equipment, the company is continuously upgrading its buildings and adding new buildings as it sees the need to expand. Moving forward, Rocky Mountain Equipment will continue to focus on expansion in Canada and possibly into the United States.
"The more locations we have the more we can consolidate our resources, become more efficient and solvent in size and scope," Wood says. "We have publicly stated we would love to be in the U.S. and the agriculture retailer market in the U.S. is ready for consolidation, but we need permission from the OEMs and we will continue to work with them to find a common ground if it is beneficial for both parties."
Rocky Mountain Equipment sees opportunity in the western United States and the Midwest because they share similarities with the Canadian market. Although no plans are in place, Rocky Mountain Equipment would consider opening a U.S. location if manufacturers were to support the expansion.