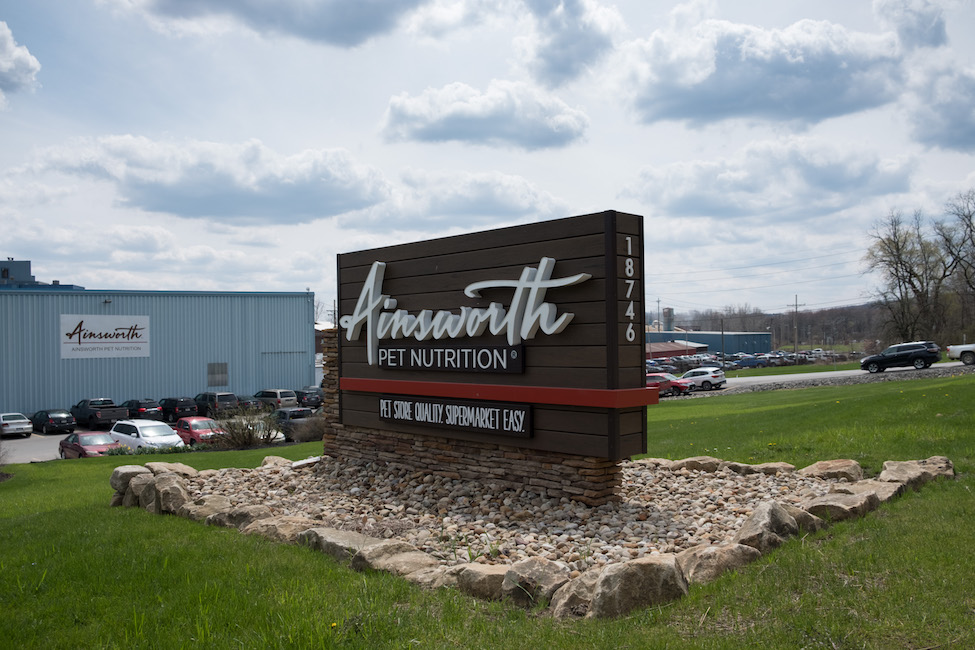 Credit Chris Vallieres
Ainsworth Pet Nutrition's logistics operations stay on top of industry trends and challenges.
By Jim Harris, Senior Editor at Knighthouse Media
During his tenure as vice president of logistics for Ainsworth Pet Nutrition, Ryan Hunter has stressed to his team the importance of being proactive. "We are a high-growth company in an industry that is changing rapidly, and that is very exciting," he says. "We are trying to shift from reacting to growth to driving change within our logistics operations."
The pet food manufacturer identified three strategic logistics initiatives that will allow it to drive change within the organization. The first of these is to expand and optimize its footprint by ensuring it has the right number of distribution centers in the right locations.
The company operates manufacturing sites in Meadville, Pa., and Frontenac, Kan.; as well as distribution centers in Greenville, Pa. and Frontenac, Kan. The company operates an internal shuttle fleet that transports goods within Pennsylvania. Ainsworth also uses APL Logistics, a third-party logistics provider, in Fairburn, Ga., and operates several small overflow warehouses near its production locations. The company relies on several carriers to get its products out to stores and customers, Hunter notes.
The second of the company's strategic initiatives focuses on operational excellence. "We want to make sure we are operating safety, producing a quality product, balancing productivity and service, and building a positive culture," he says.
The third initiative involves building the company's capabilities for the future. "We're looking at ways to understand the impact of e-commerce as well as looking at opportunities to automate and leverage technology," Hunter says.
Founded in 1933, Ainsworth is dedicated to providing consumers with pet food that is "pet store quality and supermarket easy," the company says.
Ainsworth manufactures branded pet food and treats in addition to super-premium, private label offerings. In 2008, the company launched the Rachael Ray Nutrish line of pet food and treats, which has been a key growth driver for the business. "Currently, roughly 95 percent of the company's revenue is derived from the manufacture and sale of super-premium, natural product offerings," Hunter says. "The combination of our experience, brand equity and customer relationships have really enabled us to thrive."
The company today manufactures private-label brands for a few key customers in addition to the Nutrish brand. "The combination of our experience, brand equity and customer relationships have really enabled us to thrive," he adds.
Handling Growth
Ainsworth's strategic initiatives directly address the company's significant physical and revenue growth in recent years. "My manager has a mantra for the entire supply chain of not throttling the company growth, and we've been very fortunate to have had a 20-30 percent growth rate for the past several years," Hunter says. "It has been a challenge to address that without impacting our service or productivity."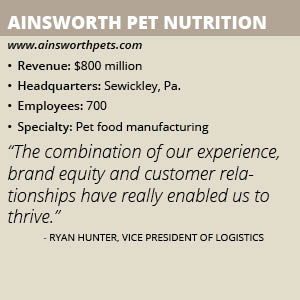 Hunter credits much of the company's ability to keep up with growth to its "best-in-class" sales and operations planning [S&OP] process led by the customer service and planning team. "That's really the foundational work. [Our S&OP] is a monthly process where we're able to cross-functionally contribute, ask questions and ultimately align on what our plan is," he adds. "All of our departments come out of that with the same numbers we're able to execute against."
The logistics department uses the estimates created through the S&OP process to plan its carrier capacity and inventory.
Carrier capacity is the biggest challenge faced by the company. The national increase of shipping rates prompted by the shortage of qualified drivers has exacerbated this challenge. "We have more product now being shipped, as well as customers demanding more stringent arrival times and accuracy with regard to their deliveries," Hunter says. "To address this challenge, we need to rely on teamwork within our entire supply chain and with our third-party partners. It is not 'us vs. them' – we are not blaming our carriers or partners when performance skips; we're all in this together.
"We're not just focused on one piece of logistics; we look at it holistically," he adds. "We need to receive our carriers into our warehouse at the right time and get them in and out quickly; we have metrics across our transportation and warehousing operations to make sure we're supporting each other."
Ainsworth uses the Transplace transportation management platform to coordinate deliveries across its carrier network. The company also uses a warehouse management system at its three distribution centers and overflow facilities to efficiently case pick and load pallets onto the trucks.
The WMS also enables the company to forward-deploy products that are on hold. "The pet food industry requires us to have very high quality standards. Our products are tested for multiple things, but sometimes it can take two days to get a response back," Hunter says. "Having our inventory controlled in one WMS allows us to send products that are on incubation hold from one location in our network to another. When the testing results come back, we can release that product to where it will ultimately be shipped from."
Ainsworth continues to improve its logistics operations. This includes potentially adding more warehouse and distribution operations throughout the country. "Our current trajectory is to look at optimizing and expanding our footprint," he adds. "We are looking at whether we need more locations and distribution centers to support the growth of our business and efficiently deliver to customers."
Experience Applied
Hunter joined Ainsworth three-and-a-half years ago as the company's director of strategic planning and project management.
One of his biggest projects in his former role was co-leading the integration of Triple T Foods into Ainsworth's warehouse management and transportation management systems following that company's acquisition by Ainsworth in 2017. Triple T Foods co-manufactured on behalf of the company for more than 10 years from the Frontenac plant.
Hunter assumed his current position in September 2017. "I'm proud of the balance we have within the overall team," he says. "In my short time here, we've created a logistics leadership team that regularly meets on all levels of the organization to talk about business opportunities, how we're performing and how we can improve.
"We have a balance of industry and consumer packaged goods experience that, along with Ainsworth's company knowledge, has allowed us to come up with a number of creative solutions," he adds. "We've done a nice job gaining input from across our organization, and that's why we are where we are today."
News Flash
In April, the J.M. Smucker Company announced its intention to purchase Ainsworth for approximately $1.9 billion, pending regulatory and final corporate board approval. The acquisition would strengthen Smucker's pet food portfolio – which includes the Pup-Peroni, Milo's Kitchen and Snausages brands – and expand its presence in the premium pet food category, the company said in a press release.