Prologis uses technology and implements strategies to gain greater visibility into its global supply chain.
By Janice Hoppe-Spiers, Senior Editor at Knighthouse Media
Prologis owns, manages and develops high-quality properties in the world's most vibrant centers of commerce. The company owns or has investments in about 683 million square feet in 19 countries. It leases modern distribution facilities to a diverse base of about 5,000 customers in both business-to-business and retail/online fulfillment categories.
"Prologis is the global leader in logistics real estate with a focus on high-barrier, high-growth markets," says Kishore Goud, head of global procurement. "Prologis offers its customers and investors the most modern and geographically diverse platform of distribution space in the world. The company is known for its unparalleled customer service and commitment to sustainable development."
The San Francisco-based company services customers that manufacture and distribute "the goods that make modern life possible," Goud notes. Prologis customers include Amazon, BMW, Pepsi, Home Depot, UPS, FedEx and Walmart, to name a few. "Customers turn to us because they know an efficient supply chain will make their businesses run better, and that a strategic relationship with Prologis will create competitive advantages," Goud explains.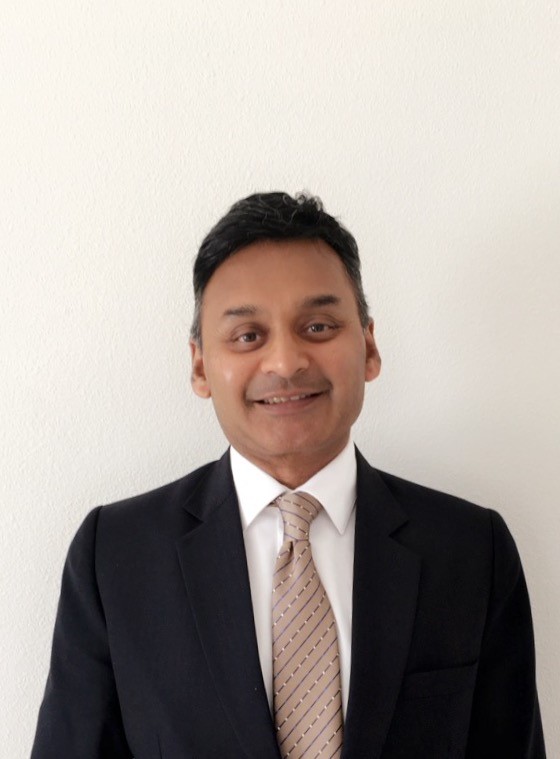 Goud joined Prologis in July 2017 and is responsible for building out the company's procurement capability and organization. "I am most proud of Prologis' innovation and leadership in the logistics real estate sector," he says. "From having our own property managers as a commitment to excellence for our customers to investing in the development of our employees and being a leader in the realm of ESG (environmental, social and governance), Prologis is truly an industry leader."
Strategic Improvements
Insights gained through data analytics are becoming increasingly important to understanding, managing and predicting changes in the supply chain. "We have recently added spend analysis, supplier risk profiling, supplier sustainability profiling and savings tracking to provide us greater insight into these changes and allow us to adjust and fine tune to meet the demands of the marketplace," Goud says.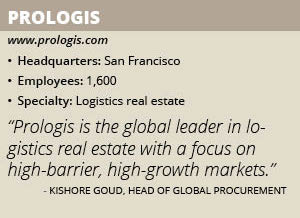 Prologis uses technology to leverage its scale to lower operational costs and create new streams of revenue by offering customers products and services at a lower cost than they would secure on their own. Prologis also uses technology to capture, track and report spend data across the company, leading to increased visibility and better decision-making.
Prologis continues to put strategies and solutions in place to gain greater visibility into its supply chain. For example, the company partnered with a national interior finishes supplier to standardize the process for building out office spaces across its portfolio.
"As part of the partnership, we also created a microsite to virtually display interior finishes in a space, helping customers make the right selections and reducing returns," Goud explains. "By moving the process online, we now also provide standardized shipping options as well as tracking to provide visibility into the order status, quantity, pricing and savings being generated through the national program."
The company regularly meets with its customers and stakeholders to share strategies and to collaborate so everyone is part of the process. "Recently, we put in place a network of change champions across the globe to help with change management as new programs are deployed across our company," Goud says. "They will also provide feedback from the areas of the company that they represent to help us develop and refine strategies that meet their needs, as well as the needs of the company overall."
Superior Service
Prologis prides itself on providing unparalleled customer service and works hard to partner with suppliers that are committed to excellence and can help the company provide the best customer experience in the industry. The company's suppliers handle most of its supply chain services for the goods it procures. "This creates accountability on the part of our suppliers to ensure that our orders are delivered in full and on time," Goud notes.
As a global company, Prologis faces challenges many other companies face, such as multiple languages, currencies and regulations. In some cases, there are also limits on service coverage by suppliers, requiring it to have multiple suppliers for the same type of good or service in one country.
"To combat this, we are asking key suppliers to expand their range of offerings and areas of coverage so that we can channel our spend through fewer suppliers, helping reduce costs, build consistency and speed time to market," Goud explains. "This also presents a great opportunity for our suppliers to gain more business with us."
Historically, most of Prologis' supplier relationships have been at the local property level. Those relationships helped the company grow its business through local market knowledge, attention to detail and timely service. The company recently conducted an analysis of its global spend data and are using the insights gained through that process to prioritize key spend categories and focus its supply base to optimize the mix between global, national, market and local suppliers so that it can strike the right balance between cost, quality, delivery, service and innovation.
"Today, Prologis is a global company operating in 19 countries on four continents," Goud says. "This provides us a great opportunity to leverage our scale in the form of buying power that can help us lower our total cost of ownership. It is critical that you gain visibility into all of your company's spend data. Only then can you truly understand and prioritize where to spend your time."