TricorBraun offers innovative packaging solutions that help its customers differentiate their products at retailers and through e-commerce channels.
By Janice Hoppe-Spiers, Senior Editor at Knighthouse Media
Packaging solution expert TricorBraun specializes in partnering with its customers to source the right package for their products to make their brands stand out in a crowded marketplace. "Our customers want to sell more product and want the cost of the product to be less," COO Mark O'Bryan says. "That's what we focus on. Our packaging consultants, design and engineering, marketing and supply chain teams work for our customers to help them sell more of their products."
The St. Louis-based company has grown to be an undisputed leader in rigid packaging and related services, averaging $1.2 billion in revenue. "Through hard work, perseverance and smart, strategic growth, we have experienced phenomenal success including the ongoing development of designs, molds, territories, engineering capabilities and a broad selection of services," the company says. "With more than 40 locations worldwide, we know that an important key to our success is our people and their strong commitment to customer service."
TricorBraun's 300 packaging consultants and customer service representatives differentiate the company in the packaging industry, O'Bryan says. "We have teams of customer service specialists at our locations. We don't centralize in St. Louis," he explains. "We align customer service specialists to be close to the customer along with our packaging consultants. We really stress that our customer service people take care of the customer, but more importantly they are an extension of the salesforce."
TricorBraun's supply chain management team supports its packaging consultants by focusing on everything from inventory to distribution management, supplier management, transportation along with customer service. The company sources 100 percent of the product it sells to its customers and is able to customize the packaging to meet their needs.
"E-commerce is driving a lot of consumer choices so our focus now is how to sell product through that channel without extensive double packaging to protect it or ensure it doesn't leak," O'Bryan says. "For example, if a salsa company wants to sell their product online, they need a secondary protective packaging to sell it in glass. We worked with a manufacturer that can produce a plastic PET container to withstand a hot fill filling process like salsa while also having a metal closure on top. It's an excellent choice to now be sold via the e-commerce channel."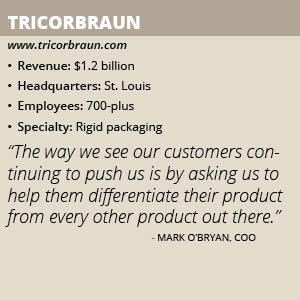 TricorBraun's customers consistently look for ways to take cost out, and the company sources both domestically and globally to identify low-cost options and technology to help its customers achieve that objective. "If you can reduce the amount of resin, the cheaper the bottle," O'Bryan explains. "Likewise, it's all about distribution. We put in a TMS system to help with freight cost to help our customers with this critical cost element. We have a network of carriers and a warehousing management system to try and drive cost out so we don't have to pass inflation on to our customers."
Planning for Demand
TricorBraun developed a detailed sales, inventory and operating planning process to improve its demand management process. "We are the largest distributor of glass wine bottles on the West Coast, selling to all the vineyards from British Columbia down through California," O'Bryan says. "The challenge is that customers want various colors and mold styles to differentiate themselves but also want to manage their cost and inventory levels at the same time.
"Five years ago, our salespeople worked with the customers, aggregated the demand and ordered the demand, which led to higher inventory," he continues. "What we came up with was a very detailed planning process that's right out of the book. If you search 'how to do it,' that's how we do it."
The company works closely with its wine bottle suppliers in China, Europe and the United States and has reduced inventory by 25 percent while growing its business in the wine industry. "It's all about enforcing that rigor," O'Bryan says. "It's not magic. We put processes in place, manage those and make the tough decisions, but keep an eye on inventory and fulfillment rates with customers to drive that and we've had big success in the wine business."
TricorBraun's greatest challenge has been working with our sales team to ensure we still have the inventory for our customers," O'Bryan admits. "We force rigor around not buying unless we have a good demand forecast from those customers, so incentivizing sales and customers to be part of this process is really the biggest challenge," he adds. "Customers prefer to tell you when they need product and quite often they tell you at the last minute. We are trying to create incentives for them to make commitments so the inventory we bring in is the right inventory to meet their needs."
Focusing on Freight
TricorBraun recently invested in a transportation management system to centralize its freight management and reduce cost. "We have 150 packaging consultants with 40 customers each and we used to do freight management locally so every region was decentralized," O'Bryan explains. "We weren't leveraging our spend and that ultimately impacted our customers. In an inflationary freight environment like today, we can't just shift the complete burden to our customers. We have to come up with creative ways to offset it."
By incorporating TMS software and centralizing its freight management process, TricorBraun has been able to save on freight cost which helps our customers. The company bids out its major lanes, which consists of about 70 percent of its volume. "Because we are not a single manufacturing location, we have thousands of lanes and are shipping from 35 warehouse locations along with doing direct delivery from the manufacturers to the customer," O'Bryan says.
TricorBraun partners with C.H. Robinson, a leading third-party logistics and supply chain management provider, to handle more than 50 percent of its transportation needs. "If a lane is negotiated, TMS will drive it to C.H. Robinson, but otherwise it will go out and automatically bid those lanes to carriers and get the best rate for that lane," O'Bryan explains.
Preferred Partnerships
TricorBraun in January acquired Package All Corp., a 33-year-old healthcare-focused packaging distributor based in Bayport, N.Y., to further expand its reach into over-the-counter generic, pharmaceutical and nutraceutical industries.
As TricorBraun continues to grow through acquisition, the supply chain management team is developing a preferred supplier program for its key categories of spend. "We are looking for strategic suppliers where we can make a commitment of volume to keep their machines running and they can make a commitment on price, which will be much more favorable than if we did it order by order," O'Bryan says. "We are the largest distributor in the nutraceutical segment and we want to continue to be the largest to allow the best costs for our customers."
Moving forward, TricorBraun will continue to focus on growth. "The way we see our customers continuing to push us is by asking us to help them differentiate their product from every other product out there," O'Bryan says. "We focus heavily on packaging, how consumers interact with the packaging, their preferences and lifestyle and how e-commerce is changing the way in which packaging is presented and delivered to the customer."