CDK Global continues to improve its supply chain and procurement operations less than four years after breaking out on its own.
By Jim Harris, Senior Editor at Knighthouse Media
Mike Morsch had a big task in front of him when he joined CDK Global as its vice president of global procurement in September 2014. At the time, the company was completing its spin-off from human resources technology giant ADP. "I came on board knowing I would be creating a brand-new supply chain organization," he says.
Formerly known as ADP Dealer Services, the Hoffman Estates-based company is an enabler of end-to-end automotive commerce, providing technology services and digital marketing solutions to automotive dealers. In his position, Morsch is responsible for the company's procurement and supply chain functions. "My group is responsible for what we buy, how we buy it and how we get it delivered, either to a customer, a dealership or to an internal location or data center," Morsch adds.
Delivering products and services to car dealerships and other sites is not always as easy as it sounds. "For the first six months of my tenure, we were focused on getting our contracts split [from ADP], and putting new agreements in place while ensuring our supply chain could still deliver," he says. "We created a new operating model for the organization with the intention of moving it from a transactional or tactical function to a more strategic position."
Delivering on Promises
In the past 18 months, CDK Global has implemented a number of processes and systems meant to increase its supply chain visibility and improve its delivery rates. The company has warehouses located in the United States and Canada, but in recent years has transitioned to drop-shipping products directly from suppliers.
"The complexity of our supply chain comes down to primarily taking existing third-party products, some of which are customized to us, and delivering those exactly on the dates they are requested," Morsch says. "We support 20,000 car dealership rooftops across North America and have hundreds of installers and service people."
"We schedule our deliveries to when our installers will be there; our supply chain has to be specifically targeted – it can't be early, it can't be late. It has to be on-time," he adds.
The company has an on-time, in-full delivery rate of between 95 to 97 percent, which is 15 to25 percent better than four years ago. "Our success rate in consistently serving customers has gone up dramatically," Morsch says. "Today, we are delivering "best-in-class" service results.
"We are still putting our strategic sourcing and vendor management in place and focusing more on how we can ensure on-time delivery to our customers while being cost effective and aligned to business strategy," he adds. "We are becoming much more predictable, and have greater knowledge of what and when our supply chain will deliver for a company, or if needed equipment is at a dealership."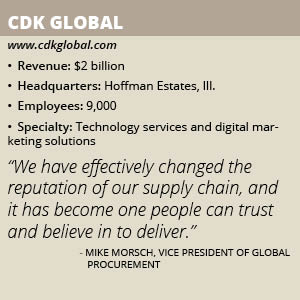 The company greatly improved its supply chain visibility by implementing a Supply Chain Management (SCM) visibility system with suppliers. "We now understand our commitments made to suppliers and forecast-driven requests," said Morsch. "Now, the vast majority of our suppliers are getting commitments to us through the supply chain visibility process, and it has made a dramatic impact on the way we deliver to our customers."
After implementing the SCM system, CDK Global initiated a sales and operations planning process throughout its operations. "This new process has positively impacted our forecasting," he adds. "Now, we better understand customer delivery requirements and which suppliers will deliver on our requests. We have effectively changed the reputation of our supply chain, and it has become one people can trust and believe in to deliver."
Helping Dealerships
CDK Global offers solutions including customer relationship management (CRM), enterprise resource planning (ERP) and sales management platforms used by car dealerships to manage their businesses.
CDK Global customers include large national dealership groups, as well as small principal-owned dealerships. "We can provide fit-for-purpose solutions for smaller dealers as well as high-end systems that can run both the back office and front office for large dealerships," Morsch says.
In addition to providing software, the company provides and maintains the accompanying hardware for its systems including image and barcode scanning equipment, printers and networking equipment. CDK Global also supplies routers and switches for voice over Internet protocol (VoIP) telephone systems used by dealers. "Our supply chain is driven around getting that equipment to dealerships to support our software, as well as handling replacement and repair operations for our existing customers," he adds.
CDK Global provides digital marketing services include designing and maintaining dealership web sites. "We have a full breadth of offerings – from software, hardware and telephone systems to services that help our customers best present themselves to the marketplace," Morsch says.
Investing in the Future
CDK Global continues to improve its procurement and supply chain organization. Recently, the company established several product categories, each of which has a procurement strategy aligned to it. These categories include hardware, software, telecommunications, and facilities management.
Each category has a staff member – a lead – assigned to it. These category leads are imbedded within the company's technical teams, including with its CIO, CTO and product development group. "We enjoy a very collaborative partnership with these groups, and work closely with them to drive the procurement strategies that help support the technology strategies of our business," Morsch says.
The company also recently implemented a source to settle (S2S) system, which includes contract management, vendor management, analytics modules as well as procure to pay. The system will allow the company to digitize those processes. "I am happy that we are investing in tools like SCM and S2S," Morsch says. "I'm very proud that we've been able to get involvement from our CEO and other executive leaders in our company and that they are supporting what we do."
The CDK procurement organization improvements have thus far brought cost savings to the company, making these investments an easier sell to its leadership. "We are overachieving on our commitment to improve our company's margins, which allows it to feel good about investing back into the team to gain even further benefits," he adds.
Morsch is proud his team has restored confidence among CDK customers. "We are delivering for our business and supporting our company transformation," he says. "We will continue to assess and improve as we evolve, and are very optimistic for the future."