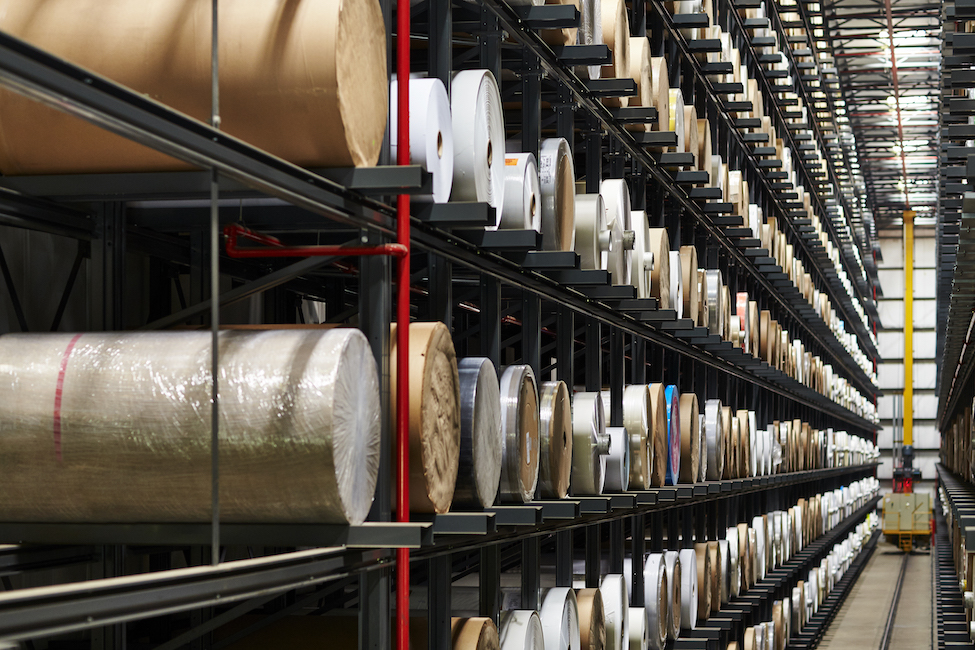 Avery Dennison leverages collaboration internally and with suppliers to make a 'material difference' for customers.
By Bianca Herron
Avery Dennison Corp. was founded in 1935 when Stan Avery invented and patented the first self-adhesive, die-cut labeling machine.
Eighty-three years later, the Glendale, California-based company sets the industry standard for materials innovation and manufacturing across a vast range of industries, including consumer-goods packaging, "smart" labels, apparel and footwear, healthcare, electronics, signs and graphics, and more. Today, the Fortune 500 company employs more than 30,000 people, operates in more than 50 countries and provides its customers with high-quality pressure-sensitive adhesive labelings, tags and labels.
Keys To Success
Roland Simon, vice president of global procurement and corporate sustainability, label and graphic materials, attributes the company's success to its founder's vision. "Stan Avery created the labeling industry in a sense, because he invented pressure-sensitive materials," Simon says. He adds that Avery Dennison has had strong leadership throughout its history.
"An important part of our culture is that we strive for continuous improvement in all aspects," Simon says. "Another distinctive element has been our belief from the beginning that we must be a force for good in the communities we serve. Our founder believed that the best way to serve the community was to create jobs. More than 80 years later, we still remain true to our values. We strive to conduct our business successfully and with integrity, and to give back to our community as well. We've also made social and environmental sustainability a high priority, and in many ways we provide leadership to our industry in that regard."
Avery Dennison's values are also reflected in its relationships with its customers and suppliers, Simon notes. "We are very collaborative and like to work together with our customers and supply base to drive innovation and value across our platform," Simon says. "We prefer to leverage our partnerships as a competitive strength."
"The way we work across boundaries and functions is not an easy thing for most companies, but it's something we do extremely well," he continues, noting that suppliers play a critical role in the company's success.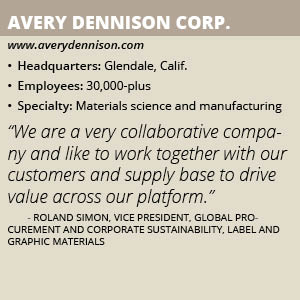 "My personal philosophy is that if you don't compete together with your suppliers, at some point you will compete against them," Simon says. "We engage with our suppliers and treat them as collaborators. We try to be as transparent as we can with them in regards to our growth plans and our go-to-market strategies. Ultimately, we try to bring our suppliers on board so that they are able to have a share in our growth. We believe that if we want to continue to grow profitably, we have to work with our suppliers as well as our customers in order to do so. That's our chosen mode of doing business long-term."
The Right Combination
With its procurement function, Avery Dennison is committed to fulfilling two goals to ensure it is doing its job properly. The first is to ensure procurement is successfully integrated within its business.
"Our strategy development for procurement is a direct function of how each of our segments decides how they need to compete," Simon explains. "It's directly related to how our company's product management and marketing teams relate to us. This is why we integrate procurement. We all need to be on the same page."
The company's second goal is to provide as much as value as possible to its supply base. "We have a global footprint and are well-positioned in every country we operate in," Simon says. "We work to utilize the value of our technology and geographic reach, among other things, so that suppliers want to be a part of our business.
"Once they want to be a part of our business, we try to position ourselves to fulfill their needs as well," Simon adds. "We believe that if we can do that, they will also support our competitive position and provide us with maximum value in return."
This year, a specific area of focus for Avery Dennison's procurement function goes hand-in-hand with its sustainability strategy, according to Simon. Avery Dennison leads its industry in responsibly sourced paper, and has set the goal of sourcing 100 percent certified claim paper, of which 70 percent will be Forest Stewardship Council-certified, by 2025.
"We want to ensure that every fiber that goes into our product has a positive effect on the world, and has been responsibly sourced," Simon explains. "We are working very hard across our supply base to develop continuous improvement processes where suppliers will work with us to not only source responsibly, but also re-use fiber and other materials with the goal of creating a more circular economy.
"We have a high priority in our sustainability strategy to reuse, reduce or recycle as much material as possible," he adds. "This year we will spend more time engaging with our suppliers to brainstorm and develop opportunities to achieve that goal."
People Passionate
Avery Dennison is also focused on the development of its people and on training them to become more collaborative with its supply base and internal stakeholders, according to Simon. "A culture of continuous improvement involves our employees," he says.
"Collaboration is a hallmark of our business," Simon says. "The quality of relationships is extremely important, particularly when it comes to our suppliers. For that reason, how we recruit, and the type of people we recruit, is critical to us. We're looking for people who have great communication skills and can articulate points well. We also want people who have a high level of self-confidence, which allows them to feel comfortable in an environment where they're not only able to influence others, but can also be influenced themselves."
Avery Dennison wants its people to have a share in the development of its solutions and best practices, Simon says. "I think the key is to get people working to solve problems early, rather than later. That's why we invest to bring people together to share ideas and brainstorm and learn from each other. Over the last couple of years, we have implemented systems that allow collaboration.
"For example, we have systems in place that allow our people to collaborate live," he continues. "We connect people from around the world with these types of systems and leverage technology as much as possible. Again, it all goes back to how well we can collaborate with our people, suppliers and internal stakeholders."
Simon says he has never worked for a company that is as dedicated to its human resources as Avery Dennison is. "We conduct annual surveys of our people, from the top to the bottom, worldwide," he says. "Our participation is well over 80 percent. To have that many people participate is a very strong indicator of how much our people trust that we value the information they provide us."
He adds that the company's procurement department is composed not only of procurement professionals, but also of a number of individuals who came from Avery Dennison's marketing, finance, manufacturing and technical departments. "We have a nice blend of different people with different backgrounds in our organization," Simon says. "Our goal is to be businesspeople first, and procurement people second. So in order to integrate with the business as I mentioned earlier, it's important to have people in procurement who understand our stakeholders' challenges."
Looking Ahead
Simon started with Avery Dennison in 2011 as vice president of global commodities, where he was responsible for procurement of direct materials. For the last two years, Simon has been in his current role, where he is responsible for oversight and management of the global label and graphics materials procurement for both direct and indirect materials. He is also responsible for the company's corporate sustainability efforts.
Simon says he is most proud of how the company has continued to develop its people and forge them into a cohesive team. "I'm very proud of the team we have," he says. "On the procurement side, our team performs as a global team. We've done a lot of work to build those relationships so that our team in China works well with our team in Europe, and our team in Latin America works well with our team in Asia. We have a very collaborative team not only across my function, but also across our business generally. We've developed a great group with great talent, and have provided them with an engaging culture that we want them to help grow."
As Avery Dennison moves forward, it aims to continue leveraging the practices that have proven successful for the company to date. "Relationships and collaboration will continue to be a hallmark of what we do," Simon concludes. "We need to continue to grow as individuals, and as an organization to embrace as many diverse ideas as possible. This will be the key to delivering the innovation we're known for, and that is required more than ever to maintain our leadership in the industry."