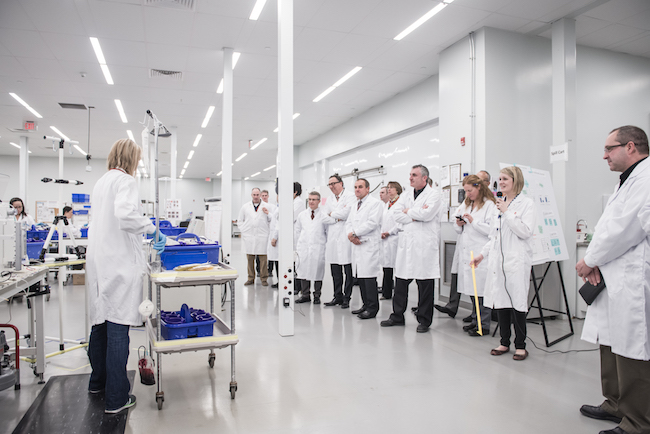 Canadian Blood Services continues to improve the way it collects, processes, tests and provides life-saving blood products to patients across Canada.
By Jim Harris, Senior Editor for Knighthouse Media
The ability to meet product demand and deliver on time is more than just a goal for Canadian Blood Services' supply chain operation – it could be a matter of life and death. "Our organizational ability to meet needs in critical situations is central to what we do," says Rick Prinzen, chief supply chain officer and vice president, donor relations.
The nonprofit organization operates eight production sites across the country, which receive blood collected from 14,000 annual collection events and 35 permanent collection sites. Units of blood are converted into three components – red blood cells, platelets and plasma – within 24 hours of collection.
While blood is being processed at sites across the country, samples from each unit are sent to facilities in Calgary, Alberta, or Brampton, Ontario, where they are tested for a variety of pathogens. "When the processing of a unit is completed, it goes into a hold area until the test results come back," Prinzen says. "When the results come back, the unit is released from quarantine, moved into finished goods storage, then ultimately sent to hospitals."
Platelets have a shelf life of seven days, while red blood cells have a 42-day shelf life. "One of our main challenges is variability of supply. When your "raw materials" are blood donations, factors outside our control like severe weather may keep donors away," he adds. "Despite that variability, it is critical that we manage supply with our regular demand while maintaining an optimal inventory of four-to-five days on hand."
The organization maintains its own fleet, but also contracts with transportation providers as needed to move equipment and blood products around the country. Canadian Blood Services also works with local transportation companies that operate buses used to transport groups of donors to collection events. The organization's transportation partners include Skelton Truck Lines, which uses refrigerated trucks to move large volume shipments between sites; and Dynamex courier service, which flies blood samples from production to testing sites.
Canadian Blood Services was founded in 1998 following recommendations of a national public inquiry into tainted blood, Prinzen notes.
The organization is funded by Canada's provincial and territorial ministries of health, but operates independently, at arm's length from governments.
Improved Communication
Canadian Blood Services' supply chain is integrated with the hospitals it serves. "We have established essential collaboration with hospitals around a range of areas, including utilization standards, risk management plans, and collective management of outdated supply," Prinzen says. The organization also helps manage hospitals' inventory of blood products.
Improving the way Canadian Blood Services communicates with hospitals is a high priority for the organization. "We are working on ways to make our exchange of information with hospitals more seamless," he adds. "We have a good and regular exchange with all the hospitals across our network, but today it is more manual than it ought to be. We are looking at ways to make that more streamlined and real-time, so there is total network visibility."
Strengthening communication with hospitals is one of the main goals for Prinzen, who assumed his current role two-and-a-half years ago. "A key task for me is to raise the level of expertise for the organization and install best practices for leveraging our supply chain to improve our overall system performance."
"Our No. 1 priority is ensuring that no matter what we do, there are good patient outcomes," Prinzen adds. "When I came into the organization, I wanted to move the supply chain into a best-in-class position and improve our overall system performance."
Making a Connection
During Prinzen's tenure, Canadian Blood Services incorporated Toyota Production System (TPS) methods into its production facilities. Two facilities – in Brampton, Ontario, and Dartmouth, Nova Scotia, – have been refurbished with continuous improvement practices in mind. The organization plans to overhaul some of its remaining sites, and is building a new testing, production and distribution location in Calgary.
"We are defined by Health Canada as a biologics manufacturer, which is a different mindset from being a humanitarian organization," Prinzen says. "We have examined our operations and refurbished them to be consistent with the expectations of a top-tier biologics manufacturer."
Since implementing TPS practices, the organization has improved its throughput by more than 30 percent; reduced its lead times for picking, packing and shipping by 40 percent; and reduced its order time from 12 to 7 minutes.
Canadian Blood Services is also making its collection process more efficient. Donors now have the opportunity to answer questionnaires and provide pre-screening information online or at an on-site kiosk. "We want donors to have a positive experience and give blood in a manner that occupies as little of their time as possible," Prinzen adds.
Prinzen says he is proud of the progress the organization has made in a short period of time. Ultimately, Canadian Blood Services' greatest measure of success is seen in the patients it serves. "We're really proud of stories our patients tell about how we have helped them," Prinzen adds. "We have a strong connection with how our work helps others."