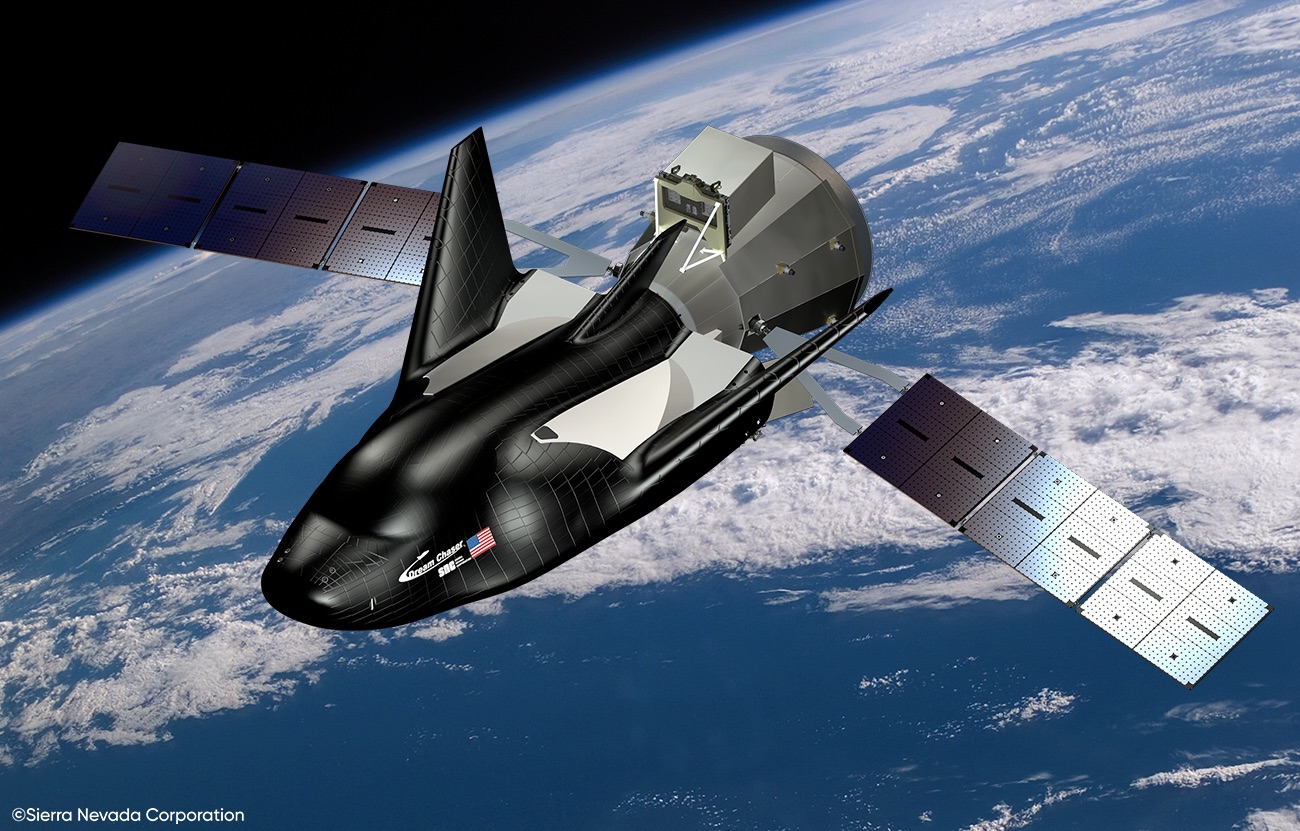 Sierra Nevada Corp.'s supply chain must remain innovative and responsive to keep pace with the company's advanced developments.
By Staci Davidson, Managing Editor at Knighthouse Media
Sierra Nevada Corp. (SNC), Dreams, Innovates and Inspires and one would be hard pressed to find a corporate statement that is truer. As a global leader in advanced engineering technologies, SNC serves the space systems, commercial solutions, and national security and defense markets. Innovation is key in all the company does, and that includes its supply chain. Without a strong and innovative supply chain, SNC could not soar as high as it does.
"Many supply chains are designed with a strict set of controls and processes to drive efficiency and control," Vice President of Procurement Ed Mills explains. "Our supply chain has to maintain controls, but we don't stop there. We are encouraged to look beyond the control aspect at emerging trends in the market regarding how we adapt to market changes. For example, is there a different model or update that we should be thinking about? We are not constrained to do it only one way and keep it that way – we keep our supply chain evergreen."
Based in Sparks, Nev., SNC works on a wide range of advanced projects. The company is developing bio-based life support and food production systems for NASA's Next Space Technologies for Exploration Partnerships, such as creating plant-based modules that can recycle drinking water, regenerate oxygen from carbon dioxide, produce fresh food for astronauts and support radiation protection of the crew.
It also is preparing for the first launch of its Dream Chaser spacecraft, which will provide cargo resupply to the International Space Station. SNC has participated in more than 450 successful space missions and delivered more than 4,000 systems, subsystems and components around the world.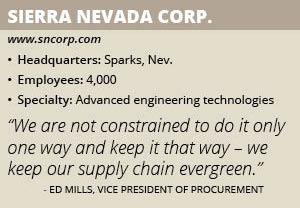 "In general, our customers are demanding new ideas and new product development, as well as new solutions to complex problems," Mills says. "They want these delivered in a very fast timeframe. Our customers are looking for non-proprietary solutions to their programs – they want solutions they need, not solutions a company might want to sell. It has accelerated our need to look for new technology."
Nimble and Compliant
The new technology for which SNC is looking could include blockchain systems or additive manufacturing, or a new sort of disruptive technology that is not available yet. SNC is dedicated to remaining nimble, so it can integrate any technology that will allow it to deliver best-quality solutions to its customers.
"A year-and-a-half ago, we took steps to integrate our supply chain," Mills says. "This involved redefining our value proposition and holding ourselves more accountable for responding to customer demands. We are using new processes and decision-making authority to align our integrated activities. With SNC being an innovative company, this is our way to innovate our supply chain. We've linked procurement and project management through a set of operating framework."
The company wants to model the supply chain to best support its business strategies, while emphasizing supplier quality and supplier management to ensure consistent product performance. Mills explains the supply chain is dedicated to supporting every area of the business to further support SNC's long-term growth plan.
"That growth is driving us to new products, new customers and new capabilities," he says. "The Dream Chaser, for example, is a major program, demanding a supply chain solution that is very unique inside our company."
At the same time, the government and private-industry areas of the business are growing, and the supply chain must be flexible and strong to support those projects, as well. "We operate within a highly regulated industry, and we have to respond to that, while also being nimble, agile and adapting to our customers' needs quickly," Mills says.
Sourcing Solutions
SNC views its suppliers as an extension of its operation, and sorts suppliers into one of three categories: those who are creating a custom product for SNC and designing something new, those who do some development work to tailor a product for SNC and those who are selling a product to SNC because it already exists with no customization necessary. For some of its systems, maybe only one or two suppliers exist, so SNC is dedicated to building relationships and maintaining open communication with them.
"We work hard to have two-way communication with them because we need to have their feedback when developing new products and solutions," Mills says. "We don't really buy commodities – we source solutions from our suppliers."
The company is focused on working with small businesses, and that also is of key importance to its government customers. Through its mentor/protégé program, SNC works with one or two companies at a time to help them understand how to do business with SNC and the overall industry. "It's one thing to have the aspiration, but another thing to deal with and respond to the extensive requirements of government-level procurement," Mills explains.
SNC's suppliers are instrumental, he notes, in the company's ongoing focus on compliance and agility. The company must balance those areas, which often can compete with each other.
"We always are looking for opportunities to be a market-changer, not a market-adopter," he says. "Therefore, we have to put the building blocks in place to bring us the skill sets and technology that help us react to long-term changes.
"We are very proud that SNC has affirmed its commitment to supply chain management, and we are excelling with a highly engaged workforce," he adds. "What we're doing now with supply chain is done with an innovative mindset in pursuit of what is needed now and in the future."