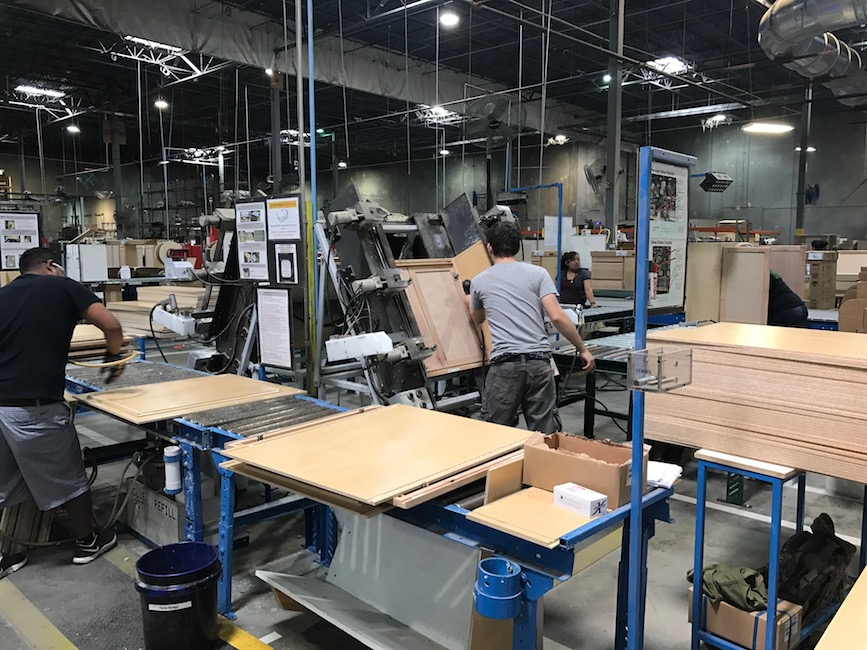 American Woodmark is known for keeping its promises to clients.
By Alan Dorich, Senior Editor at Knighthouse Media
For American Woodmark Corp., it takes more than wood to build quality cabinets. It also takes a culture that is focused on customer experience. "Our people take a lot of pride in what they do," Chairman and CEO Cary Dunston declares. "It makes all the difference in the world."
Based in Winchester, Va., American Woodmark sells more than 500 cabinet styles to the remodeling and new home construction markets under its American Woodmark, Shenandoah Cabinetry, Timberlake Cabinetry, Waypoint Living Spaces, Professional Cabinet Solutions, Villa Bath and a number of house brand names. Dunston explains that a dentist started the firm in the 1950s, providing furniture for dentists' offices.
But over time, Dunston says, the company shifted its focus to building cabinets and was purchased by Boise Cascade in the early 1970s. Bill Brandt, a Boise employee, saw strong potential in the company and completed a leveraged buyout and formed American Woodmark in 1980.
Today, the company serves retailers such as Lowe's and The Home Depot, as well as contractors it serves directly. "We have seven large builder centers as well as 11 satellite facilities across the country that work directly with the local divisional presidents of the big builders," Dunston says.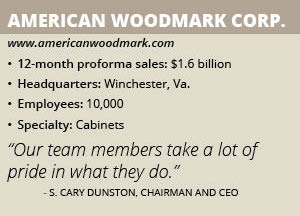 This allows American Woodmark to differentiate itself from a customer service perspective. "Our local employees provide amazing service that has allowed us to triple our market share and become the largest cabinet supplier in single family new construction in America," he declares.
American Woodmark also caters to small dealers, which it began serving during the Great Recession. Since then, the company has grown this portion of its business "from nothing to $123 million, simply due to our team providing an exceptional customer experience," he says. "Every aspect of our value stream is focused on creating this experience, from our sales force, our manufacturing organization, our support systems, our customer care team, our vendor partners and all the way to our third-party logistics carriers."
Part of this service includes training logistics carriers on how to handle the company's products. "Our professional carriers are oftentimes the last touch point we have with our consumer and therefore must represent American Woodmark with the same passion as if they were our employees," Dunston says. "We truly care about our customers."
American Woodmark recently grew its strategic platform further with the acquisition of RSI Home Products Inc. in December of 2017. While American Woodmark builds a kitchen-at-a-time to a special order, RSI's "core competency has been focused on the in-stock, cash-and-carry kitchen and bath business within home centers," he says.
"It was a very strong strategic acquisition for us as when combined with our service platform, it offers a tremendous opportunity to leverage what both businesses do best and continue to expand and grow our market share."
A Controlled Operation
American Woodmark manufactures approximately 34,000 cabinets daily in its operations across the United States. Dunston notes that the company remains vertically integrated; from kiln drying green lumber in the Appalachian Mountains, producing the flat stock for cabinet construction, machining and finishing of cabinet components, and ultimately assembling cabinets at one of nine locations across the country. "Our vertical operation allows us to better manage our supply chain in support of our exceptional customer experience," Dunston says, noting that the company has 100,000 permutations of face components alone.
American Woodmark also has kept its operations state-of-the-art. Today, the company is investing in a digital robotic system that glazes the doors on its cabinets by leveraging an implanted RFID tag in each door and door front. The company was an early adopter of RFID technology which has allowed it to greatly improve its inventory management accuracy. Dunston adds that the tags carry information that is useful throughout the manufacturing process, including inventory management, PLC input and quality control.
Leveraging the RFID investment also will expand beyond manufacturing. "As technology evolves with smart phones, we envision our customers being able to simply scan our passive RFID tag in a component, even years after a kitchen install, thereby instantly providing our customer care organization with all the information they would need to quickly and efficiently take care of our customer's product needs," he says.
American Woodmark also was an early adopter of barcode scanning technology within the logistics platform. "With this technology, it allows our team to know real-time if a delivery was 100 percent complete and on-time," he says. "Oftentimes we will identify a part misplaced in transit, get it re-ordered and shipped, even before the customer knows the part was missing."
The company also recently invested in a state-of-the art wood scanner that uses vision and x-ray technology to allow the identification of internal and external defects in wood. "You might think you have a perfect piece of wood [but when] you mold it, you may find there's a defect that was hidden below the surface," Dunston says. "We can now identify the defect before chopping the lumber as a means of maximizing our yield and improving quality."
Business Evolutions
American Woodmark is seeing the entrance of younger consumers into its market. This is beginning to drive trends in design, including a "European look with cleaner lines," Dunston says.
Social media and technology such as augmented and virtual reality also have evolved, allowing the company to interface with and educate end consumers to a much higher degree. "Although this technology is certainly appealing to the younger generation, it also provides an opportunity to further enhance the overall experience for all of our customers," he says.
The younger generation, he explains, is just starting to enter the housing market and buy new and existing homes. The company is very focused on understanding buying habits of this younger generation. "In the next two years, we're going to begin to get answers on how the millennials and younger Gen-X consumers will shop for kitchens," Dunston says.
American Woodmark also is beginning to see the entrance of e-tailers in the industry. But the company is confident that its core competitive advantage of an exceptional customer experience will be very difficult to replicate as personal touch points are still required. When planning for a new kitchen in a home, the initial measurement and design are very challenging, "Every wall is different," Dunston says. "It's got to be measured down to the millimeter." Even more challenging is the need for a professional and highly skilled designer.
The process, he notes, is very difficult to do 100 percent online today. However, "As technology and artificial intelligence evolves, I am sure at some point, it will [happen]," Dunston predicts.
The company's greatest advantage however rests with its investment in its service platform that allows for installation of its product in all major markets across the country. "We made a strategic decision years ago to invest in the infrastructure to serve our markets directly with a turnkey solution," Dunston says. "This investment and service level is extremely difficult for our competitors to replicate and we will absolutely leverage it for growth across all of our channels."
Great Opportunities
Dunston joined American Woodmark in October 2006 and is proud of its team, which prides itself on its culture and its tremendous company performance. "Our employees truly care not only about our customers, but about each other. Although what we do is important, how we do it is what makes us different," he says.
This philosophy helps American Woodmark maintain relationships with its clients, who have confidence in the company. "When we make a promise, they know we're going to keep it because of our people," Dunston says.
"We've got an extremely bright future ahead of us," he continues, adding that its recent acquisition of RSI provides it with growth potential. "It allows us to expand into new channels and with new customers we didn't serve before."
The lower-price point customers, Dunston says, will be a key part of its strategy as it goes after new markets, including multifamily, which accounts for 35 percent of total home starts. "Right now, we have basically none of this market share," he says.
"That's a huge opportunity for us to go out with the recent acquisition and offer a new and unique solution," he says, explaining that the company can leverage its builder centers and offer a complete turnkey solution where it designs, measures and installs products for the multi-family market. "It's about maximizing our efficiency."