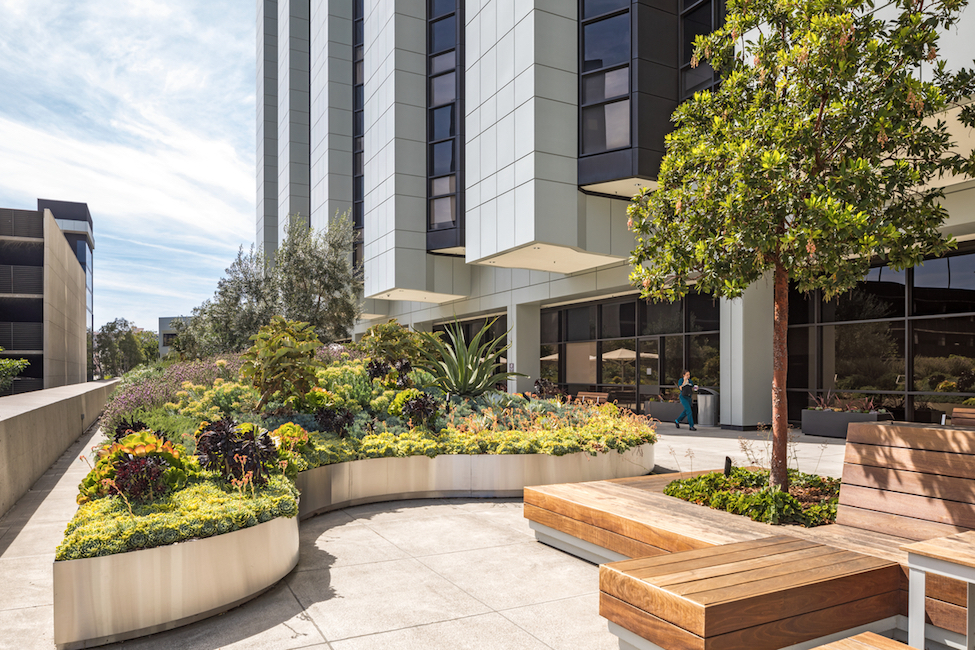 BrightView tackles a mammoth landscaping project in America's front yard in Washington, D.C.
By Kat Zeman
It takes a big-time landscaper to tackle a project the size of the National Mall in Washington, D.C. BrightView, the largest commercial landscaping company in the United States and Canada, is that landscaper.
The mall, known to many as "America's Front Yard," is home to some of the nation's most important civic, cultural and historic places. BrightView was contracted to give the mall a $40 million turf makeover designed to create a healthy and water efficient landscape.
The turf restoration project, completed in two phases, started in 2011. It was completed in 2016 and the mall reopened last year. The mammoth project consisted of replacing 4 to 5 feet of damaged topsoil with specially engineered soil that resists compaction.
In addition, BrightView installed an irrigation drainage system that uses cistern rainwater instead of city water. The cisterns below the surface hold roughly 250,000 gallons of rainwater.
"We have worked on many high-profile projects but this one is on top when it comes to historical value," says Tim Russell, vice president of operations. "This is our nation's front yard and to see how beautiful it looks now and will for years to come gives every member of our team a great sense of pride."
Aside from the National Mall, BrightView completed landscaping work on Toyota's headquarters in Plano, Texas, last year. It was contracted to plant trees, grass and deal with irrigation issues. The company is also responsible for maintenance, which is the largest chunk of its business.
Under One Roof
A number of different divisions make up BrightView, which allows it to offer a variety of services under one roof. Services include landscape design, development, maintenance, snow and ice removal, water management, tree care, tree growing and moving, golf course landscaping and sports turf services.
"Today, people are treating their properties as an asset and they want to bundle their services," Russell says. "In the past, they may have had different landscape provider and snow services providers. Whoever was cheapest. But now they want one organization to do everything and that's one of our strengths. We can provide all that."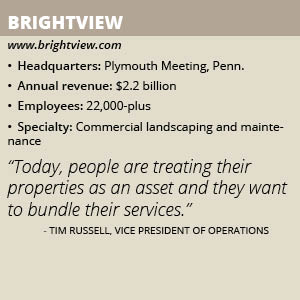 The company has more than 200 branches throughout 28 states and rakes in more than $2.2 billion in annual revenue. BrightView ranked No. 1 in Landscape Management magazine's
2018 Top 100 list of lawn care and landscaping companies in the United States and Canada that is ranked by total revenue.
That's quite an accomplishment for a company that was founded only a few years ago. Formed in 2014, BrightView is the product of a merger between Chicago-based Brickman Group and ValleyCrest Companies in California.
However, both landscaping giants were third-generation family-owned companies that have roots dating back to the 1930s.
Standardizing Supply Chain
As is often the case with two companies merging, challenges develop on the supply chain side. "We had two different legacy systems with individual standards," Russell says. "So we created an operational excellence team and it really helped standardize what equipment and products we use."
Russell and his team spent time comparing the best practices of each company and made them the standard for the new one. "It took about two years but it's still a work in progress," he adds.
BrightView is in the midst of finalizing its approach to capital assets. "That's everything from budgeting of capital expenses to delivery and operationally ready assets," Russell says.
Plus, there's planning for the future. BrightView has fairly aggressive plans for future growth. "We hope to get an 8 percent organic growth but we have a merger and acquisition strategy as well," Russell says.
The company services a number of different industries. They include commercial, educational, healthcare, hospitality, religious, residential, retail and sports. Its major customers include homeowners associations, hospitals, cemeteries, office centers, pharmaceutical companies and apartment complexes.
The company is known to tackle large projects. "Our strength is taking a project through its entire life cycle starting with the design phase, installation, and ultimately maintain the project," Russell says.
It prides itself on its emphasis on safety and providing solutions. "Anybody can cut the grass, but we provide proactive solutions," Russell says. "Our teams come out to the property and if they see issues, they will offer proposals for improvement."