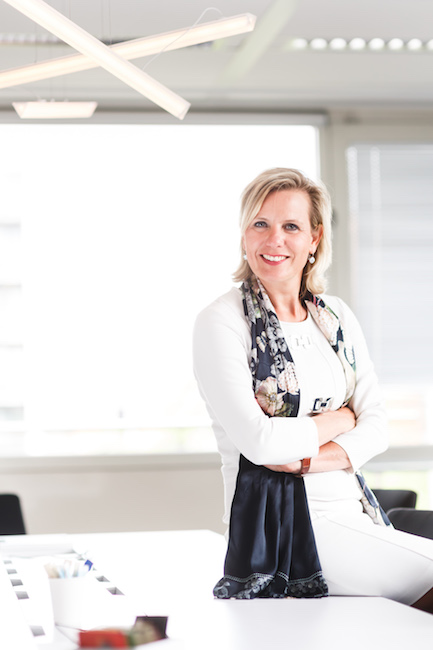 Liberty Global's size provides speed and entertainment with considerable leverage, but the company must remain nimble in the market and always provide the services that consumers demand.
By Staci Davidson
As a cable and telecommunications giant, Liberty Global is focused on technological innovation in all facets of its operations, and its supply chain is no exception. A strong supply chain is critical in the technologically advanced world in which its customers live. Supply Chain World recently spoke with Anita Arts, chief supply chain officer at Liberty Global, about how the company uses its supply chain to remain competitive in its evolving industry.
Supply Chain World: Can you talk about the company's background?
Anita Arts: Liberty Global is in the connected entertainment business. We are the largest international television and broadband cable company in the world. We operate in 12 European countries with an annual revenue of $15 Billion (2017) with 22 million fixed-line customers.
We bring joy to our customers by providing them with super-fast internet, voice, video and innovative product bundles that enables and simplifies the digital lives of our customers.
At Liberty Global, we believe in giving our customers an opportunity to make the most out of digital revolution. We enable and simplify the digital lives of our customers with ultra-fast internet, seamless connectivity and next generation entertainment products
SCW: What is your background with the company?
AA: I joined Liberty Global in 2011, and I would put our journey in supply chain in 3 phases.
Our first phase was to have an integrated supply chain. At that time, we had an fragmented supply chain where our forecast accuracy and availability was low, with stock outs. So as a first task, we need to be a reliable supply chain. We started with optimizing our basics and having common objectives and performance tracking across our footprint.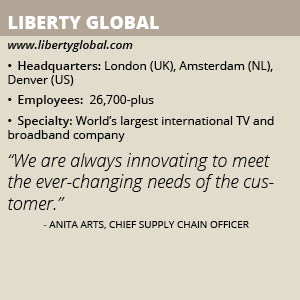 Our second phase was to have an enterprise supply chain. During that period, one of the core growth engines for Liberty Global was to consolidate and improve our market positions through acquisitions. This was a perfect opportunity for us to leverage our scale across Europe by launching standardized products, simplification, consolidation and better asset utilization across the footprint. Having an end-to-end visibility and operational effectiveness is making us more competitive across our footprint and being more cost effective by over 30 percent.
Our third phase – where we are now – is to be a dynamic supply chain. We want to drive differentiation for our customer, and this means providing choice and value to the customers, driving end-to-end value chain decision making and accelerating supply chain innovations without taking our eyes off of continuous improvement.
Before joining Liberty Global I was working in the automotive industry for 15 years in different procurement and supply chain roles with organizations like Meritor and Volkswagen around the world.
SCW: What are Liberty Global's products, services and markets?
AA: Liberty Global is the world's largest international TV and broadband company, with operations in 12 European countries under the consumer brands Virgin Media in the UK and Ireland and Telenet in Belgium, Unity Media in Germany and UPC in Switzerland and Central & Eastern European markets.
Our substantial scale and commitment to innovation enable us to develop market-leading products delivered through next-generation networks that connect over 22 million customers subscribing to 46 million TV, broadband internet and telephony services. We also serve over 6 million mobile subscribers and offer Wi-Fi service through 10 million access points across our footprint.
In addition, Liberty Global owns 50 percent of VodafoneZiggo, a joint venture in the Netherlands. As of Dec. 31, 2017, VodafoneZiggo has 5 million mobile, nearly 4 million video, over 3 million fixed broadband internet and approximately 2.5 million fixed telephony subscribers. We also have significant content investments in ITV, All3Media, LionsGate, Formula E racing series and several regional sports networks.
SCW: What sets Liberty Global apart?
AA: Even though we are one of the largest companies in our industry in the world, we operate like a entrepreneur spirit, which means always innovating to meet the ever-changing needs of the customer and we make quick and data-driven decisions. This can be easily seen in our products, customer-value propositions and our investments. This is what we do the best – understanding our customer needs and having the ability to leverage scale where it is appropriate. For example, in the early days, we were the ones who came into the market with triple-play offering. In today's world, we understand that the content is being consumed in multiple ways, so we are already providing content when you want it, where you want it and on any device.
If there is an idea or an innovation that will truly benefit the customer and shareholders, we will invest in it and leverage our scale to multiply the benefits. This has always kept us one step forward than the competition. We are able to handle large changes; this is what we do the best and I am very proud of it.
What differentiates Liberty Global Supply Chain?
We sell subscriptions to our customers, this means that our products stay in our ownership. Liberty Global supply chain is responsible for the assets like set top boxes, modems and the network materials that are used for connecting the customer to the internet and content providers. This gives supply chain responsibility for the assets from cradle to grave, which means we are responsible for effective capital deployment for materials, availability, continuous optimization and maximizing the lifecycle of our assets by re-using them in other markets or re-selling or disposing them in the best sustainable way.
The other differentiator in our supply chain is that we have three different supply chains based on the assets that we use. The first one is what we call a CPE, which stands for Customer Premise Equipment. These are the equipment through which the customer receives our services e.g.., set top boxes and modems. The second one is what we call network materials – the materials that we use behind the walls of the customer to get our services connected to the internet or content, such as amplifiers, fibre optic cable etc. The third one is the mobile and sim cards, which operates like a CPE life cycle. Apart of the complexity of the type of supply chain, they have different lifecycles, number of SKUs and repair times – this adds complexity and in the way we manage the end-to-end supply chain process.
SCW: How do your customers define quality?
AA: That's a great question – how long can you survive today without a Wi-fi connection? Our customers expect uninterrupted services. If we have a downtime even for few minutes, we sometimes make national headlines. This is the quality standard that the customers have set for us. From a supply chain standpoint, this forces us to ensure availability and reliability of the critical network materials and also the CPEs. If a customer's CPE needs a swap for a technical reason, we need to ensure that we are able to live up to the promise we make to the customer and get the first time correct with high service levels. Of course, we do this with optimal inventory.
SCW: How is Liberty Global adapting to market changes?
AA: Our industry is one of most dynamically changing ones, which makes it the toughest in the business. Let me provide you some context – if you think about 15 years back, there was one cable provider per area then in 10 years it became three cable operators per region and now we have about less than 5 large cable operators per country. Our industry was always consolidating due to the upfront capital investment that is required to deliver services due to the changing technologies and customer needs.
One of the largest factors for adapting is the constantly changing needs of the customer, like as in today the new digital habits of the customer. Due to these new digital habits there is an ever-increasing need for speed and content, and this triggers a serious dynamics change. This triggered three large adaptations: the need for new technologies in our network and CPEs, shrinking product lifecycles and a highly competitive landscape.
We are well positioned to tackle all the market changes – we have some of the best next generation CPEs in the market – nearly half of our video and broadband bases now enjoy a next-generation set top and/or a WiFi connect box. We are actively investing in expanding our networks to be capable of 1.2 GHz, which allows for faster speeds in our network and gives our customers access to super-fast Internet connection. We also launched a new build program in the UK and Ireland, and we are modernizing the RAN network in Belgium, which will offer superior mobile speed connectivity to our customers.
SCW: How has Liberty Global's approach to supply chain changed in recent years? How do you see it continuing to evolve?
AA: We have evolved from providing reliable services to our business to managing the assets and are currently in the process of providing choice and value to the customers in the most sustainable way possible. We started with ensuring availability with optimized inventory and rationalization of our footprint where possible. We provide the insights to stakeholders and orchestrate good decision making for better usage of assets across value chain. We are in the journey of providing the customer with choice and value, and this means providing our internal and external customers the services of when they want it and how they want it.
We always had a focus on sustainability – we have less than 1 percent waste to landfill, we refurbish more than 4 million CPEs, avoiding 6,700 metrics tons of waste that will end up as a landfill, and we have saved and avoided 5,300 metrics tons of carbon emission through environmental initiatives. This has not changed from the past but we are trying to find further opportunities as we move on in terms of circular economy. One of the key points in our corporate responsibility strategy is "responsible connectivity." As the world's largest international TV and broadband company with an ambitious growth plan for the future, we are committed to continue demonstrating to all of our customers and stakeholders that we operate responsibly and sustainably. And one way to do that is by investing in eco packaging. In 2015 we launched our new eco-friendly packaging solution. The reduction in bulk and weight helped us improve resource efficiency and cut waste across our operations. As a result, we have reduced the environmental impact of our Horizon packaging by over 30 percent. In addition, the new packaging is 100 percent recyclable and almost 40 percent lighter than its predecessor, so it is significantly more efficient to transport and deliver.
Here, our strategic supply chain partners like Teleplan play a relevant role by enhancing the life cycle of the product through refurbishment or recovery of parts. This will support us to make the design of new products to last longer, produced using fewer raw materials and built in such a way that in the future close to 100 percent of parts and resources can be re-used or recycled.
SCW: What advice do you have for your peers?
AA: Be proactive – rather than reactive. Do not wait for requests for the business we serve, but come up with solutions as we know how we can run our supply chain the best and have great insight in all our operations.