Harley-Davidson Motor Company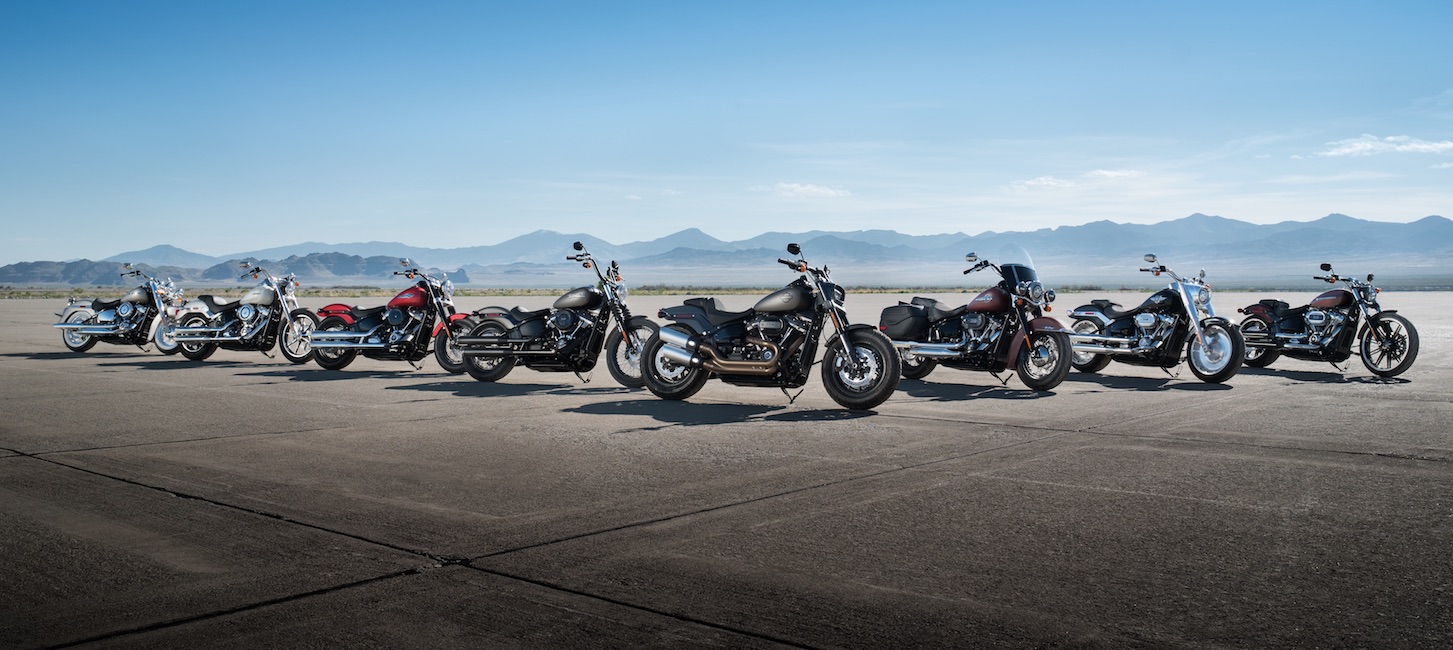 Harley-Davidson prepares for the next generation of motorcycle riders.
By Kat Zeman, Senior Editor at Knighthouse Media
One of the world's most well-known motorcycle manufacturers, Harley-Davidson has launched an aggressive 10-year campaign to attract more riders to the sport and create brand awareness.
Celebrating its 115th anniversary this year, the Milwaukee-based motorcycle maker will focus on building the next generation of Harley-Davidson motorcycle riders and increasing its international sales through the launch of innovative new products. This includes 100 new high-impact motorcycles and highly targeted and engaging marketing campaigns.
In January, Harley-Davidson announced that it plans to increase investments in electric motorcycle (EV) technology and products to accelerate its growth and position as a leader in the electrification of motorcycles. It plans to introduce the first electric Harley-Davidson motorcycle, informed by Project LiveWire, to market before 2020.
Furthermore, Harley-Davidson is collaborating with Alta Motors, an innovator in lightweight electric motorcycle technology. The two companies will work together on developing new technology and products to fuel the motorcycle maker's ability to reach customers in non-traditional markets with a full array of premium products.
"Our excitement about EV technology is born of our mindset shift to build great riders, not just great motorcycles," Harley-Davidson President and CEO Matt Levatich says.
The Next Generation
On the home front, the company is working to grow interest in motorcycling. It hopes to attract 2 million new riders to the sport within the next 10 years in the United States alone. "It's not just about selling more motorcycles," says
Kipp Podlewski, director of indirect procurement. "We want to get more people interested in the sport of motorcycling and we have a number of different strategies supporting that."
One strategy includes making the product more accessible and interesting to a wider demographic through various marketing strategies. "We're sponsoring events to help encourage people to get into motorsports," Podlewski says. "For example, we're sponsoring the X Games and creating events like the first-ever medaled Harley-Davidson Snow Hill Climb event at the 2018 Winter X Games. The event made its debut alongside the medaled events of ski and snowboard competitions and was streamed live to millions of viewers/potential riders around the world via Facebook live."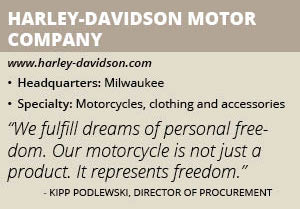 Many of its dealerships have a Harley-Davidson Riding Academy that offers rider courses for both new and advanced riders. They are designed to train riders to be safe and confident and allow them to attain their motorcycle licenses using Harley-Davidson motorcycles.
In addition, the company has developed a partnership with Eaglerider, the world's largest motorcycle tourism company, to be the exclusive provider of touring and cruiser Harley-Davidson motorcycle rentals in the United States.
"We're really working to expose more people to the sport in a variety of ways and we also want to extend the length of time people are riding," Podlewski says.
To become more accessible to people that are on a budget, the company has embraced used Harley-Davidson motorcycles as another way to grow its rider base. "The number of people buying used bikes is growing," Podlewski says. "We support that and encourage people to join the sport in any way they can."
International Growth
On the international front, Harley-Davidson plans to increase annual sales volume by 50 percent by 2027. "We'd like to get a higher portion of the international market," Podlewski says. "We'll introduce new products, open new dealerships and look for new channels of distribution."
The company plans to expand its dealer network by adding between 150 and 200 new international dealerships by 2020, according to its 2018 objectives and strategy presentation. Over the past two years, the motorcycle maker has opened
98 new dealers in countries that include the Philippines, Belgium, Italy, Vietnam, Norway, New Zealand, Turkey, Malaysia and Croatia, according to the company's 2018 news release.
Expanding the dealer network allows the company to bring Harley-Davidson products to more people in more places as it builds its next generation of riders on a global scale. To date, the company has more than 1,400 independently owned Harley-Davidson dealerships in nearly 100 countries, according to the company's website. It refers to its dealers as the "ambassadors" of its brand that help create bonds with its customer base.
To address high tariffs that can increase the price of imported motorcycles by up to 100 percent, Harley-Davidson plans to open a new assembly facility in Thailand later this year to produce motorcycles specifically for Asia-Pacific markets. The company has two assembly plants in the United States, as well as manufacturing facilities in Brazil and India.
Focus On Apparel
In support of the motorcycle maker's long-term strategy to build the next generation of Harley-Davidson motorcycle riders, one its three-year strategic focus areas in international markets is to build brand awareness through apparel, according to the company's 2018 press release.
To do that, the company is opening apparel-only stores in malls and key shopping areas throughout the Asia-Pacific region, in combination with e-commerce, to sell a contemporary and unique line of Harley-Davidson branded casual, off-the-bike apparel.
Earlier this year, Harley-Davidson announced a licensing agreement with G-III, a global apparel expert with hundreds of existing stores and world-class brands in its portfolio. They include Calvin Klein, Guess, Tommy Hilfiger, Karl Lagerfeld, Levi's and Dockers, according to the press release.
In February, the first of these Harley-Davidson apparel stores opened at the new Aegean mall in Shanghai, China, followed by two stores now open in India in Siliguri, West Bengal, and Imphal, Manipur. In the coming months, more stores will open in China, India and Malaysia.
Representing Freedom
Harley-Davidson motorcycle riders come from diverse backgrounds. But regardless of their age, gender or ethnicity, the brand's riders share a love for freedom and adventure – ideals that the company strongly advocates.
"We fulfill dreams of personal freedom," Podlewski says. "Our motorcycle is not just a product. It represents freedom."
As the company celebrates its 115th anniversary this year, Harley-Davidson will engage both riders and non-riders with celebrations from July 5 to July 8 in Prague, Czech Republic, and from Aug. 29 to Sept. 2 in Milwaukee.
Milwaukee will again be the center of the motorcycle universe over Labor Day weekend when Harley-Davidson riders and fans from around the globe gather for the culmination of a year-long celebration.
Plans for the Harley-Davidson 115th anniversary Milwaukee Celebration include multiple new venues, a strong focus on motorcycle racing and an unmatched opportunity to engage in moto-culture.
Harley-Davidson, Inc. is the parent company for the groups of companies doing business as Harley-Davidson Motor Company (HDMC) and Harley-Davidson Financial Services (HDFS).
All Hands On Deck
As the company prepares for its next generation of riders, its procurement organization is working to ensure supply chain is up for the challenge. That requires selecting partners that will be able to execute the company's new and bold strategies. As with any organization, Harley-Davidson's procurement team is focused on cost savings to support bottom-line health and to help fund its strategic initiatives. However, Harley-Davidson's procurement team is focused on more than savings.
"Our procurement team needs to help determine how and when to use supplier partners, not just negotiate the best deal," Podlewski says. "A capable and engaged supply base is a critical component to Harley Davidson's success in meeting our objectives. Building the next generation of riders is seen as an 'all hands on deck' initiative for Harley-Davidson and the procurement team is doing everything it can to contribute."