Columbia Tech focuses on exceeding customer expectations.
By Alan Dorich, Senior Editor at Knighthouse Media
Some firms are weighed down by a complex structure, but Columbia Tech thrives by keeping things simple. "The organization is kept relatively lean and without a lot of steps," Senior Vice President of Supply Chain Scott Johnson says.
This has given Johnson the freedom to respond quickly to market changes in the supply chain. "The whole company is really built around flexibility and being able to move faster and more efficiently than the next guy," he says.
Based in Westborough, Mass., Columbia Tech is a wholly owned subsidiary of Coghlin Cos. Inc. providing world-class product development, manufacturing, global fulfillment and aftermarket services to a diversified group of capital equipment innovators. The company started operations in 1885 and is now in its fourth generation of family ownership.
"We serve a broad range of customers," Johnson says, adding that these include medical, life-sciences, energy, homeland security, robotics and automation, LED and semi-conductor industries. "It's quite a diversified profile."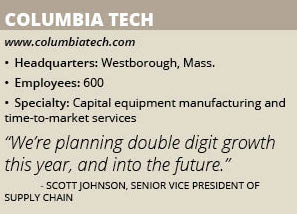 The company also has earned a strong referral rate from its clients. "We work very hard to go above and beyond expectations and to make sure we're listening to our customers, our suppliers and our partners along the way," he says. Referability is its most treasured metric.
Top Tools
Last year, Columbia Tech made several important investments in its operations. "We upgraded our ERP system to Epicor 10 and implemented Omnify PLM (Product Lifecycle Management) as well as Aegis MES (Manufacturing Execution System) solutions in the target areas of the business," Johnson recalls.
"We believe we now have the advanced business systems that will take us many years into the future," he says, adding that these allow the company to automate functions and reduce manual data entry and paper requirements. "These are tools that allow us to link directly with both our customers and suppliers to facilitate real-time information flows that will help us to drive accuracy and continuous improvement."
These also help Columbia Tech improve consistency. "Throughout these software tools, there are automated and integrated flow control and documentation control to eliminate the need for reentering data," Johnson says.
Package Perfection
Columbia Tech not only customizes its products for clients, but also the packages they arrive in. When one client in the robotics space had numerous parts that needed to be sub-assembled and delivered to fulfillment centers, "It quickly became very challenging," Johnson recalls.
The project was in support of building complex workstations on site in very high volume. The components of the stations included infrastructure of the physical work platform, scanning and computing gear combined with various hardware, signage and labeling. All pieces were required, but many were not easily labeled and their placement in the assembled station was not evident.
"Parts were being lost," he continues, adding that Columbia Tech worked with the client to design a solution where parts were delivered in steps and pre-assembled whenever possible. "We delivered a very tight, integrated solution leveraging today's technology. The product is now delivered ready to assemble, clearly labeled and 100 percent of the validation of each shipment is supported with an RFID verification as standard procedure."
Solution Partners
Maintaining strong relationships with suppliers is a major focus for Columbia Tech. "That's a core part of our solution," Johnson says, adding that the company maintains a list of about 40 preferred suppliers for various commodities.
"We have relationships that go back many, many years," he says, noting that it strives to keep communications with its suppliers open and transparent. "We want to understand where they're going as well as communicating what we're seeing."
For example, Johnson says, the company works closely with a strong complement of metal fabrication suppliers. Its customers require precision parts from large frame weldments to high tolerance machined components. Through its relationships, "We're able to bring solutions to the customers and work with suppliers jointly to get to manufacturable solutions quickly and efficiently, while never compromising quality!" he says.
Making Things Happen
Johnson is a 30-year veteran of the high-tech industry. "I had the fortunate experience of working with a number of start-ups, as well as larger, established companies in New England with global operations," he recalls, noting that these included Sun Microsystems Inc., Lucent Technologies and Motorola Mobility Solutions.
He joined Columbia Tech five years ago and is proud of the recommendations it receives from its clients. "The fact that our customers are happy with our support is evident in our continued growth," he says, also praising the company's culture.
"The passion of the people is unique from what I've experienced," he declares. "It allows us to achieve results that are better than most."
Johnson sees a strong future for Columbia Tech, which is benefiting from the strong economy and its innovative Time to Market Servicestm business model. "Things are going well," he says. "Many of the markets we support are growing and customers need help commercializing quickly.
"We're likely to continue through organic growth," Johnson predicts, adding that the company plans to serve more markets and customers. "We're planning double digit growth this year, and into the future."
Leaning Forward
Lean initiatives are ingrained in Columbia Tech's culture. "Lean is really in everything we do," Senior Vice President of Supply Chain Scott Johnson says. "It's one of the core principles and we use it in every aspect of our manufacturing process."
In fact, the company follows the slogan "Leaning forward." But Columbia Tech also uses lean principles in the way it processes quote requests and moves data through its system. "We're always thinking about … what is the optimal format for it to be delivered in to make the next step as efficient as possible," he says.