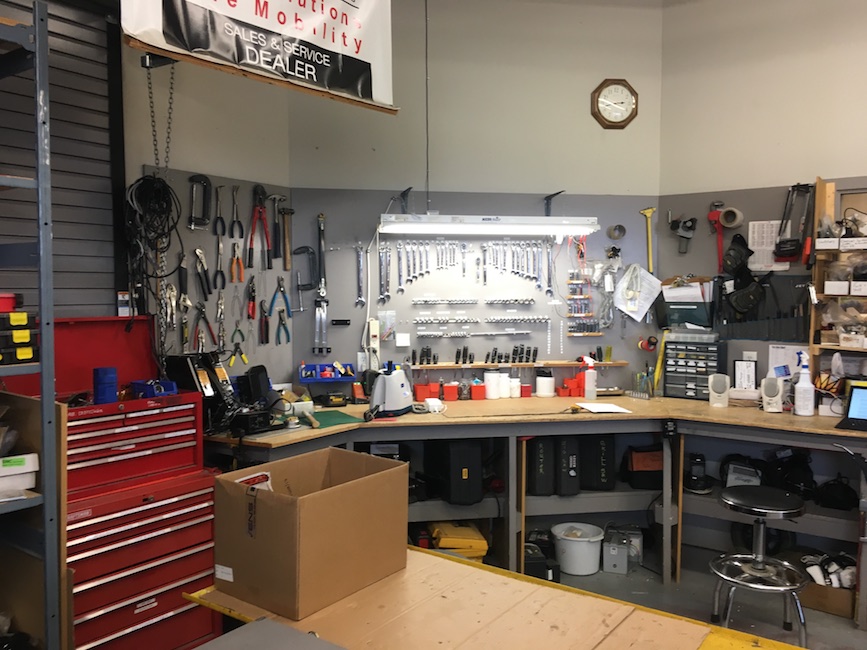 Motion Specialties' supply chain is critical to the mobility product provider's ability to modify products specifically to its customers' needs.
By Jim Harris, Senior Editor at Knighthouse Media
Motion Specialties' supply chain and procurement operations have helped it grow to become Canada's most technologically advanced home health care provider, with a store network of 35 locations in five provinces.
"Supply chain put us on the map and made us the largest company of our kind in terms of footprint and network," Executive Vice President of Operations Dipesh Pattni says. "Our suppliers know we are not going to accept things status quo and that we're on the leading edge when it comes to thought processes and strategies."
Founded in 1985 in Toronto, Motion Specialties sources mobility products including wheelchairs, walkers, home elevators, ramps and stair lifts from a number of manufacturers. The company then modifies this equipment to the specific needs of end users.
"One of the key factors that sets us apart from our competitors is our ability to provide customized solutions for the most complex seating and positioning systems," Pattni says. "We have service and product experts across the country including remote areas of the community – more than any competitor in our industry."
Motion Specialties' team of product specialists measures end users and their homes to ensure its mobility solutions suit their needs. Product specialists also work with service technicians, who then supply feedback to suppliers regarding product design, improvements and features. "Our supply team is integrated on the front lines," he adds.
The company sees clients in their homes or becomes involved with them while they are in a rehabilitation center. Motion Specialties also serves long-term care centers. The team interacts with a client following an initial consultation with a physical or occupational therapist following an injury, mobility challenges or due to a medical condition. "Our customers expect us to have product expertise and to be empathetic and proactive with service," Pattni says. "They want us to be responsive and get the engagement right the first time."
Taking Steps
Under Pattni's direction, Motion Specialties continues to improve the way it works with suppliers. In the two years since Pattni joined the company, its supply chain department has reorganized. The department is led by a vice president who oversees a director of strategic sourcing, a manager of purchasing, a manager on inventory controls and system data integrity. Each leader is responsible for a team of employees.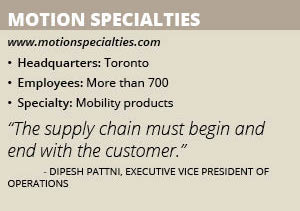 Prior to the restructuring, every individual Motion Specialties location was responsible for sourcing. "Each location could activate suppliers based on the local decision making. For example, a sales-driven leader would ask for financial benefits and a service-driven leader could ask for warranties and quicker lead times," Pattni says. "Today, with a consolidated and supply chain leadership, we are evolving to multiple benefits across the network. Our position in the market allows us to reach more clients in more remote locations, and our supplier partners recognize that."
In addition to restructuring the department, Pattni led efforts to implement the Microsoft NAV enterprise resource planning (ERP) software throughout Motion Specialties' supply chain operation. The system has given Motion Specialties greater visibility into its existing inventory and purchases from vendors, which has enabled the company to order products as quickly as possible to meet customers' demand. The system also enables the company to visualize buying patterns in locations and communities, which allows it to improve its training to focus on individual product specialists.
"Two years ago, we did not have the benefit of an ERP system like Microsoft NAV. Today, our world has changed with the power of information from all of our interactions with NAV," he adds. "Our locations provide the orders through NAV that are relayed to the supplier network. We are moving ahead with a closed-loop cycle to get all order-related information in the system upfront; this is the right first step toward an electronic data interchange program with our supplier partners."
Staying Flexible
In addition to installing a new ERP system, Motion Specialties last year completed a request for proposal (RFP) process with all of its mobility suppliers. The company is also partnering with eight strategic vendors to shorten product lead times while improving its working capital.
"We work in a partnership with our suppliers to meet our customers' requirements," Pattni says. "We are continually exploring opportunities to increase the velocity of product and information across the supply chain through jointly managed programs including consignment inventory, vendor demo units, electronic acknowledgements such as price and delivery date, training programs, warranty management and new product introductions."
Motion has introduced an industry first two-year parts and labor coverage on all mobility products since its inception of a product reference guide (PRG) last summer. "This expands the peace of mind for the end user for any issues with their products," he adds. "This was a strategy to bring end user focus to the forefront in an industry where the suppliers and the strategy has remained virtually status quo over a decade."
All of the company's supply chain improvements ultimately have one group in mind. "The supply chain must begin and end with the customer. Supply chain is not only the management of products and services, but also information," Pattni says. "Making sure the right product is ordered the first time enables the product to arrive at the right time.
"Equally important is keeping the customer informed from the time of the initial quote to product delivery and installation. This means tracking the order not only within Motion Specialties, but also with our suppliers, transportation companies, customs and/or subcontractors," he adds. "If the customer's needs change in the process, we need to be flexible and adapt to ensure they are met."