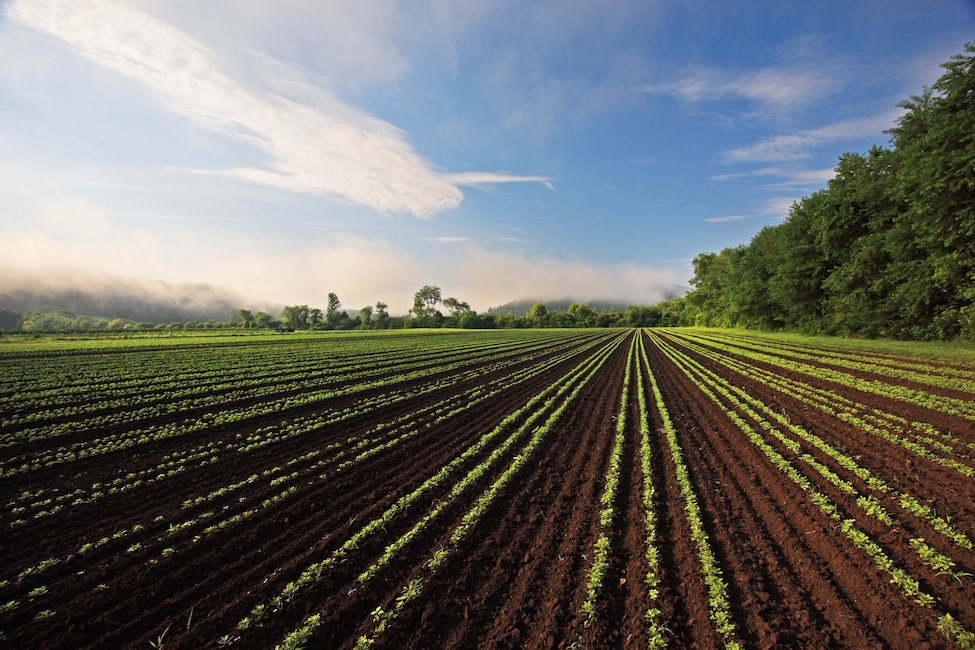 With a vertically integrated, transparent operation, Gaia Herbs maintains its leadership position and reputation for strict quality standards.
By Staci Davidson, Managing Editor at Knighthouse Media
Consumer use of herbal medicine and supplements has been growing in the United States for nearly 15 years, with the market surpassing $7 billion in sales, according to the American Botanical Council. To some, use of herbs to treat different health conditions may seem like the latest trend, but herbs have been a normal part of medical practices in different areas of the world for thousands of years. As more U.S. consumers look to integrate herbs into their lives, Gaia Herbs wants to ensure they have the information they need to make the right decisions, as well as the product quality that sets standards for the industry.
Based in Brevard, N.C., Gaia Herbs is a leader in the nutritional supplement industry, and has a vertically integrated operation where it can keep a close eye on quality. The company operates its own farm(s) and wants its business to be as transparent as possible, so consumers can gain a better understanding of its quality and why these products might be right for them. Through MeetYourHerbs.com, Gaia Herbs explains every step of its processes – from "seed to shelf" – as well as the science behind its products, the products' potency, the sources with which it works and how it maintains safety.
"We're trying to figure out with Meet Your Herbs how to make all of this information relevant to consumers," explains Bill Chioffi, vice president of global sourcing. "Someone may be interested in herbs, but they want to know what are they for, and how to make it safe. We are obligated to abide by the FDA and Federal Trade Commission regarding what we can say about dietary supplements, so we are trying to elevate consumers' knowledge and get them to try new things. It's like a hybrid car – would you buy one if you didn't know the advantages they offer?"
Consistency and Control
Gaia Herbs is a leading North American producer of more than 200 liquid extracts, functional powders, teas and patented Liquid Phyto-Caps. The company cultivates about 30 percent of the herbs it offers on its farm. In each growing season, Gaia Farm cultivates more than 5 million individual plants – representing 45 species – and is one of the leading growers and producers of Certified Organic herbs and herbal products in the United States.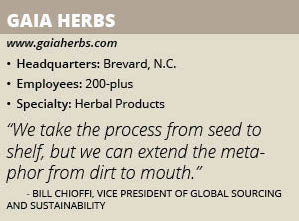 The company was founded in 1987 by Ric Scalzo, who started by growing medicinal herbs and extracting their essences in a small shop in Harvard, Mass. Chioffi explains Scalzo soon realized the short growing season in the Northeast wasn't conducive for a prosperous herbal business. With its base in North Carolina, Gaia Herbs is in a biologically diverse region, and keeping its business vertically integrated became its basis for quality.
"With our farm, we produce high-quality materials that we can monitor very closely with our onsite analytical lab and ensure our products remain consistent," Chioffi says. "We continue our efforts to vertically integrate new raw materials. One example is the wildly popular Turmeric plant. Efforts to vertically integrate the farming of that plant have been continuing for the last 9 years in Costa Rica where we currently grow this and other crops coming from the Eastern Hemisphere."
Proof of Quality
Gaia Herbs uses its vertical integration to ensure quality throughout its supply chain, and MeetYourHerbs.com informs consumers about that quality. On that site, for example, there is information about the products' raw materials, what the finished products consist of and the herbs' countries of origin. The site offers very specific information on a range of botanicals, whether consumers are looking for information about an herb a family member uses, or in response to a certain media story, like an E. coli outbreak in spinach.
"We have a major commitment to vertically integrating our farming operation with an analytical lab and the GMP manufacturing facility on-site," Chioffi says. "We take the process from seed to shelf, but we can extend the metaphor from dirt to mouth. We want the quality to end with the consumer, while also being conscious of the dirt because all of the plants and seeds have to go into the soil.
"It's not just our ability to vertically integrate the supply chain – we are elevating the conversation about the truth in labeling and proof in labeling," he continues. "Our transparency platform takes it to the level of the proof of quality, which is consistently internally validated. If more partners would participate at that level – and transparency platforms are becoming very popular in our industry – the quality would increase across the board."
He notes Gaia Herbs also actively participates in the American Herbal Products Association to advocate for the industry, such as adding incentives for farmers to grow alternative crops and assisting with legislative actions. By being active politically, it can affect issues with tariffs, global issues with its supply chain and the U.S. farm bill.
"We continue to educate because we want to maintain the connections between plants and people," Chioffi says. "We've always had these relationships, but as our species evolve, we have to understand these relationships in different ways."