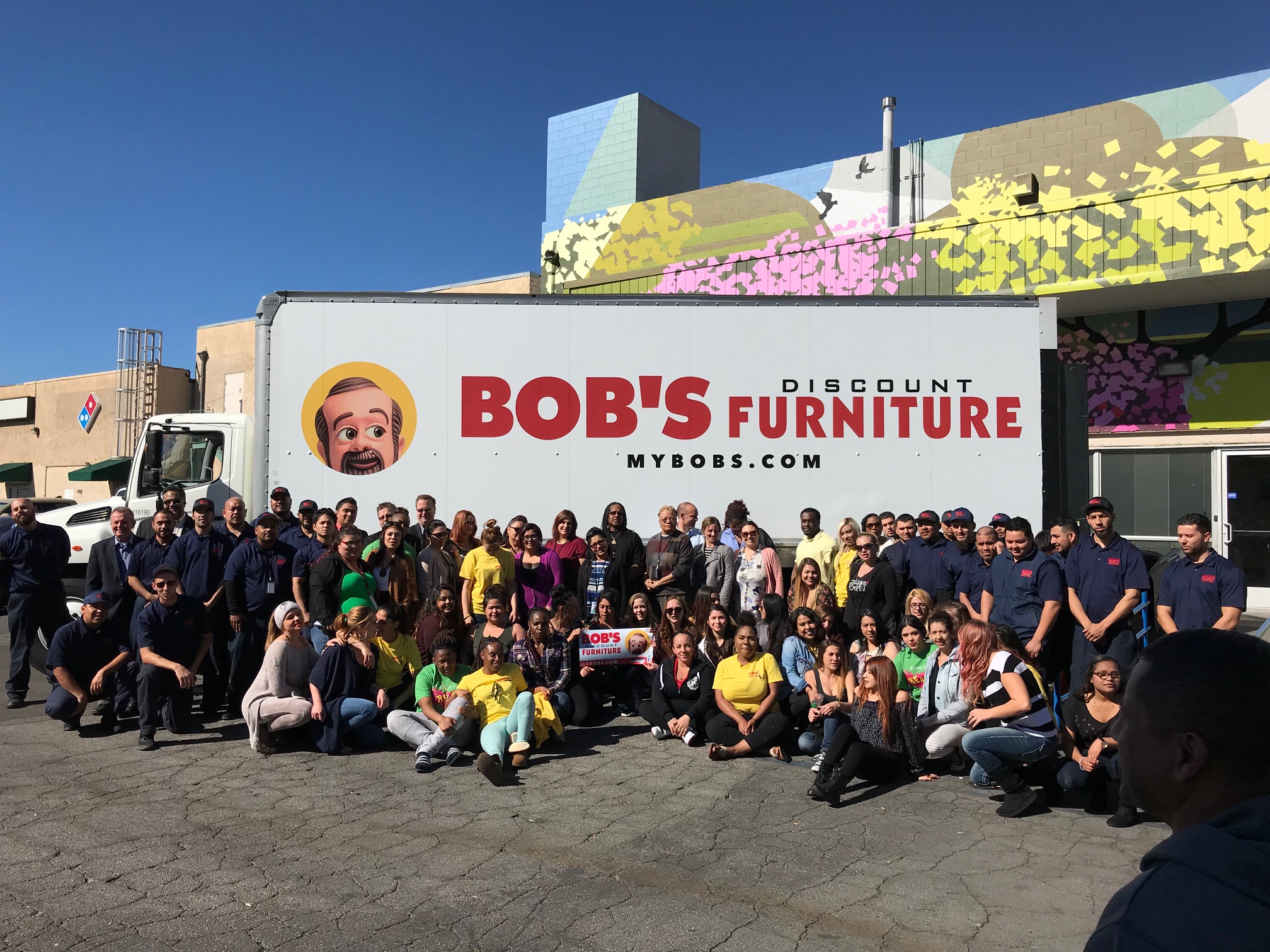 Bob's Discount Furniture believes in continuously improving its inbound logistics operations.
By Jim Harris, Senior Editor at Knighthouse Media
Bob's Discount Furniture continues to improve and grow its operations to meet its changing logistical needs.
"For our retail environment, a major demand of our supply chain is to effectively collaborate with our [third-party logistics providers] 3PLs and our suppliers," Vice President of Inbound Logistics Greg Brinkman says. "We have factories around the world shipping to us with extremely long lead times and very poor on-time shipping performance. Furniture retail is a make-to-order business where everyday replenishment goods take four months to receive."
The company is implementing new technology throughout its logistics organization to help it manage inbound freight. In December 2017, the company purchased SAP's transportation management system, which it hopes will be fully in place this fall. The system will integrate with the company's point-of-sale platform, Brinkman notes.
Bob's is also converting its two existing warehouse management systems into a single system. This process is expected to conclude early next year. "This will help us automatically integrate our shipments into SAP easier," he says. "This will improve our overall visibility and help us better manage on-time shipping."
The company regularly meets with its suppliers and other partners. "Our partners are so critical to our success," Brinkman says. "We are challenging them to become stronger, more automated and become more efficient, so we can grow stronger together."
Joining the Team
Brinkman joined the Bob's team in February 2017. Under his leadership, the inbound logistics department this year recently added three new key team members.
Andrew Nutting, the company's new director of international logistics, has more than 10 years of logistics experience going back to his service with the U.S. Marine Corp during the Afghanistan and Iraq wars. Before joining Bob's, he oversaw logistics functions and expanded the supply chain operations of Medford, Mass.-based Midea Corp. In addition, he worked with TJX's import group, supporting that company's 30,000-per-year import volume.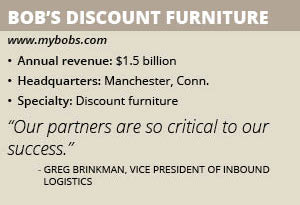 Nutting's responsibilities include directing and negotiating Bob's transportation services and spend. With 75 percent of Bob's business originating overseas, Nutting's international experience will greatly assist with the company's ocean freight operations, drayage and global port activities, Brinkman says.
Paul Pacewicz recently joined the company as its director of customs compliance. In this role, he is responsible for ensuring customs compliance by controlling, monitoring and reporting on Bob's daily import entries as well as its compliance with the federal Customs-Trade Partnership Against Terrorism (C-TPAT) program. Pacewicz also oversees Bob's airfreight shipping procedures in collaboration with the company's merchandise department.
Before joining Bob's, Pacewicz oversaw customs compliance, transportation and vendor relations for Brooks Brothers.
The third recent addition to the Bob's inbound logistics team is Chris Khalil, who works as an inbound logistics analyst. In this role, he is responsible for streamlining the department's processes and managing domestic freight. Previously, Khalil worked in Bob's analytics department in Taftville, Conn., for five years, where he supervised streams of data analytics for the company's distribution centers.
Brinkman says the three new hires help the company address the challenge of having qualified personnel in place within the organization. "With the tremendous growth we've had over the past five years, we've needed to make sure that we have the right people in upper corporate management," he says. "We want to work smarter, not harder. If you bring in good, quality people it makes our job easier across the whole corporation.
"Our new members have a pretty big task, and they do an outstanding job," Brinkman adds.
Building Loyalty
Since 1991, Bob's has built strong customer loyalty by offering the highest-value home furnishings at the lowest possible prices. With 98 furniture stores located throughout New England, Delaware, California, Illinois, Indiana, Maryland, Missouri, New Jersey, New York, Pennsylvania, Virginia, and Wisconsin, the Manchester, Conn.-based company has become the 12th-largest U.S. furniture chain and proudly holds an A+ rating from the Better Business Bureau.
Bob's offers a wide variety of furnishings – including living room furniture, bedroom furniture, dining room furniture, mattresses and home accents – at everyday low prices. Stores also offer a unique and enjoyable shopping experience featuring cafes in each store with free gourmet coffee, ice cream, cookies and candy, the company says.
The company operates five warehouse/distribution centers: three located on the East Coast, one in Chicago and one in California. The California center – located in San Bernadino – opened in November 2017 to support Bob's rapid growth throughout the state. The first Bob's location in California opened in February 2018, and the company plans to open six to more locations there before the end of the year.
"We are now building a lot of stores in California and we have been received very well so far," Brinkman says. "Ultimately, we'll have significantly more stores in California over the next three years."
The company's growth in California and elsewhere also recently led it to open a new headquarters and corporate campus in Manchester, Ct. The new 103,000-square-foot, three-story building houses more than 200 employees and provides it additional office space for growth over the next 25 years, the company says.
Community Outreach
Bob's Discount Furniture supports the communities where its stores are located through a variety of charitable giving efforts. The company's philanthropic work is anchored by the Bob's Discount Furniture Charitable Foundation, founded more than 20 years ago.
In addition, the Bob's Outreach program was created as a separate entity to help schools and child-related charities. The company donates more than $2.75 million to charities through these programs each year.
The company's recent charitable donations include a $10,000 donation to the Salvation Army. The donation will help the organization provide beds and furniture to families who were displaced from their homes during the 2017 Atlantic hurricane season, Bob's says.