Southwest Stainless & Alloy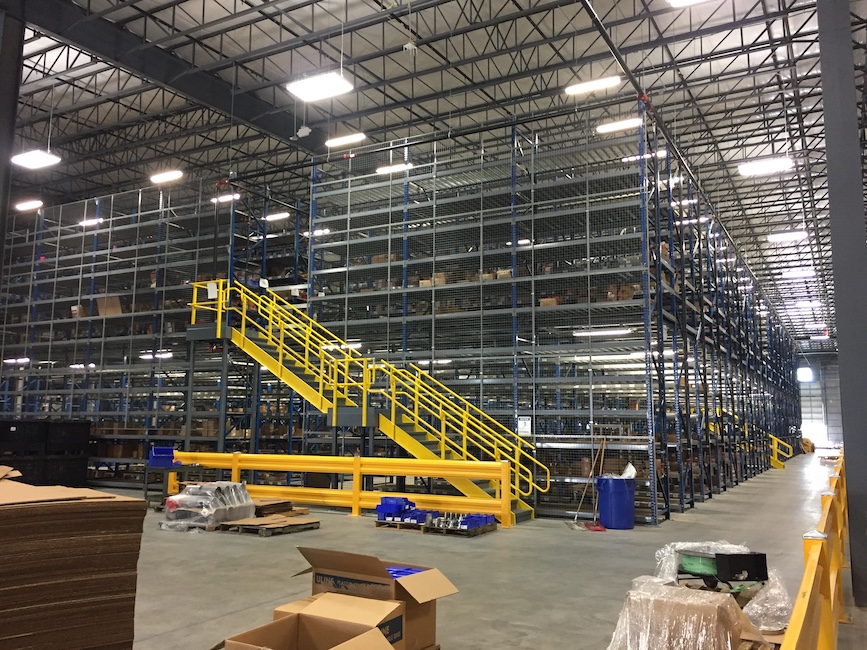 Southwest Stainless says it is better positioned as a leader than ever before.
By Alan Dorich, Senior Editor at Knighthouse Media
When operational plants, fabrication facilities and new industrial construction sites need quality piping from a provider they can count on, they go to Southwest Stainless & Alloy. "We do everything we possibly can to make sure our customers are satisfied," Vice President of Procurement Jason B. Kinchen declares.
Based in Houston, Texas, the company provides stainless, carbon, chrome and specialty alloy, pipe, fittings, flanges and bars to the petrochemical, chemical, oil and gas, wastewater treatment, mining, power generation, and pulp and paper markets. Southwest Stainless started operations in 1974 and is now part of FloWorks International LLC.
That has helped Southwest Stainless become an industry leader. "I feel as a company we're as well positioned as we've ever been," Kinchen says, adding that it also can pool resources with the FloWorks family of companies. These include Sunbelt Supply Co., a provider of manual and automated valve products, and Major Inc., a sourcing group for power companies.
With many clients wanting to lump services together under one contract, "It's been good to work with our own sister companies and put a complete package together for the client," he says.
Good examples include Eastman Chemical and Chevron Phillips (CP Chem). Southwest Stainless has national PVF account relationships with both of these major end-user companies and has successfully handled major projects, turnarounds and daily business with both of these valued customers.
Tariff Trouble
Southwest Stainless is feeling the effects of the U.S. Government Section 232 investigations imposed on imported steel. Kinchen explains that the Department of Commerce is studying the effects of imported steel.
Nearly every foreign company in the industry, he says, has been hit with a 25 percent tariff so the United States can be more competitive. Some countries will have a quota in lieu of the tariff, but "it's still not completely clear as to who is going to have exceptions," Kinchen says.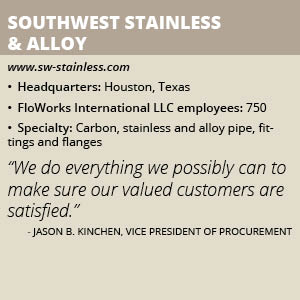 "They're only allowed to bring in [a certain amount of] tons per year of the product," he says. "Other countries like China, India and Russia are being hit with a 25 percent tariff, so it's escalated the material market."
Southwest Stainless has addressed the issue by passing the cost to its customers. The hardest part of this, Kinchen notes, was that it had to charge 25 percent more for orders that were underway before the tariff was implemented.
"Moving forward, they'll be rolled into the cost of the goods," he says. "It's been difficult to explain to everybody what the situation is."
Getting Smaller
Southwest Stainless recently cut its suppliers from 50 to 25. "Low price is not necessarily the most important thing for us anymore," Kinchen says. "We've tried to reduce our supply base so we are more important to the suppliers we do use."
This improves the company's purchasing power and prevents it from spreading itself too thin. "The volume that each of our suppliers receive today is larger than it was five years ago, when our supplier base was just too large," he says.
Southwest Stainless also has added state-of-the-art technology to its facilities. "From an inventory management perspective, we are more automated than we are manual," he says. "We've put some systems in place to better understand where everything is market wise and to assist our customers with more future focused market information."
He adds that its flagship facility in Pearland, Texas, features a conveyor picking system that provides increased speed and performance for its staff in pulling items from inventory that are needed by its customers. "We just try to be more efficient in something that used to take much longer," Kinchen says.
Relationship Focused
Kinchen joined Southwest Stainless two years ago, but is a longtime veteran of the industry. When he attended college, he worked for The Shaw Group, an engineering, procurement, construction and fabricating company also based in Baton Rouge.
When Kinchen came to Southwest Stainless, he started as its director of product development. "Since then, my role's changed a few times," he says, noting that he now oversees procurement for all the business units.
He strongly values Southwest Stainless' relationships with its suppliers. "We can't be successful in the business without great suppliers and great customers," Kinchen declares. "My role within the organization is to help generate solid, long-relationships with our suppliers."
He also takes pride in the teamwork philosophy engrained in the company's culture. "The leadership that we have at the helm today has taught all the various business units that we are one company and the opportunities that we get are a result of what we can help each other with," he says.
This has helped the organization grow closer. "As a result, our success continues to be positive and going in the right direction," Kinchen says.
He notes that the future looks strong for Southwest Stainless. "Our business is growing rapidly with many key customers such as Marathon, Valero and ExxonMobil. We also continue to add new customers on a regular basis as they see the value we bring for their PVF supply chain goals in both MRO as well as capital projects. Our ability to furnish their PVF commodity grades of material as well as their specialty stainless and alloy material grade requirements off the shelf provides a solid value our customers need to operate their plants and businesses at peak performance."