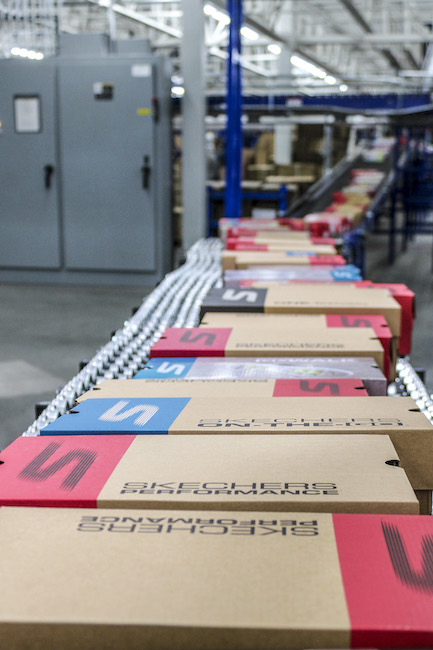 Skechers is making investments to keep pace with its fast-growing global empire.
By Kat Zeman
Like most people, Paul Galliher has two feet. Unlike most people, he has more than 155 million pairs of shoes – and his collection is growing.
He doesn't exactly own them. But, as senior vice president of global distribution at Skechers, Galliher is responsible for making sure each of those 155-million-plus pairs that the company sells annually make their way to the appropriate person and location.
His job becomes more challenging each year as there are more shoes to manage. A multi-billion-dollar global leader in the high-performance and lifestyle footwear industry, Manhattan Beach, Calif.-based Skechers is growing by leaps and bounds – and Galliher must do some fancy footwork to keep up with the growing demand.
The company has grown from a $3 billion brand in 2015 to a $4.16 billion brand by 2017. The growth has mirrored its global network of retail stores that have multiplied from 1,000 stores in 2014 to more than 2,000 stores in 2017. Although the Sketchers brand continues to grow in the U.S. market, its international presence is blooming.
"The U.S. is our largest market," Galliher confirms. "But our international business is growing like crazy and has become more than 50 percent of our total sales."
Footprints Overseas
The company sells its footwear in department, specialty and independent stores, as well as through more than 2,650 Skechers retail stores throughout the world and online.
Outside the United States, Skechers' products are available in more than 170 countries and territories through a network of subsidiaries in Canada, Brazil, Chile and Japan, and through joint ventures in Asia and global distributors.
By the end of the first quarter of 2018, the company had a total of 2,650 Sketchers retail stores worldwide. Of those, 2,197 were outside the United States. Only 203 of its foreign stores were company-owned. By comparison, all of its stores in the United States are company-owned.
Sketchers' international distributors, join venture partners and a growing network of franchisees have significantly contributed to the company's growth.
"Our product is in demand," Galliher says. "We've had people knocking on our door for an opportunity to open a Skechers store. So our business model has changed a little. In addition to opening our own stores, now we're much more receptive to franchising."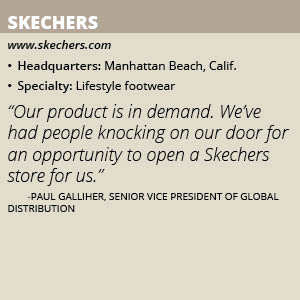 To account for the increase in demand, Skechers has taken action on a number of different fronts. Overseas, it will break ground on a new distribution center outside of Shanghai, China. It will replace three smaller third-party logistics centers in China and service the entire country.
Skechers hopes to have the new 1 million-square-foot facility fully operational by the second quarter of 2019. The property has enough space for another 1 million-square-foot addition in the future, Galliher says.
To further grow its business, Skechers converted several markets from a distributor to a wholly-owned subsidiary model. These conversions include those in Latin America and Central Europe in 2015 and South Korea in 2016.
After converting its Panama distributor into a subsidiary, the company needed to upgrade its distribution capabilities in Latin America. "We opened a new distribution center in Colon and also one in Lima," Galliher adds.
In addition, the company's European Distribution Center in Belgium has doubled in size in the past five years. The 1.1 million-square-foot facility services Skechers' European market that includes the United Kingdom, Germany, France, Spain, Italy, Alpine Region, Central Europe and Eastern Europe.
Since business has been booming in Europe, Skechers is building a 100,000-square-foot facility adjacent to the Belgium distribution center. It broke ground in spring and is expected to be fully operational by the middle of 2019. In the United States, the company plans to add another building, around 750,000 square feet, to its distribution facility in Rancho Belago, Calif.
Technology Enhancements
When it comes to technology, Skechers is making a number of investments. Among them are improvements to its automated storage retrieval system (ASRS) at some of its facilities. An ASRS system consists of a variety of computer-controlled systems for automatically placing and retrieving loads from defined storage locations.
"We put in new technology not for technology's sake, but because it makes us more efficient," Galliher says. "The real goal is to improve our response to customer needs."
Skechers uses different ASRS technologies at different locations. In the United States, Skechers plans to make improvements to its ASRS system at the distribution facility in Rancho Belago. The center, which services all of North America, uses a crane system to retrieve merchandise. In Europe, the distribution center in Belgium uses a shuttle system, which appears to be more efficient.
"One crane services an entire aisle," Galliher says. "The shuttle has a retrievable component on all levels, so if one goes down you only lose one level in an aisle as opposed to the entire aisle (as with a crane system)."
The company will be discussing an expansion of the shuttle system in Europe this year. That means adding more aisles.
The improvements to its ASRS systems are the result of a growing demand for its products. "We are looking at technology to better handle the increase in volume in apparel," Galliher says. "That part of the business is growing. It's not surprising. It's been an initiative of ours for the last several years."
In addition to ASRS improvements, Skechers is also looking to increase efficiency in other areas. "We're looking at using robotics to help with the offloading of ocean containers," he adds. "Right now, we're just waiting for the testing to be done. The mechanics have been there for a long time, it's the software that's playing catch up."
Adapting To Its Time
Skechers designs, develops and markets more than 3,000 styles for men, women and children. The company offers two distinct footwear categories: a lifestyle division and performance footwear.
Founded in 1992, the company started as a distribution licensee for Doc Martens shoes, but quickly grew into its own brand. The first Skechers store opened in 1994. "The first store was more or less an experiment with style and different designs," Galliher says.
Today, the company is known for its focus on comfort and has grown to offer more than shoes. Through licensing agreements, the company also offers accessories, eyewear, scrubs and other merchandise. It also designs its own sport apparel.
Among its fans include a list of celebrities. Celebrity product endorsees for Skechers' lifestyle collections include multi-platinum recording artist Camila Cabello, model and actress Kelly Brook, TV personality Brooke Burke-Charvet, and athletic legends like David Ortiz, Tony Romo, Sugar Ray Leonard and Howie Long.
The Skechers Performance Division's roster of elite athletes features marathon champion and Boston Marathon winner Meb Keflezighi, elite runners Kara Goucher, Ed Cheserek and Tara Welling, and pro golfers Matt Kuchar, Brooke Henderson, Russell Knox, Wesley Bryan, Billy Andrade, Belén Mozo and Colin Montgomerie.
Galliher believes that a part of the company's success is due to its ability to adapt to change. "Whether it's a change in style, a change in market requirements or something on the distribution or production side, we adapt to change as well as anybody I have ever seen," he says. "Flexibility and speed-to-market are at the forefront of our minds across all departments with a goal of putting the customer experience first."