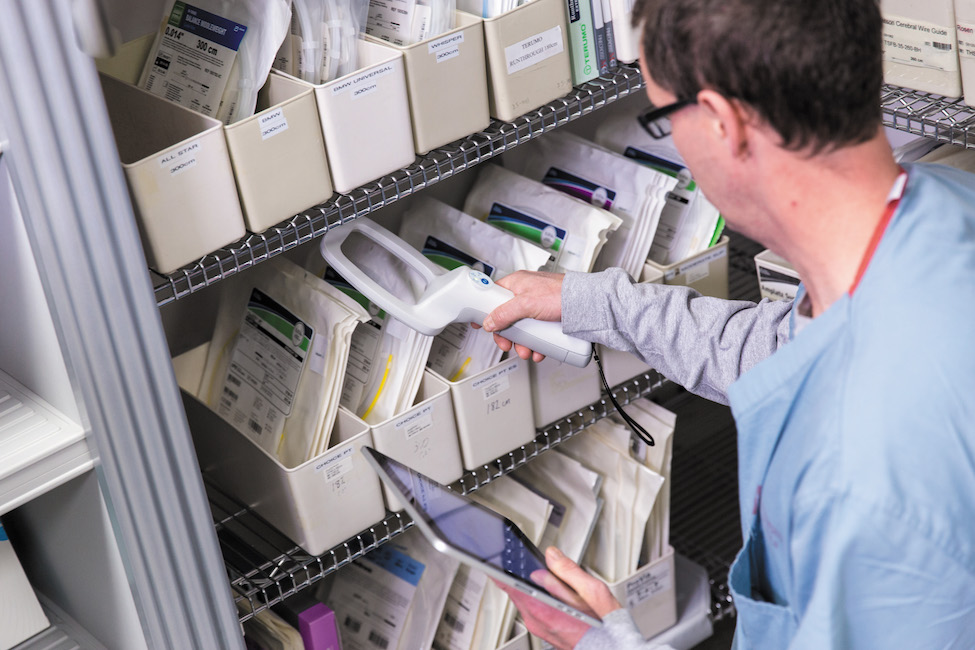 Staying ahead in today's value-based reimbursement environment requires buying and having visibility to the right products, at the right time, every time. That's why more and more supply chain leaders understand how managing product inventory "the way we've always done it" can be a costly, unproductive way to do business.
Total Visibility
Efficient, cost-effective healthcare delivery is contingent on having an inventory management platform that not only tracks par levels and usage consistently and accurately, but will also provide critical, up-to-the-minute data that can point to trends such as cost per case or department, predict needs in advance, and guide purchasing decisions. That's what a real-time automated solution with an advanced analytics component does. It gives hospitals constant, widespread visibility across the supply chain and valuable data that can be used to reach fiscal and care delivery goals that were almost impossible to achieve earlier.
Using automated inventory management paired with Radio Frequency Identification (RFID) technology can put an end to labor-intensive auditing, line of sight reading of boxes and manually keying product information into multiple systems. Manual methods can be prone to human error and unable to concurrently support clinical and operational efficiency, maximize reimbursement opportunities, strengthen supply chain's negotiating power, monitor contract compliance, support patient safety initiatives and deliver significant bottom line savings.
No More Expirations
Wouldn't it be great to know exactly when every product on the shelf is going to expire well before it happens? With the right data and tools on hand, this can be done. Continuous, real-time monitoring at the individual product level gives you visibility to recalls and expirations 24/7. You can also generate expiration reports that quickly identify products before they expire. Plus, advanced analytics, when used across multiple departments, can determine exactly where the high- and low-volume users are of any product on hand that may be expiring soon, positioning hospitals to utilize supply prior to expiration.
Conversely, if products are not being used then you're equipped with data to use for conversations not only with internal staff such as physicians, but also to help guide conversations with the manufacturer.
Savvier Purchasing
Bulk purchasing and consignments can be great ways to reduce costs. Having good, accurate data – in real time – will also add valuable support and guidance and help you avoid costly mistakes.
Negotiating also requires collecting and evaluating data from various departments and systems, a time-consuming and painstaking task if you're relying on older inventory management methods. "If I needed to know something, I'd have to go to my purchasing team who has to go to their analyst and then I'd have to wait for them to turn that information around," says Lisa Stepps, senior manager of product strategy for Cardinal Health™ inventory management solutions. "Then I have to somehow marry all that information together. It was very laborious."
Automated inventory technology changes all of that. You don't have to have to wait or have a data analyst in your department to get the answers you need.
Charge Capture
Capturing the true cost-per-case to optimize billing and reimbursement functions is another goal that every supply chain aims for. That's exactly what automated inventory management paired with RFID technology can achieve: end-to-end product visibility and accurate usage capture on every case, in real time. All scans made at the point of use can go through an integration system which immediately sends that product information into the clinical documentation system while also sending it to downstream billing.
Leveraging Data
Data will always be a critical and powerful tool for communicating among the supply chain and clinical staff, particularly with physicians who may be willing to consider other product options if given a good reason to do so. Having strong data can change the conversations you have with medical directors and physicians – they'll start to look at compliance and at utilization because you can compare that information and share it. It's no longer an emotional conversation, now it's a very data-driven discussion.
Data can also help you look at your contract compliance. If you're required to use 30 percent with a particular manufacturer and you have one physician who never uses that supplier, you'll have the hard data right there to call that out.
Whether your supply chain fuels one hospital or an entire integrated delivery network, implementing an automated inventory solution with RFID technology and advanced analytics capabilities can improve processes and outcomes across the board. The Cardinal Health Inventory Management Solution cloud-based system uses RFID technology to interface around the clock with multiple departments, streamline workflows, bolster purchasing decisions, increase billing and reimbursement accuracy and, ultimately, help to improve patient care.
For more information, visit www.cardinalhealth.com/cims.