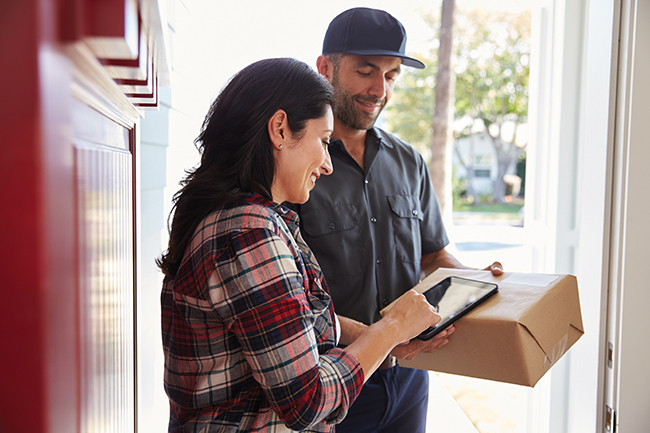 By Andrew Chung
In the booming world of e-commerce delivery, the last mile is often the costliest and error-prone part of the journey. While new delivery solutions seem to crop up every day of the week, from Amazon lockers to drones, there is no surefire approach to a perfect delivery plan. Last-mile properties have become the next best thing, allowing companies to confidently offer same-day and one-day delivery, which in 2018 has become the difference between making the sale and not for ecommerce and retailers. Research also shows that customers are also willing to pay more for overnight and same-day shipping. One option to provide a more convenient experience and increase revenue is to identify a facility close to your customers to make possible short delivery windows.
Same-Day Delivery
In 2018, same-day delivery is king. 25 percent of consumers are willing to pay premiums for same-day delivery. The percentage of e-commerce sales to the total U.S. retail sales more than doubled between 2010 and 2017. Consumers spent $453 billion on online purchases in 2017 up from $391 billion in 2016, a 16 percent increase. All this points to the need for ecommerce to secure a logistics facility in a location close to your customers: the all-important "last mile" of the supply chain.
Going Vertical
Rising wealth and rezoning in New York City in the past decade has led to more than 11 million square feet of industrial space being converted to other types of real estate. Reduced industrial space has made last-mile properties even harder to come by. While big-box chains in suburban locations have been doubling as distribution centers, this is more challenging in urban environments that lack large footprints. In regions where real estate is tight, there is nowhere to go but up. Newly constructed last-mile facilities of the future will include multiple stories of logistics space to maximize their footprint.
Keeping Costs Low
Current supply chain networks in the United States are weak and will have to improve to keep up with the growth of e-commerce. Real estate of yesterday – malls, shopping centers, grocery stores and other retail ╨will increasingly integrate a logistics and online pickup/returns portion. Last mile properties, when used properly, can save retailers money by fulfilling their delivery commitment and keeping the customer happy. Efficiency in the supply chain is linked to higher profits.
Finding a Property
Most last-mile properties are more than thirty years old. In New York City, most are more than 50 years old, built in another era for industrial use with structural, electrical and usage limitations that inhibit efficiency. Finding a last-mile property to support one's modern day supply chain is not easy, but there is a new generation of last-mile properties built ground up. The user should make sure it has sufficient space required for a productive e-commerce operation. The user should also identify a property in a centralized location to its customers with easy access to highways; as well as trucking access and employee parking onsite. These are key considerations before committing to a logistics property.
The Customer Experience
If you promise same day, you have to deliver – literally. Customer perception is strongly influenced by whether the company can deliver their groceries, home goods, books, consumer electronics or apparel for an event tonight. The last mile and has the power to make the experience better or worse. Whether it's in-store pickup, providing a delivery window or even the locker model ╤customers love options and last mile properties are the key to offering options. Last-mile properties can also support ease of customer returns, by greatly reducing return shipping costs. This all adds up to a better customer experience and a win for the brand that chooses a last-mile property to optimize its supply chain.
Andrew Chung is CEO of Innovo Property Group.