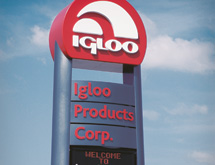 Where there's a picnic or a campsite, there's probably a cooler or some other product manufactured by Igloo Products Corp. The Katy, Texas-based company has long been synonymous with coolers and containers such as its Playmate® brand as well as other outdoor products.
The popularity of Igloo's products, and its ability to continually introduce new ones, has long secured it a place as the market leader in the cooler industry, which it originated in 1947.
There's more to Igloo Products Corp.'s success than just producing a durable, practical product, however. Getting those products into the hands of retailers and, ultimately, consumers involves building strong relationships with customers. "We live the mantra that our supply chain never says 'no,' we just figure out what we need to do to meet consumer needs," Senior Director of Supply Chain Patrick Poole says. "Once we've decided what needs to be done, we ask ourselves how we can make that solution better and less expensive."
Igloo's 1.4 million-square-foot manufacturing, warehousing and office facility in Katy directly serves retail and commercial customers with hard-side coolers. The majority of the company's soft-side products, such as insulated lunch bags, are shipped from manufacturers in China.
The Katy facility can accommodate customers seeking a combination of hard and soft items or coolers of various colors or sizes in a single order. Its ability to meet varied orders demonstrates Igloo's corporate focus on service and relationship building, COO and Senior Vice President David Thornhill notes.
Igloo's efforts to build strong customer relationships have earned it recognition from retailers including Walmart and West Marine, who have honored the company with supplier awards.
"We are very flexible," Thornhill adds. "We try to do whatever we need in order to do – which we define as providing the best service we can – and our business keeps growing as a result."
Warehouse management systems and other technology help it keep pace with growing customer demands. Igloo also recently changed the layout of its warehouse and distribution center to allow for more efficient picking, staging and loading activities. The company also maintains information and transportation portals with all of its customers.
Strategic Planning
Igloo's customers and supply chain play an important role in what Thornhill calls one of the company's greatest strengths – new product development.
"We probably generated more new products in the last four years than the entire industry has in the last 10 years," Thornhill says. "We are relentless when it comes to service, building relationships and new product innovation."
When developing a new product, Igloo executives meet with customers to determine their strategic plans. The company then examines its own operations and processes to make sure it has the capability to meet customers' needs.
"We start up front with ideation sessions that support new product development, and we make sure that we are able to support that vision from a supply chain aspect," Poole says.
The company works closely with suppliers to monitor commodity prices, and contracts with suppliers in advance when possible to keep its costs low. "For certain commodities that we can contract, we try to lock in prices when possible and where it's not volatile from a market standpoint," Poole explains. He notes that paperboard and resin prices tend to fluctuate more than those of label stock, for example.
Igloo's manufacturing operations work in close conjunction with supply chain operations to make sure demand forecasts can be met without creating an overstock. Although Igloo's products are seasonal, manufacturing takes place year-round.
"We run a fine line between building up a seasonal inventory and making sure we don't have excess at the end of the season," Poole says.
'Living the Category'
Internal investment in supply chain, manufacturing and other operations is a high priority for Igloo, even in a slow economy. "The company that continues to invest during tough times is the one that comes out ahead of the rest," Thornhill says. "While other companies are retrenching and trying to figure out how to reduce costs, we are investing money and still leading the market."
Thornhill credits all levels of Igloo's staff with its success, and says the company has a wealth of creativity to draw from. "We are all creative individuals; we live our category," he says.
"You are not going to hear us talking about our category from 10 feet away – we use these products, live with these products and listen to our consumers," Thornhill adds. ­­­