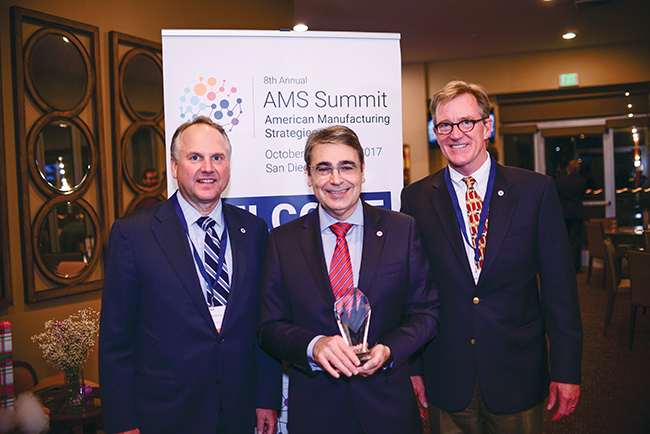 The American Manufacturing & Supply Chain Awards are now accepting nominations. The awards recognize individuals who have pioneered leadership and driven excellence in their fields.
With change management, skilled worker shortages and leadership all becoming more important industry issues in recent times, it is important to recognize the leaders who have overcome huge obstacles yet still managed to deliver impressive results and lead by example.
The awards are run in conjunction with the American Manufacturing Strategies (AMS) Summit and the inaugural American Supply Chain Management Strategies (SCMS) Summit, co-located in San Diego from Oct. 22 to Oct. 23. The summits will host a joint awards dinner after the first day of the summit at the Hilton San Diego Resort & Spa. The event will be attended by the top industry professionals from both the manufacturing and supply chain industries.
The American Manufacturing Leadership Award 2018 will be presented for its second year, rewarding one individual for their innovative thinking and contribution to the manufacturing field over the course of their career. Last year's winner was J. Miguel Lopez Ascaso, vice president of manufacturing excellence at Johnson Controls. "I'm extremely honored and humbled to be recognized as the recipient of the American Manufacturing Leadership Award 2017," he said. "To me, this award represents the commitment that Johnson Controls employees have made to achieve manufacturing excellence."
One outstanding leader will also be awarded the first-ever American Supply Chain Leadership Award. The award will recognize an individual for achieving exceptional operational performance throughout their career, as well as for their forward-thinking in driving change.
Nominations close July 27, after which the nominees will be shortlisted before the process opens to public voting. The winners will be announced on Sept. 10 and then be presented with their awards at the American Manufacturing & Supply Chain Awards Dinner on Oct. 22.
If somebody you know comes to mind for either of these awards, send a brief description of why your nominee is a worthy winner to maxconferences@markallengroup.com by July 27th. By doing so, you'll also enter yourself into a prize draw to win two free tickets to the affiliated summit.
For more information, visit https://www.american-scms.com/2018-awards/