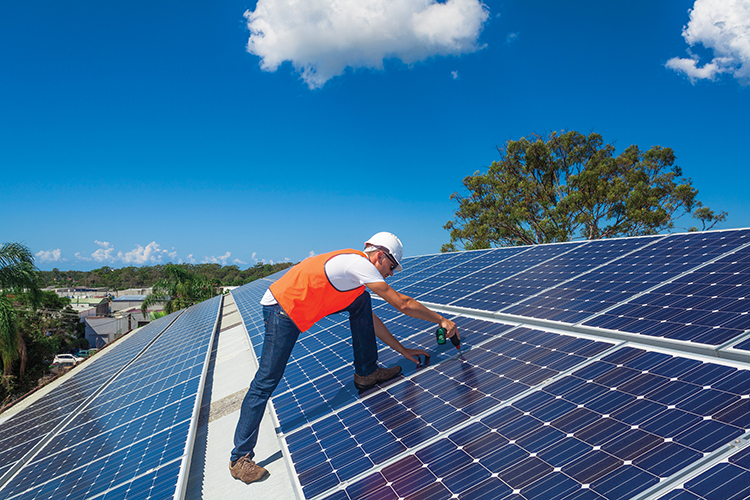 Sunrun reimagines its supply chain as an organization to drive expansion and create advantage in the residential solar system market.
By Tim O'Connor
The first solar cells that could power electronic devices were created in 1954 at Bell Laboratories. But the use of sunshine to generate electricity for the home has become widespread only in the past two decades.
The industry is still young and it's still volatile. Technological breakthroughs are making solar panels more efficient every year and government regulations and building codes are always in flux. Successful solar companies must be able to adapt to those changing trends and requirements.
Sunrun, one of the leading companies in the residential solar system market, believes an effective supply chain gives it an edge as the industry matures. "The supply chain's ability to react quickly will be a key differentiator for Sunrun as we move forward," Director of Supply Chain Zac Beres says.
Residential Focused
Sunrun is focused solely on residential customers and its core business is installation. The company now operates 42 brick-and-mortar locations where it can work with local homeowners to create the right solar configuration for their houses.
In addition to its installation business, the company's integrated partners division works with outside installers to provide financing for solar systems in exchange for Sunrun owning the system for a period of 20 years. "It's something that allows Sunrun to have more of a breadth and reach out there," Beres says.
The third arm of the company's business is AEE Solar, a distributor of off-grid equipment that Sunrun acquired in 2014. AEE distributes solar panels and other equipment, such as racking and mounting, to Sunrun's network of integrated partners, along with resellers, contractors and mom-and-pop installers.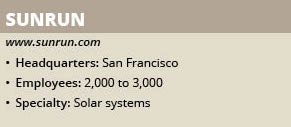 Sunrun's mission is to not simply sell equipment, but rather to sell solar as a service. The company was among the first to pioneer the 20-year agreement model, where a homeowner pays as little as $0 down to install a solar system, but then Sunrun retains ownership of the system for 20 years and charges the resident for the power generated. After the 20-year period expires, the system's ownership reverts to the property owner.
The third-party-owned model was great for building up the solar industry when the cost of solar installations was still out of reach for most homeowners. However, prices have fallen in recent years and there has been an industry-wide shift to cash purchases. Despite that trend, Sunrun has been able to maintain third-party ownership as a high percentage of its total sales thanks to the overall service it provides.
Today, Sunrun operates in 22 states on the east and west coasts. In celebrating its 10th anniversary in 2017, the company hit another major milestone: deploying a gigawatt of solar energy.
Support Systems
The rising popularity of home solar systems creates an opportunity for Sunrun to grow even larger. However, it needs the organizations and processes in place to support that expansion.
One of the prime candidates for improvement has been Sunrun's supply chain. In the past, Sunrun's three business segments each had their own supply chain organizations. That setup supported the individual growth of those areas, but it wasn't efficient overall.
To better prepare it for the future, in 2017, Sunrun began to transition toward a single supply chain that would not only support its three existing businesses but any other areas the company may eventually grow into. "We're trying to get the system in place to support where we are today and our growth over the next five to 10 years," Beres says.
The first year of the Sunrun's supply chain transition was focused on people and setting up the proper structure and organizations within the supply chain itself. "It's a long journey to make sure you have the right people on the bus," Beres notes. "We feel we have the right people now."
In year two, the company has shifted its work to the technology and systems aspect of its supply chain. Sunrun continues to refine its new WMS system and is also implementing technologies that will touch on demand planning, inventory optimization and replenishment planning. "The biggest enabling system for us that we will be implementing this year is a supply chain planning tool," Beres says.
Having a supply chain planning tool in place will enable Sunrun to improve its forecasting and downstream planning. That will help ensure the company has the products and equipment available to meet demand from its homeowner and integrated partner customers. "Warehousing can be as efficient as possible, but if there aren't items in stock they will always be expediting," Beres says.
With those systems in place, Sunrun will be able to better scale its supply chain operations to take on additional complexities as it enters new markets. The key to leveraging those advancements is the wealth of information Sunrun can access. "One of the competitive differentiators for this company is really the technology and the age of data we're in," Beres says.
"This will move us from a world where we are today where data aggregation is a large part of our effort and the data analysis takes much more time than it should," he continues. By implementing these new processes and technologies, Sunrun says it will turn data from information into understanding. From there, it will focus more on the analysis of the data to make educated decisions.
"For the supply chain to respond quickly and effectively, we need these systems to be able to react quickly," Beres says.
Engaging Suppliers
Aside from improving its efficiency, consolidating its fragmented supply chain into a singular organization created the opportunity for Sunrun to better leverage its buying power. The company identified areas where it could standardize its materials across its network at every level, from sales to engineering and construction. As a result, Sunrun paired down its supplier base and negotiated better pricing.
But the benefits of standardization are not limited to only the bottom line. In choosing its materials and suppliers, the company also factored in quality. Now, there's more confidence that installation crews in New York are using the same proven inverters, batteries and wiring as the ones in California. "Quality is a big part and focus of our business," Beres says. "Having standard parts allows for the consistency in training and the outcomes of our work as well."
As Sunrun has consolidated its vendors, the suppliers it has stuck with are ones that are financially healthy, offer long-term product warranties and have demonstrated innovation, particularly when it comes to emerging technologies such as smart grids. That combination of skills is necessary when considering that suppliers are called upon to support a home installation system that Sunrun will own for 20 years. "We're looking for a partnership with our suppliers out there," Beres states.
The relationship between Sunrun and its vendors will only become more important over time. The company is developing a supplier conference for its internal-facing supply chain that will likely launch in 2019. Efforts such as that will help Sunrun to better manage outside challenges, such as the tariffs the Trump administration imposed in January on solar equipment made outside of the United States. More than 80 percent of solar panel parts are manufactured abroad.
In response, Sunrun is evaluating the possibility of purchasing solar panels from U.S. manufacturers, though Beres notes the base of domestic solar equipment producers is still small. "We're really looking for partnerships with our vendors out there to make sure we have a consistent supply even in light of the tariffs," he says.