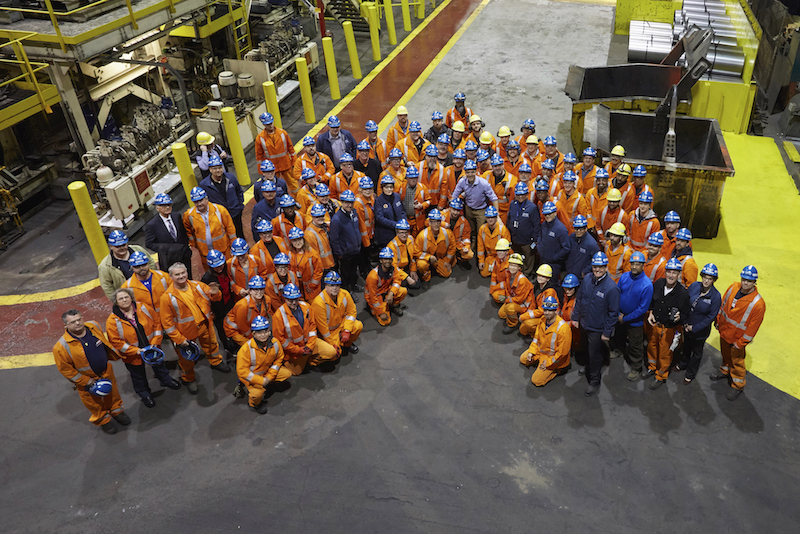 Stelco emerges from bankruptcy protection stronger than ever after rebuilding trust with its suppliers,
and is now a profitable independent company.
By Janice Hoppe-Spiers, Knighthouse Media
Stelco began more than a century ago as The Steel Company of Canada and built a reputation throughout North America for raising industry standards and exceeding customer expectations. The company is known for producing flat-rolled value-added steels for customers in the construction, automotive and energy industries across Canada and the United States.
Although the company has seen much success, it has also endured the ups and downs of ownership changes, a cyclical market and most recently, three years of court-supervised bankruptcy protection. Through it all Stelco has remained resilient and emerged with a new company mantra: The Stelco Resilience.
"The Stelco Resilience is what it's taken to get to this point," says Lloyd Estrabillo, vice president of procurement and supply chain. "That's our general mantra and it has been that resilience that has gotten us through the tough time to now becoming a profitable company."
In 2014, the Hamilton, Ontario-based steel producer went into bankruptcy protection for the second time since 2003, following which it emerged as a new, independent Stelco.
"Steel prices have improved substantially over the past year," Estrabillo says. "Today, we are focused on moving quickly, fast enough to get quality product out to our customer and take advantage of favorable prices. Because of the volatility of the market, we want to respond and react appropriately, which is why we want to make sure we are dynamic and manage each commodity we purchase."
Rebuilding Trust
Stelco worked diligently throughout the restructuring process to ease what Estrabillo admits caused "anxiety among our suppliers." Stelco worked closely with its needed vendors to ensure the continued flow of goods and services required to operate and provide timely payment.
"We overcame this obstacle, but it was very difficult," Estrabillo explains. "A lot of it had to do with the past history of the company and the procurement team and our relationships with direct materials suppliers and the existing vendor base."
Stelco's procurement team prepared a script that Estrabillo says was key to letting the suppliers know the company understood the position they were in.
"Because of the relationships we had and the messaging we provided at that time, suppliers gave us a chance and we managed to convince them to continue working with us," he adds. "Most suppliers saw the mutual benefit in our continued relationship and wanted us to survive, but to do so was to have a competitive cost structure. This company is still one of the cornerstone businesses in Canada and our suppliers recognized to survive we needed them to help us become competitive and put their best foot forward."
Stelco maintained its credibility by paying on time and providing orders when it said it would. "Today, we needed them to recognize it's a totally different company and see a business that's a much more viable entity for the long-term," Estrabillo says. "Today, our suppliers recognize we are a business that will continue on and doesn't have the same challenges it used to have. The fears of bankruptcy are in the past and those significant financial issues have disappeared."
Successful Reorganization
As an independent entity today, Stelco has established a new procurement team and has fully divested from its former parent organization. "In today's environment, our priorities set by our new ownership are optimizing our assets, aggressive growth and maintaining positive balance sheets," Estrabillo says.
Stelco is in the midst of developing strategic supplier partnerships to help it become more flexible and react faster to meet customer demands of the steel market and realize its growth expectations. The company's supply chain is installing a new ERP system within an aggressive timeline. "This gives the opportunity to improve our data collection and reporting, and provide better information using the new technology that ultimately leads to better decisions," Estrabillo adds.
To ensure it is meeting its customers' demands, Stelco leased about 300 private rail cars to more easily manage its shipping options and realize a better cost structure. The company also modified its dock facility to more easily move material by barge or ship. "We are turning the corner on meeting customer demands with all three shipping options – rail, truck and barge," Estrabillo notes.
Stelco's supply chain team began with six people once it became an independent entity. Although Estrabillo desperately needed to add to his team, he took his time to find the right people to fill the positions. "We went months trying to find the right people and it was a challenge," he remembers. "We have established a much stronger organization with transportation recently becoming more of a focal point, we are in the midst of adding people to that team to meet customer demand and requirements."
Moving forward, Stelco plans to continue to focus on becoming a low-cost producer, optimizing its assets and adding new technology to achieve its aggressive growth goals. "With the volatility of the steel market, we want to be able to respond and react appropriately," Estrabillo says. "Our priority is to make sure we are dynamic. If there is a lull in demand, we want our customers to still want to buy from us because we can compete and produce the volume we want."