Madden's integrated approach to logistics, warehousing, production and other services for retail marketing support its clients' growth efforts.
By Jim Harris, Senior Editor at Knighthouse Publishing
A successful promotional campaign includes a great deal of elements including neon signs, store fixtures and displays, merchandise, apparel, printed materials and more. Managing agencies, vendors, distribution and channel partners for these elements can be a daunting task. It can be particularly challenging for professionals trained in marketing and not supply chain management.
"Typically, the people who manage these programs are marketing folks trained in consumer behavior and product management," says Sean Madden, CEO of supply chain solutions provider Madden. "These are professionals who are hired to come up with strategic growth ideas for their companies, but end up spending much of their time managing all the tasks of execution instead."
Madden specializes in the execution side of retail promotional marketing, including developing, designing, sourcing and fulfillment of materials. The company has developed a technology platform to provide actionable data and visibility into this integrated supply chain.
"We provide process management experts that help our customers redefine their internal roles and responsibilities," he adds. "Relieving these burdens of execution frees up our customers to focus on what's important to their business."
Understanding Customers
The company's clientele experience includes retailers and large consumer goods companies as well as a unique niche in beverage alcohol manufacturers such as Miller Coors, Jägermeister, Deschutes Brewery and Mike's Hard Lemonade. These companies' promotional campaigns can typically range in size from dozens of elements to hundreds of elements. The frequency of campaigns by company can also vary from five or 10 per year to more than 1,000, Sean Madden notes.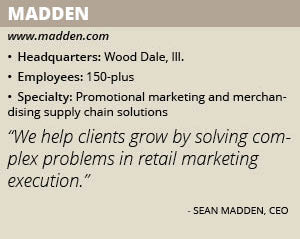 Madden creates value by aligning the needs of its customers with their channel partners who share a cooperative interest in promotional success. "In the past 15 years for example, the beer industry has gone from having 500 breweries to more than 6,000, and beer distributors have gone from managing a few hundred SKUs to managing several thousand," Sean Madden says. "Warehouses have become very crowded and we offer these breweries solutions that can make it easier for them to execute promotions through their distributors.
"Because we take time to understand the challenges of their customers, Madden can solve complex problems that lead to faster growth," he adds. "Our direct client will be a brewery, for example, but their customers are the beer distributors. By investing our time in building distributor relationships to understand their business, we can bring insight to the brewery about their business needs and answer questions they haven't yet considered."
One pressing business concern Madden helps its clients address is the rising cost of freight resulting from increasing demand and fewer drivers. The company helps customers reduce freight instances by consolidating multiple orders into a single scheduled delivery to distributors. "Many of our beer customers distribute through the same beer or spirit distribution companies," Sean Madden says. "Prior to working with us, each customer would ship items on their own to those distributors.
"We've developed unique warehouse management and transportation management systems to aggregate materials on trucks heading to the same destinations," he adds. "Consolidating orders and putting multiple customers' products on the same truck reduces their freight expense and hedges against rising industry costs."
Support Systems
Madden distributes promotional materials from three facilities: its headquarters in Wood Dale, Ill., where its sourcing and production team are located; their flagship warehouse and distribution facility in Kenosha, Wis.; and from Roselle, Ill., at a client-dedicated facility.
Roughly 80 percent of the material warehoused by the company is used and distributed during specific promotions around events and holidays such as the Super Bowl, Memorial Day or St. Patrick's Day. The remaining material consists of branded displays and promotional elements that could be used at any time.
In addition to warehousing, Madden provides customers with logistical systems and support that simplifies the way their users order, receive, and use promotional materials. "We make sure our customers get the right materials in the right quantity and at the right time and that they're easy to use, which means our customers get better execution at retail," Sean Madden says.
The company's other logistics and distribution services include custom kitting, inventory management and optimization, installation management, packaging management and importing/exporting goods.
Madden's breadth of services to its customers distinguishes it from third-party logistics providers (3PLs). "Our integrated approach enables us to control inbound supply timing and packaging in ways a traditional 3PL cannot," Sean Madden says. "We optimize the supply chain; by knowing when and how the material is being distributed we can package it and stagger it in to reduce handling and packaging costs and time."
Madden Studio
The company recently added to its portfolio of services to clients. The Madden Studio specializes in converting advertising agency master artwork into final production-ready files that can be used on displays or merchandise.
"Let's say a promotion includes 500 items, the files for those need to be adapted from a piece of master art. Creating those files is not always a priority or strength of the promotional agency – it's an afterthought that becomes costly when it gets pushed off to the end of the process," Sean Madden says. "We get involved with production files early on and make sure they're created properly the first time, using the proper resources."
Madden Studio offers mechanical assembly, artwork customization, digital asset management, 3-D design, digital animation and brand standard compliance expertise. This focus on the execution portion of creative design enables clients to put the right agency resources on the rights tasks.
Like the company's other services, Madden Studio frees up clients' time to focus on more strategic matters. "We enable our clients to better plan and deploy resources on growth ideas rather than simply assuming the burdens of execution themselves," Marketing Communications Manager Christine Kowalski-Johnson says.
A Single Source
Madden's integration of account management, design, printing, procurement, and logistics services gives customers a single accountability and a single version of the truth.
"When companies typically articulate problems they have with their promotion execution, they say it's because they have a logistics problem," Sean Madden says. "However, our experience has been that decentralized workflows grow dysfunctional over time and result in missed expectations at retail. The real problems start at the beginning (planning/process) not at the end (logistics)."
Madden also provides standalone logistics services to customers. "For these clients," he adds, "We implement a combination of account service and supply chain experience to engage customers early in the process and provide insight to address issues early so they don't become problems later."
"This is what The Madden Method is all about," Madden says, "Applying supply chain management insight to an area of the business where many people don't think it applies and winning at retail is the result."