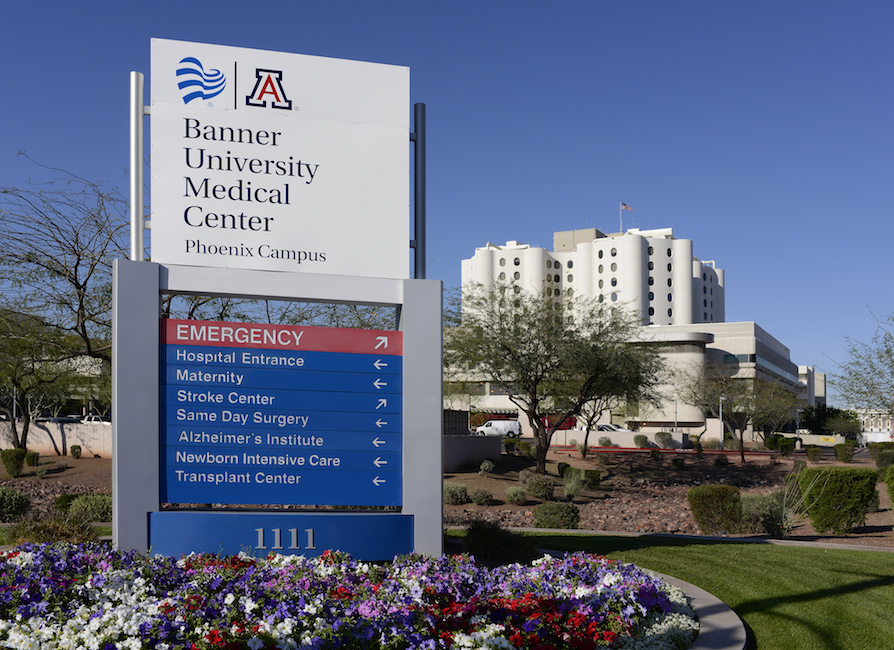 Banner Health's supply chain department plays a large role in the organization's mission to improve patients' lives.
By Jim Harris, Senior Editor at Knighthouse Media
During its nearly 20 years of existence, Banner Health has gone through two distinct phases in its business. For its first decade, the Phoenix-based health system focused on providing acute care to patients.
Starting in 2010, its focus shifted to being about clinical quality. During this period, Banner Health's supply chain operations integrated input from physicians into its contracting, procurement and distribution processes, Vice President of Supply Chain Doug Bowen says.
Banner Health's efforts to integrate physician input led to its being recognized in 2012 for the first time as one of the nation's top five healthcare systems by Thomson Reuters.
The network is now entering the newest phase of its operation, as a population health management company. In this model, Banner Health serves as its own insurance provider, with more than 100,000 members. "There is a change nationally in how healthcare providers are paid to do their work," Bowen says. "In the acute care/fee for service model, we were paid every time someone saw a physician, now we are paid per member."
This change in reimbursement model, coupled with Banner Health's assuming responsibility and risk as its own insurance provider, make efficiency and cost savings high priorities for its supply chain operation.
The organization's supply chain team learns about specific needs and builds capabilities to ensure that they measure and communicate how supply chain supports those goals. Banner Health has a number of programs in place that have helped it reduce its costs per patient as well as its total supply expense, while increasing its productivity.
"We are proud of our supply chain's ability to transform to meet the changing needs of our corporate strategy," Bowen says.
Rising to the Challenge
Banner Health's supply chain organization in 2017 demonstrated its ability to respond quickly to challenges faced by its staff. Since last June, the organization has worked with BD to supply its hypodermic syringes after its previous source of syringes was unable to meet its order demand.
"The [hypodermic syringe] backorder could negatively impact Banner's custom procedure tray program as well as our central compounding pharmacy. The critical nature of the situation forced an immediate response and action plan," says Clinical Supply Program Director Allyn Peters, RN.
The system uses approximately 38,000 hypodermic syringes every day.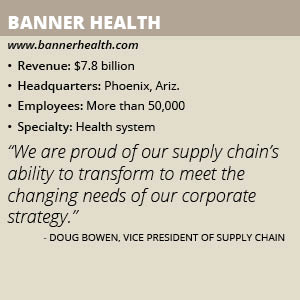 Banner worked with BD to reduce needle SKUs from 347 to 78 SKUs. This reduces variation in practice, reduces cost of goods and preserves storeroom space. Initial stocking orders were placed in June, and the new needle program was rolled out August 1.
"Banner's supply chain mission is to improve lives by enhancing cost, quality and outcomes. Collaboration is key to fulfilling this mission," Peters adds. "BD matched our level of commitment and caring as an outstanding partner in supporting our mission."
Process Improvements
Banner Health's supply chain strategies include segmenting its purchasing activities into five categories – blood, food, medication, medical devices and commodities. The organization measures how much it spends on each of these categories per patient, Bowen says.
Since 2004, Banner Health has operated a consolidated service center (CSC), which purchases supplies in all five categories directly from manufacturers and provides internal distribution services throughout the organization. The organization initially leased a small space for the distribution center, but has over time increased its footprint. "We went from having 50,000 square feet of space to 100,000 square feet in a larger leased area before we bought a 200,000-square-foot building in 2010 at a low price during the recession," Bowen notes.
Another way Banner Health has improved its supply chain is its partnership with American Contract Systems (ACS) to self-manufacture all custom procedure trays (CPTs) in-house at the CSC, located in Chandler, Ariz. This project has enabled complete end-to-end supply chain visibility and control over sourcing, manufacturing, and distribution.
"All of our surgeries require supply items; if these are put together ahead of time and sterilized together, it makes it easier for nurses and surgeons," Bowen says. "We have a pack ready for every procedure that will done here, and they are standardized throughout the organization. The concept is to make surgery more efficient, improve quality and reduce costs."
Last year, Banner Health launched a group purchasing organization called Supply Chain Value Network. "This is a regional approach that will focus on areas where national GPOs might have gaps in contract coverage," Senior Director of Contracting Mike Halmrast says. "We are in the process of establishing a portfolio with the intention of offering contracts to non-banner facilities who might be interested in joining."
Other ongoing supply chain initiatives include the creation of a new Surgical and Procedural Value Alignment Program that documents and eliminates waste related to surgical procedures. Supply chain personnel are pairing up with care management and cath lab personnel to set goals for cost and quality of all procedures performed by Banner Health, he adds.
Network Growth
Banner Health operates 28 hospitals and 293 clinics including 42 urgent care facilities with telemedicine capabilities. Two of its hospitals are academic hospitals the organization took over from the University of Arizona Health Network in 2015. The academic hospitals employ 800 faculty physicians, 1,000 fellow and residents and offer 93 graduate medical education (GME) programs.
The organization formed in 1999 following the merger of Samaritan Health System and Lutheran Health Systems. In 2005, the new organization built Banner Estrella Medical Center in Phoenix. "The physical layout of the building and the way we do business there was the footprint for all of our new facilities," he notes.
Two years after completing Banner Estrella Medical Center, the company opened Banner Gateway Medical Center in Gilbert, Ariz., using a similar model.
In 2008, Banner Health acquired two additional hospitals that were formerly part of the Sun Health network. The following year, it built the Cardon Children's Medical Center at Desert Medical Center located in Mesa, Ariz.
The organization added the Banner MD Anderson Cancer Center – a joint venture with MD Anderson Cancer Center in Houston – to the Banner Gateway campus in 2011.
One significant non-construction related achievement for the hospital came in 2012, when 21 of its hospitals achieved Stage 7 designation from the Healthcare Information and Management Systems Society (HIMSS). The designation recognizes the maturity of Banner Health's electrical medical record system, Bowen notes. The following year, Banner Health opened a new patient portal.
Banner Health continues to invest in its facilities. A new emergency department opened in its Banner University Medical Center teaching hospital in Phoenix in June 2017, and a new bed tower is slated for completion there in November.
A new ambulatory care facility opened in the Banner University Medical Center in Tucson, Ariz., in January 2018. A new bed tower will open next April, Banner Health says. Banner also just announced the building of a new 150- bed hospital slated to open in 2020 in Chandler, Ariz.
Focused on Patients
All of Banner Health's recent investments have its new mission statement of "making health care easier, so life can be better" in mind. To achieve this, Banner Health is focused on four pillars – "helping our customers be their healthiest, perfecting the customer experience, growing our reach and impact and engaging and inspiring our people," Halmrast says.
"We have a renewed focus on customers and the customer experience as we transition to being more competitive in the healthcare market," he adds. "We are adapting to best meet our customers' needs and make their access to healthcare affordable and successful."