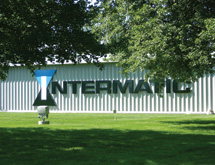 For any organization to survive for more than a century, it must demonstrate a capacity for adaptation. Intermatic's effort to extend its many decades of operation well into the 21st century hinges in part on its commitment to improving its global supply chain.
A 120-year-old family business, Intermatic manufactures energy management products. Its product portfolio includes energy controls, mechanical and electrical timers, occupancy sensors, surge protection, photo controls, weatherproof covers, professional lighting controls and pool and spa controls.
Headquartered in Spring Grove, Ill., Intermatic's manufacturing facilities are located in Juarez, Mexico, and Peterzell, Germany.  The company goes to market in North America under the Intermatic brand and in Europe under the Grasslin brand.
Intermatic's strategic approach to the supply chain is to use it to provide the company with a competitive advantage in the market. Intermatic is focused on increasing customer service levels, decreasing working capital and speeding new products to market.
"As the market evolves and demands different and newer technologies to drive convenience and energy efficiency, the ability to react is critical," according to Chuck Whitmer, vice president of global supply chain. "Our supply chain is geared to meeting the dynamic needs of the marketplace, which is good for our customers and drives growth."
Gaining Certainty
Intermatic has taken steps to eliminate uncertainty on both the demand and supply side of the business. Whitmer says the company's belief is that creating certainty creates tremendous operational and financial efficiencies.
"If you have a product where the demand is certain and a supply chain that creates certainty of supply, then, regardless of volumes, there is limited need to carry a lot of inventory," Whitmer says. "If there is uncertainty of demand and supply, that will dictate the need to carry more inventory."
Although predicting customer demand with 100 percent accuracy is impossible, Intermatic says it has committed to improving forecast and demand accuracy through greater cross-functional collaboration, focused resources and corporate visibility. Intermatic has implemented software and appointed dedicated resources to improve demand accuracy.
"We utilize Demand Foresight, which has proven to be exceptional forecasting software and has helped us dramatically increase the accuracy of predicting demand," Whitmer explains. "We have dedicated resources to drive the data that goes into Foresight."
Bruce Bullard, Intermatic's manager of forecasting and inventory, utilizes the forecasting methodology of Foresight and works cross-functionally with key members of the sales and marketing teams to refine the demand. Bullard reviews every SKU approximately once per month, which has led to significant increases in forecast accuracy.
Intermatic has also taken several steps to help create certainty of supply. It collaborates with vertically integrated suppliers that have resources they can bring to the table like engineering and design. The company works with suppliers to identify and manage long-lead-time components, and it provides them with forecasts to assist with managing component purchasing and manufacturing scheduling.  Although these are not commitments as in purchase orders, the forecasts assist suppliers to look further ahead so that they can plan appropriately.
"We also look for opportunities to standardize components and products," Whitmer says. "This allows for purchasing efficiencies and ultimately leads to postponement strategies that create inventory flexibility, decreased inventory and working capital while improving customer service."
By creating partnerships with suppliers, both Intermatic and its partners match needs with capabilities for mutually successful outcomes. Intermatic provides longer commitments for suppliers who will make the investment to carry long-lead-time component inventory.
Seeking Perfection
Another part of Intermatic's supply chain efforts has been its "perfect order" measurement strategy, which has helped the company go from 64 percent to 95 percent accuracy. Whitmer likes the "perfect order" metric because it measures line fill, unit fill and on-time shipping in the same metric.
"The measurement is simple," Whitmer says. "If there is any issue with line fill, unit fill or shipping on time, that order receives a zero.  If everything is correct the order receives 100 percent."
By focusing on creating certainty of demand and supply and improving visibility and communication across stakeholders, Intermatic saw the "perfect order" number move to 95 percent in less than a year.  The company accomplished this while reducing inventory 34.6 percent and improving working capital.
Going Global
To help the company oversee the wide geographic distribution of its operations and ensure efficiency, Intermatic recently migrated to a global business model.  The company had operated the North American and European businesses separately for the most part, but it saw that there were best practices in North America that were not leveraged in Europe, and vice versa.
Transitioning to one global company with best-in-class processes will be one of Intermatic's chief concerns. Another major priority will be Intermatic's new product development pipeline and getting these products to market quickly. Intermatic plans to leverage engineering, manufacturing and supply chain resources to capture marketshare.
"The great thing about most of the improvements that we have made is that they did not require a lot of additional investment," Whitmer says. "The efforts did require a lot of work, travel, and interaction with suppliers and across functions internally. But we have a great senior team led by CEO Rick Boutilier, who fosters a culture that allows his team to make decisions and get things done." ­­­