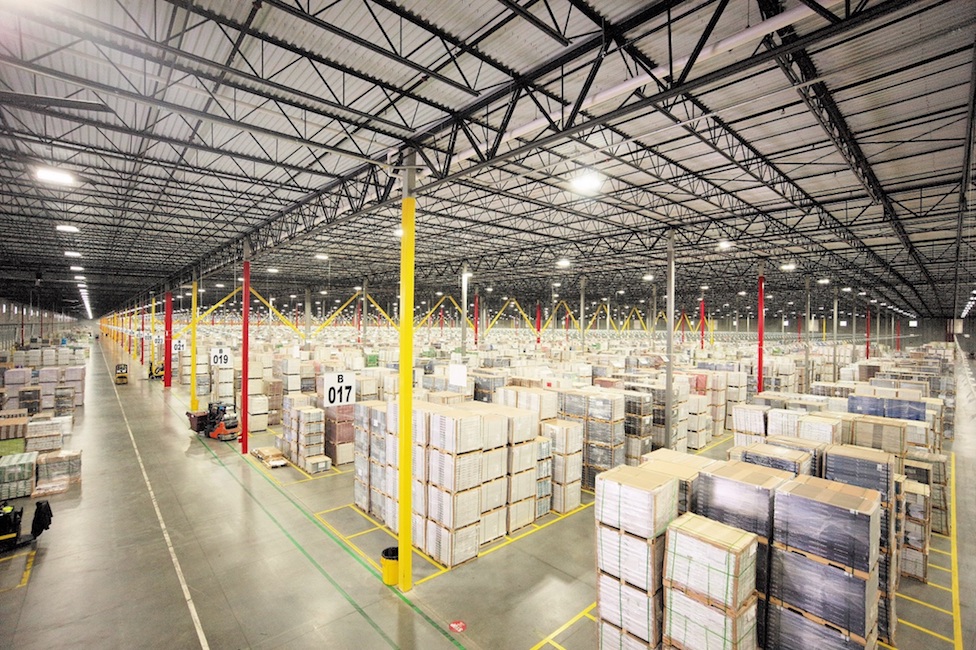 Floor & Decor revamps its supply chain by implementing new technology and processes that better position it for continued growth.
By Janice Hoppe-Spiers, Senior Editor at Knighthouse Publishing
Executive Vice President, Business Development Strategy Brian Robbins says Floor & Decor has been described as a category killer in the retail world. "As a hard surfaces flooring leader, we are taking what would be a DIY department and putting it on steroids," he says. "When you talk about comps or same store sales year over year, we are in our ninth year and trying to get to 10 years of double-digit comp growth. That's quite an accomplishment in retail."
Founded in 2000, the Smyrna, Ga.-based company has quickly grown to become the leading specialty retailer in the hard surface flooring market, offering the broadest in-stock selection of tile, wood, stone, related tools and flooring accessories at everyday low prices. Inside the 70,000+ average square-foot Floor & Decor stores, homeowners and professional contractors have access to superstore selection at warehouse prices with showroom quality.
"I attribute Floor & Decor's success to its fantastic people and our strategy is really what separates us from everyone else," Robbins says. "Our size is one of our differentiators – we can hold more SKUs than anyone else and hold more in-stock SKUs than anyone else. If you are a professional contractor, this is nirvana."
Floor & Decor prides itself on having the largest inventory of hard surface flooring in-stock than any other retailer. Robbins admits there are a significant number of "mom-and-pop" flooring companies in the market, but they are typically showrooms only and customers often can't walk out with the product the same day. "Our customers can get exactly what they want and the quantity they want, and they usually don't to have to special order it, and they can have it delivered or pick it up at the store."
"We try to really cater to the professional contractor as much as we do the DIYer because we are built for that," he continues. "The number of SKUs we have and the amount of inventory we have in-stock is unmatched. We go direct to the factories to get the lowest cost and that's one of the compelling reasons we have been successful."
Supplying the Demand
In addition to Floor & Decor's comps, the company's current strategy is to maintain 20 percent new store growth annually. "Our growth curve is pretty steep," Robbins says. "The Floor & Decor supply chain has had to dramatically change over the past five years to adapt to our growth and because we need to avoid being out of stock and have the product in the store every day."
Floor & Decor has the added challenge of greater lead times because it is "essentially moving elephants," Robbins says. "A lot of our product comes from outside the U.S., and it's very heavy," he adds. "We are moving pallets of stone and tile that weigh a ton or more from Asia, Europe, South America, India and all over the world. And with our type of growth, that has been a tremendous challenge."
When Robbins arrived to Floor & Decor five years ago, his first order of business was to hire top talent to overcome these challenges. "I think I have some of the best people working for Floor & Decor," he says. "They are smart people who happen to be working in supply chain."
His second task was developing a strategy to become a proactive supply chain as the previous mentality had been to "grow as it comes" and reactionary. "Everything was outsourced – the distribution centers, labor and logistics," Robbins remembers. "The only functional area I thought was in a good place was our international logistics."
Taking Ownership
Over the past five years, Floor & Decor has taken ownership of its distribution centers and put its own management and labor in place to run them. The company has also invested in warehouse and transportation management software to gain greater insight into its supply chain. "Our software has made us smart," Robbins says. "We put it in and do what it says versus customizing the software to do it the way we have always done it … it added needed discipline."
Changing those policies and procedures came with a learning curve of about one year to get everyone in the company standardized on how the company will do business from here on out. "We have reduced our lead times, shrink, turnaround and have become smarter at where we locate our DCs and how we leverage the DC space," Robbins explains. "Bigger is better. We now have mega DCs versus a bunch of smaller ones, which works better for us in so many different ways and has resulted in a more efficient supply chain."
One example of implementing new technology in its warehouses is that it has allowed Floor & Decor to create and track specific SKUs down to the production lot number of the product, thus giving its customer a more consistent color of tile when purchasing multiple pallets. That's an attribute the company didn't have before and allows it to get closer to giving the customer what they want faster.
Only the Best
Floor & Decor has also continued to prioritize its compliance program. "Sourcing internationally with our type of product, you have to have a rigorous compliance program that includes regulatory as well as commercial compliance," Robbins explains. "We continue to raise the bar in terms of what we expect from our suppliers and we continue to add compliance functionality to make it more robust. We invested heavily in this area to make sure we are doing the right thing. It's extremely important to us."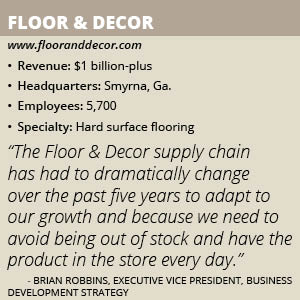 By developing more rigorous standards, Floor & Decor can catch products that are not up to par earlier in the supply chain. The company opened an office in late 2015 in Shanghai to work directly with its suppliers and ensure compliance and attempt to catch issues before they leave their supplier's factories. "We are moving issues back through the supply chain to the source, and this has made things better for the stores so they don't have to deal with these issues," Robbins says. "It also makes a big difference to the customer experience."
The suppliers who have been able to adapt with Floor & Decor's new standards are the ones that have stayed with the company. "Sometimes, they don't know what they don't know, so now we say, for example, 'That pallet or packaging isn't working and it's a problem,'" Robbins says. "Through our Asian Sourcing Office, we work proactively with our supply base, to correct these issues. We have kicked it up a notch and it's become a win-win by helping our suppliers become a better company."
Floor & Decor implemented supplier score cards to help identify areas that need improvement as well as what areas are going well. "It helps us with our compliance, supplier selection, negotiations and to run faster with newer products," Robbins adds.
Continued Growth
The impact of the future growth of Floor & Decor, Robbins says, will remain his biggest challenge in terms of forecasting. "This is not a commodity in our mind," he notes. "Our merchants are constantly bringing the latest innovative new products. The additional growth of new stores along with the continued success of same-store comps … forecasting is a challenge. You have to balance inventory, new suppliers and compliance, which is always top-of-mind because you can't be proactive without it."
Looking back over the past five years, Robbins says he is most proud of the fact that the supply chain has been able to respond to the demand and supply a much better product. "When I look at where we were five years ago, looking at our product today and how much growth we have enjoyed, I'm proud of my team that we haven't missed a beat," he adds. "We have not only kept up, but made the product look better, get it faster to the stores and keep in stock. I'm proud of Floor & Decor associates and the cross-functional teamwork. It has been a lot of work and very fulfilling."