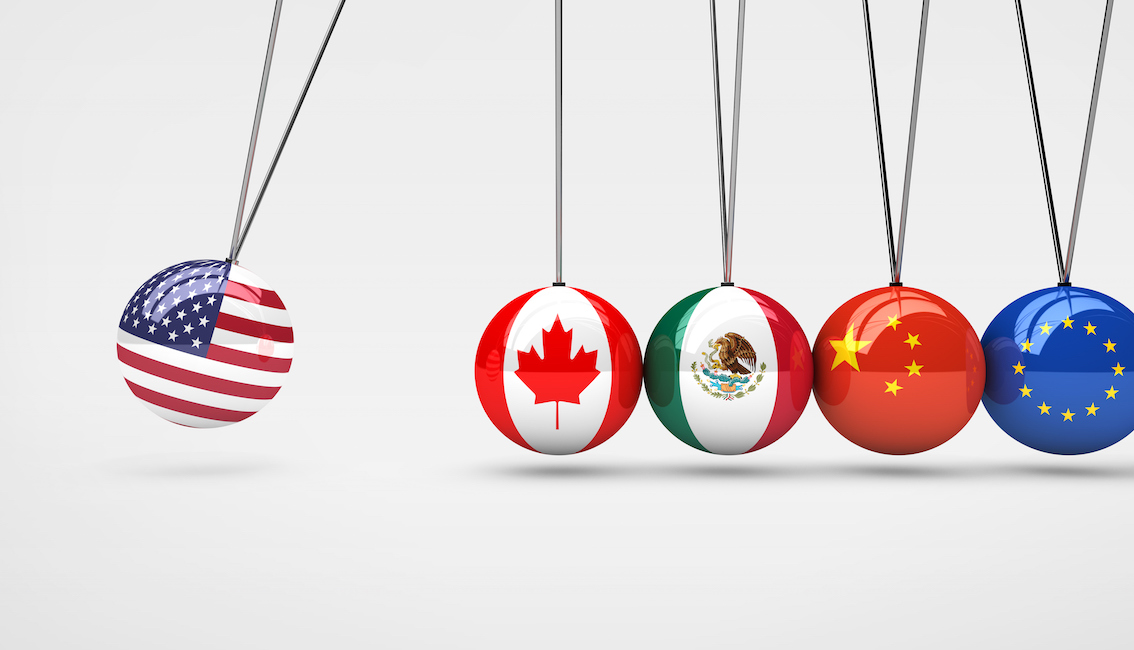 Livingston International's freight forwarding and consulting services help companies overcome tariffs and other shipping challenges.
By Jim Harris, Senior Editor at Knighthouse Media
Companies involved in international trade have come to expect the unexpected in recent months. The renegotiation of the North American Free Trade Agreement (NAFTA), tariffs imposed by the United States on imported goods and retaliatory tariffs on exported U.S. goods, the trucking shortage and the realignment of sea carriers are all keeping importers and exporters on their toes.
"Fluidity is the new normal. Ongoing trade disputes have come into the public arena very quickly and may just as quickly fizzle or become catalysts for a global trade war," says David Rish, president of global trade management for Livingston International. "There is tension even between close partners. This does not mean that trade will end or borders will shut down, but it does mean that the status quo has changed for the foreseeable future.
"However, there is a path forward by analyzing one's supply chain, creating options and what-if scenarios and running financial calculations with regard to duty impact," he says. "Trade uncertainty does not have to be fatally disruptive to one's business."
'An End-to-End Solution'
As the leading North American company focused on customs brokerage and compliance, Livingston International offers a number of freight forwarding and international trade consulting services that put its clients on the path forward.
The company's freight forwarding services including acting as a non-vessel operating common carrier (NVOCC) for ocean freight, as well as providing air freight and ground transportation services. Livingston International's client include small and medium-sized companies as well as large multinational corporations.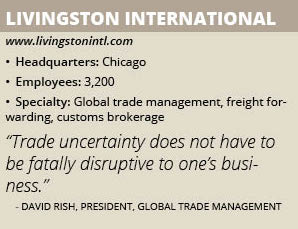 Headquartered in Chicago, Livingston International also operates regional air/sea hubs in Los Angeles, New York City, Chicago, New Orleans, as well as numerous cities in Canada including Toronto, Montreal and Vancouver. Livingston has staff located at more than 125 border points, seaports, airports and other strategic locations in North America, Europe and the Far East.
The company's trade consulting services include helping companies with international trade compliance and supply chain safety and security. Livingston International also offers TradeSphere®, a suite of trade management software.
The TradeSphere® software performs analytical work related to qualification for free trade agreements. "Analysts use our software to qualify products under various free trade agreements," Rish notes. The software also includes restricted party screening, which cross-references a list of denied parties, organizations or countries to which products cannot be shipped.
Livingston International's freight forwarding services also assist customers in navigating through tariffs by helping them identify alternative countries from which they can source commodities. "We can provide import and export service to practically anywhere in the world," says Mike Meierkort, president of international freight and transportation solutions.
"If a customer is current exporting products from China but can source the same commodity from Italy, for example, we can provide them the same services from Italy as we do now from China," he adds. We can help amend a customer's supply chain so they can source materials from countries that make sense for them."
The company's freight forwarding business can also help companies ship products ahead of future tariffs. "Through our partnerships, size and scale, we can ensure we have the services, capacity and routes available to our customers when they need it," Meierkort says. "If they want to ship early, we are able to accommodate that because we have contracts and partnerships in place and have enough leverage with our partners to adjust shipping patterns and supply chain requirements on our customers' behalf."
Livingston's breadth of services and experience distinguishes it in its market. "There are other companies that offer transportation and customs brokerage services, but no others that can offer the suite of services that Livingston can," he adds. "We are in a very unique position in the industry to be able to offer several different services to customers and provide a comprehensive end-to-end solution. Our competitors may be able to do one or two, but not all, of the things we can do."
Consulting Services
Livingston International's consulting business includes customs brokers, licensed trade attorneys and other consultants across an international footprint. The company's consultants offer thought leadership to clients in a number of ways including managed services. Shipping and importing companies and other clients rely on the company to perform many or all of their importing, exporting and compliance functions. "There are many steps traders need to be prepared for, and many ways we help people deal with uncertainty in trade," Rish says.
Livingston International works to assist clients' internal customs and compliance, purchasing and procurement, and finance and engineering functions. "Our clients should be working with us as a trade consultant and broker, and map out their supply chain footprint to look at their risk exposure and determine the elements of their business that are subject to different areas of risk," he adds.
Many of the company's consulting services are centered around duty and tax optimization and minimization, including tariff classification. Once a classification is performed for a particular commodity, Livingston International will look into preferential trade agreements that might benefit its clients' products.
"In some cases, our clients may be able to modify or combine imported products or commodities where the tariff classification may change and no longer fall under a trade restriction," he adds.
Livingston International also helps clients apply for exemptions to tariffs. "Generally, tariffs are imposed because there is a threat to the welfare of certain industries, so exclusions can be requested to these punitive tariffs," Rish says. "Companies should have a detailed commodity classification description and a financial bill of material information and be able to demonstrate that they will be potentially injured because they can't find a source for a commodity domestically." The company files exclusion requests and duty drawback provisions on a daily basis.
Livingston International has direct experience with the volatile import/export market through two niche businesses. These businesses are: a vehicle transportation business that moves cars throughout Canada on behalf of automotive dealers and manufacturers; and a New Orleans-based barge business that works with steel and aluminum importers. "Both of these segments are very likely to be heavily impacted by steel and aluminum tariffs as well as tariff changes related to the auto industry," Meierkort says.