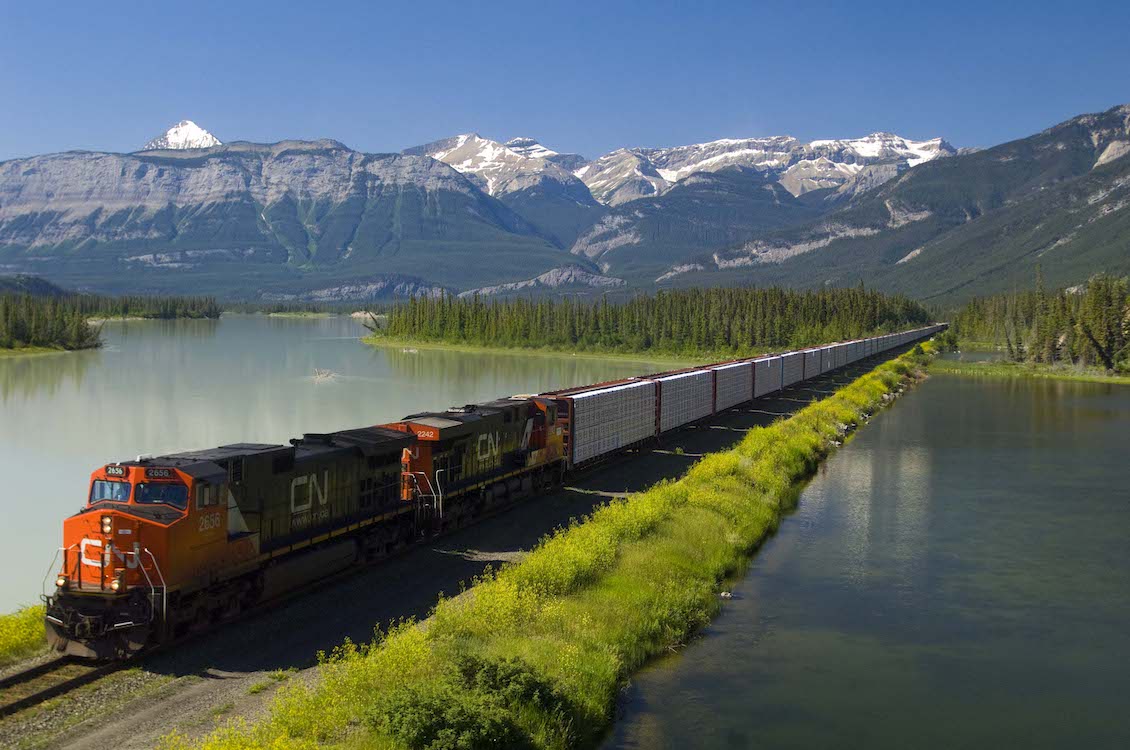 CN makes significant investments in infrastructure and equipment to increase its capacity as demand continues to rise.
By Janice Hoppe-Spiers, Senior Editor at Knighthouse Publishing
CN is a leading North American transportation and logistics company, transporting more than C$250 billion worth of goods annually for a wide range of industries across a rail network of 20,000 miles spanning Canada and mid-America. "We cover all three coasts, spanning all of Canada as well as south through Chicago and down to Memphis to the Gulf of Mexico," Vice President of Procurement and Supply Management Paul Harridine says. "We are in a unique position to serve the market and are not only a rail company, but a supply chain enabler."
CN (Canadian National Railway Co.) was incorporated in June 1919 and comprised of several railways. With nearly 100 years of service under its belt today, CN takes pride in building the future for its customers, employees, partners, community and stakeholders.
The company's network is designed to reach markets its customers' need, carrying the goods that fuel the economy and keep business competitive. CN has more than 80 distribution centers in North America and handles 1.5 million impex containers annually with 1,300 truckloads delivered daily.
Twenty-five percent of the company's volumes comes from intermodal business today. CN is the originating carrier for more than 85 percent of traffic moving on its network. "We offer a complete end-to-end service for our customers," Harridine says. "That has been our focus over a number of years and a major part of the engine of growth that's driven CN in recent times."
Increasing Capacity
CN has experienced strong growth over the past 18 months, which has put significant pressure on its network. This year, CN plans to invest about C$3.5 billion in its capital program, of which, C$1.6 billion is targeted for infrastructure. "We are in the process of making a huge transformation in the way we do business in terms of our operating model, processes, investing in people and technology to improve the way we work," Harridine says.
The company expects to complete C$400 million in track infrastructure expansion by November, adding more than 60 miles of double-track. "Corridors from Chicago to Winnipeg [in Manitoba, Canada] through to the West Coast are capacity constrained and a lot of them are single track," Harridine explains. "We have been building double track on a large portion of the network to increase capacity."
In addition to infrastructure improvements, CN has also ordered 350 new boxcars for metals and forecast products business, 350 new lumber cars, as well as 1,000 new generation grain hoppers to be delivered beginning next year. "There is a lot of investment going into new and better equipment to increase our capacity and to improve our productivity," Harridine says.
The company will also add more than 200 new locomotives over the next three years. CN has also leased more than 130 additional locomotives this year, which are all now in service. "Our relationship with our locomotives suppliers is one of the most important areas of focus for us, moving from an arm's length relationship with our suppliers to a much more strategic one focused on continuous improvement and improving total life cycle costs," Harridine says. "Although I'm interested in how much I pay for a locomotive, I am much more interested in the value it can create and how much it costs CN over the lifetime of its use. As part of this, we are implementing initiatives that allow us to improve 'up-time' and the performance of locomotives over time."
CN has also hired hundreds of new employees over the past 12 months to handle increased volume and capacity. The company added 400 qualified conductors so far with more than 1,000 expected this year. "We have brought in a lot of new people, selecting candidates who are ready to operate in our 24/7 outdoor railway environment and employees with a good track record who are ready to deliver," Harridine says.
Improving Core Processes
In terms of Procurement and Supply Management, CN has made significant changes to improve its operating model. "We have been separating out what we would describe as transactional tasks from the strategic tasks," Harridine explains. "That continuous improvement mindset is at the core of everything we are trying to do and what we want individuals to exhibit every day with process improvements at the core."
For example, CN's category management teams (working with key internal stakeholders) continually look at each individual part of the C$6 billion CN spends with external suppliers, and develops improvement strategies by completing a comprehensive analysis of the internal needs and external market capabilities. Solutions can include anything from leveraging supplier innovation, looking at the total cost of ownership of the things it buys as well as service and quality improvements. "By aligning ourselves internally, we ensure that we focus on the factors that are most important to the overall success of CN," Harridine says.
CN's supply chain is reviewing all of its core processes from supplier performance management through to procure-to-pay process. CN is making a significant investment with SAP Ariba to improve P2P efficiency and effectiveness and also make the process more user-friendly. "We will have significant portions of our spend going through Ariba, with an easy to use frontend, that allows nominated individuals around the business to log on and find options to order all of the various types of goods and services that we require," Harridine notes. "From a management perspective, we also have the ability to control the list of catalogue items and price lists to ensure that we focus as much spend as possible through approved channels and contracts."
In the past 18 months, CN has also focused on improving its Track Services vendor management by implementing SAP Fieldglass, a vendor management solution that manages service procurement and external workforce management. "It gives us visibility we didn't have," Harridine explains. "In the past, if we wanted to buy some labor and services from a supplier to lay new track, we would have a single overall cost ordered and invoiced, but we wouldn't know the breakdown of how many hours of labor were used, how much of it was overtime, what equipment was used and at what rate, etc."
By implementing Fieldglass, CN now breaks those details down to the granular level so the company is able to look at competitive rates, productivity, hours and rates for equipment, to name a few. "When you put that together with our category strategy, we have a way of tracking and achieving our objectives," Harridine says. "We can now determine whether we are improving. Prior to this implementation we would have had no of knowing, and working with our colleagues in Engineering we can plot a path forward, which gives best value for the business."
Technology is important to CN's transformation, but it is not the "be all and end all," Harridine says. "We are figuring out where technology fits into our objectives and investing in those areas," he adds. "The most important thing is our people – getting them trained, motivated and in the right roles."
Proactively Moving Forward
CN anticipates continued growth, which is a reflection of the company's success, but also the source of its greatest challenge. "Above all, we want to make sure our customers are happy," Harridine says. "All this investment takes time and effort to do in the right way. At the same time, we are significantly changing and improving the way we do things. Ideally you want to do one thing at a time, but this is the real world and we are having to keep all of the balls in the air at the same time. While this is a challenge, it is one that CN will rise to."
As CN continues to evolve, Harridine expects the CN supply chain to become far more agile and proactive rather than reacting to circumstances. "That will help us satisfy customers in a more effective way and make sure our end-to-end service is of a higher-quality," he adds. "Ultimately, our ability to meet our customers' needs will make us more successful."