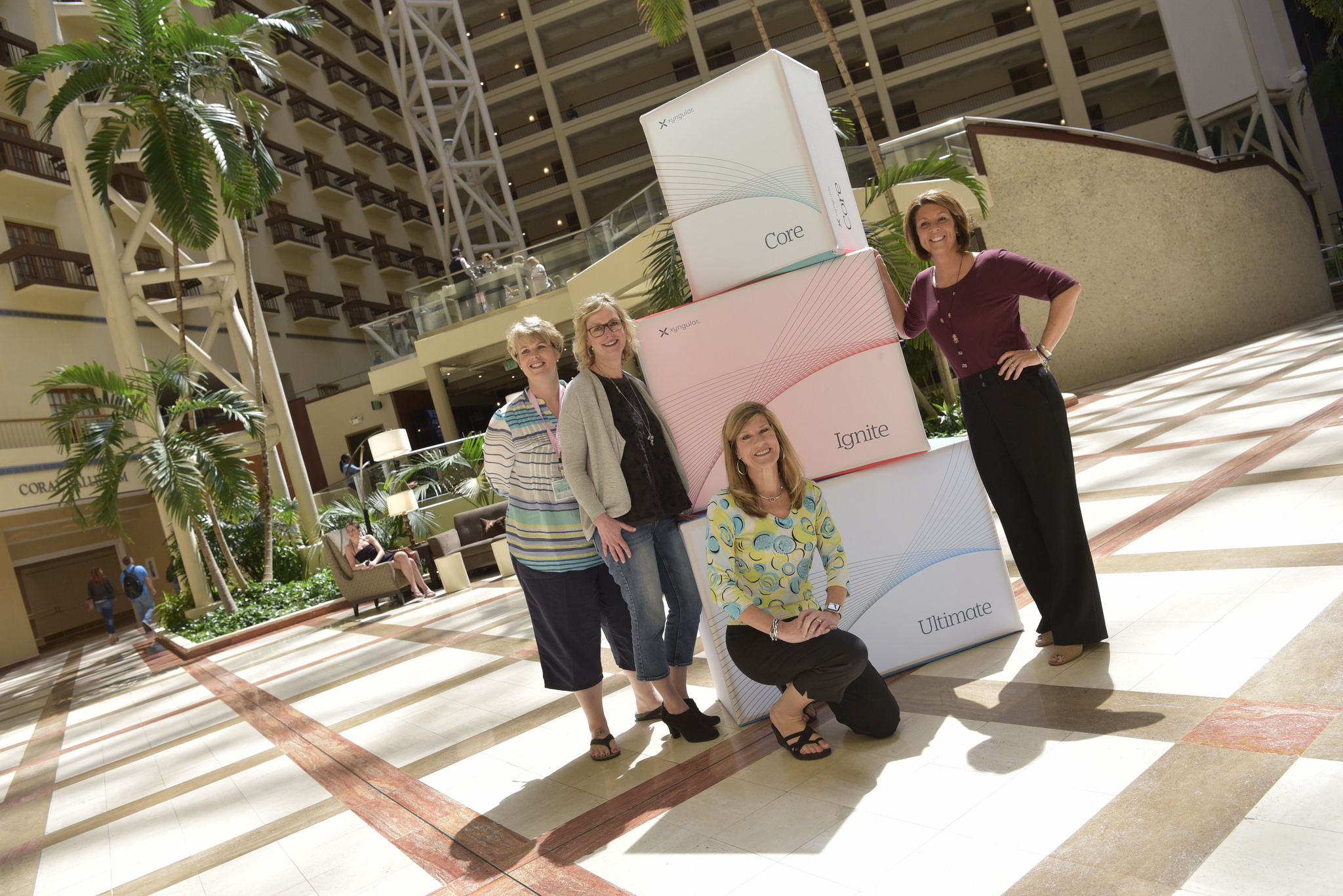 Xyngular's supply chain operations play a critical role within the direct sales nutritional supplement provider's operations and positive internal culture.
By Jim Harris, Senior Editor at Knighthouse Media
When choosing a vendor, Xyngular looks for more than just the ability to supply goods in a timely fashion. "From a supply chain standpoint, what sets us apart is that we find partners that fit our culture," Senior Director of Supply Chain Weston Carter says. "There are many manufacturers and [third-party logistics providers] 3PLs out there, but we've linked up with those companies that fit what we're doing, believe in our mission and can be true partners for us."
The company frequently meets with existing and prospective vendors to ensure they're a good fit. "We have a process where we meet with vendors and talk about their culture and ours," Carter says. "We look for those that understand our culture and buy into our vision to change lives."
"Even through the quoting process you can find out who fits with you. Some suppliers just want to give a quote and think having the lowest price is the sole deciding factor," he adds. "That's not for us – we want long-term relationships and the best fit. Pricing is a factor, but it's through the process of setting up relationships where you can find out whether certain suppliers will fit with you and give you the support you need and expect."
The company takes a similar approach to hiring new supply chain and other employees. "We have an amazing culture built on empowering change in the lives of our customers and employees," Carter says. "We have put several things in place that nurture our culture and that our people believe in. Even if our employees move on to other opportunities, we want to provide them the chance to learn things they can use throughout their career."
In addition to training and employee development programs, the company offers employees benefits including unlimited paid time off, annual bonuses, profit sharing and gym memberships.
Earlier this year, Xyngular was named to Inc. magazine's list of the best workplaces for 2018, which measures and ranks fast-growing privately owned U.S. companies that have created exemplary workplaces through employee engagement and offering exceptional benefits. The company was one of 500 companies chosen from more than 1,800 nominated for the honor. The rankings are based on satisfaction surveys distributed to employees.
Xyngular's culture has also earned it recognition as one of the best companies to work for in its home state of Utah as well as one of the 2018 best places to work in direct selling from Direct Selling News.
Changing Lives
Founded in 2008, Xyngular manufactures and distributes health and wellness products that are sold through a network of direct sales representatives. "From day one we had a specific direction and purpose," the company says. "Founded by a group of passionate individuals dedicated to changing lives for the better, we have grown and flourished thanks to strong corporate leaders and dedicated distributors."
Xyngular's products include supplements and products that assist in weight loss and nutrition, energy gain and overall health and wellness. "The Xyngular Way of Health is a combination of simple, complete systems designed to help individuals quickly and easily achieve their health and wellness goals," the company says. "Xyngular systems contain products that really work, realistic meal plans, exercises that will get you moving, and all the support you need to make healthy lifestyle changes stick."
Carter joined the company in 2016. Carter has worked in the direct sales industry for the past 15 years. Previously, he worked in purchasing and supply chain roles for manufacturing companies. "Xyngular has been a great fit for me, and a great company to work for," he says. "It's been a good experience for me to build a supply chain organization from the bottom up."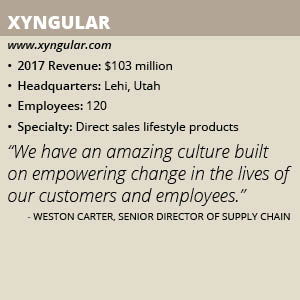 Since joining the company, Carter has helped Xyngular improve the way it receives and ships products. "At the end of 2016, we examined our network and tried to look at it through the lens of what our customers need and want and to help us find ways we can make things better for them," he says. "One of the biggest things we felt we could do was offer an alternative shipping location."
Xyngular two years ago began shipping from a distribution center and warehouse in Atlanta. The company contracts with a 3PL to operate that facility in addition to the location in Utah. "We can now supply products faster and from multiple locations," Carter adds. "Our average deliver time to our customers in the United States is now just under three days. Our average prior to this was four to five days."
In addition to serving customers in the United States and Canada, the company now ships into four markets in the Caribbean Islands as well as the Philippines following its acquisition last year of Symmetry Global, a direct sales nutritional and nutraceutical product provider.
'A True Partner'
Xyngular sources its products from a number of contract manufacturers located throughout the United States. The company also works with a number of suppliers of components such as bags and bottles.
"Recently, we've been focusing on our relationships with our component suppliers and looking for ways to make it easier and faster to get components to our manufacturers," Carter says. "We have established stocking agreements and allowed some of our component suppliers to produce components on their time and at their convenience to have those available to ship to us."
The company's suppliers provide components based on anticipated volumes. "Because they are producing on their own timeframe based on our extended forecasts, we typically see lower pricing and can take advantage of economies of scale," he adds.
Xyngular uses the Agile methodology in its internal supply chain operations. "A year ago, we took advantage of the fact that our IT and marketing groups were using agile methods, and our CEO is trained and well-versed in Agile," Carter says. "[Agile] has helped everyone focus on the company's key projects and brought everyone together in terms of what they are focused on, which has allowed us to be much more communicative between departments. Everyone knows and understands what other departments are working on."
Increased communication within its supply chain department and between the supply chain and other department has helped Xyngular tackle spikes in product demand. "Last year, we had no indication that sales would fly through the roof, which they did in March/April. From a supply chain standpoint, that can be hard to keep up with when our average lead time is two to three months," he adds. "Spikes and drops in sales are the biggest challenges we face. Back ordering is one of the worst things that can happen, so balancing demand with inventory is important for us."
The supply chain team ensures that all of the company's products remain in stock by establishing safety stock and giving manufacturers forecasts. "We're a system-based product company, so it we're missing even one product that is part of a system, we cannot provide our customer with a complete product," Carter says. "We communicate our needs and anticipated volumes to our suppliers so they know what we need ahead of time."
Since joining the company, Carter has introduced supply chain planning, documentation and tracking tools into the company. This includes building a materials resource planning (MRP) system used to track finished products and product components. Xyngular looks to enhance its MRP and planning capabilities – which are mainly carried out on spreadsheets – over the next few years.
"We definitely don't want to backorder – that is the deadly sin in our business," he adds. "We typically carry three to four months of inventory and never fall below one month of safety stock – at that point we will jump on the phone with our vendors."
Carter says he is proud of the way Xyngular's supply chain team has pulled together to improve the way it sources products. "My team members are the ones who make this all happen; without them, there are no communications with vendors," he adds. "We receive a lot of positive comments from vendors about our team. We pride ourselves on being a true partner."