Allegis Global Solutions leads the global staffing market by offering software and services that others cannot.
By Jim Harris, Senior Editor at Knighthouse Publishing
Allegis Global Solutions (AGS) continues to solidify its position at the top of its market by developing cutting-edge solutions to its clients. "We have built processes and technologies that are absolutely unique in the industry," says Matt Fringeli, AGS' global director of supply chain management.
The global talent solutions provider specializes in managed services provider (MSP) and recruitment process outsourcing (RPO) services, which it offers to companies in more than 62 countries. "As a leader in the industry, AGS' global capabilities set us apart along with the tenure of our leadership, who are AGS-grown and experienced via the changes throughout the growth of our company," he adds.
The company's RPO offerings involve its acting as an extension of its clients' existing talent recruitment and talent acquisition organizations or serving as an outsourced provider of those services. AGS' MSP services include managing clients' procurement of non-full-time employees.
AGS' customers are involved in several industries including technology, transportation, financial services, industrial, hospitality, healthcare, insurance, information technology, retail, aerospace/defense, life sciences/biotech, energy, telecommunications, automotive, education, manufacturing, utilities, oil and gas, medical devices and chemicals.
"[Research firm] Everest Group reports that buyers indicated that AGS' flexibility, responsiveness and professionalism of its account leadership is one of its key strengths," Fringeli says. "Our customers expect best-in-class, and AGS takes pride in delivering just that."
Dynamic Sourcing
AGS currently manages more than 100 MSP programs since launching its first MSP in 2002. Once it is hired by a company to manage contingent talent recruitment, AGS will implement a vendor management system (VMS) at its clients' sites. "We are technology agnostic," Fringeli says. "We will use whichever system a client wants to use and will partner with [VMS] providers to set up their program." The VMS is the entry point for all contingent labor requirements at every client site.
After an MSP program is up and running, AGS will manage its clients' contingent and contract labor hiring processes from beginning to end. AGS' clients rely on it to deliver top quality talent through the MSP program. To support this, the company has built a supplier recommendation tool called Dynamic Sourcing Model (DSM). "Developed and implemented by our supply chain management team, DSM is a sophisticated sourcing strategy that matches our clients with best-in-class suppliers based on client-specific value drivers at any given point in their business life cycle," AGS says.
Hiring managers at AGS' client sites will login to the VMS and submit the position they are hiring for, then the VMS provides an estimated salary range for that position. Following an approval process, the position will be released to a network of staffing suppliers managed by AGS. Staffing agencies can submit candidates for the position to the hiring manager, who works with AGS to look at resumes and screen candidates because conducting interviews.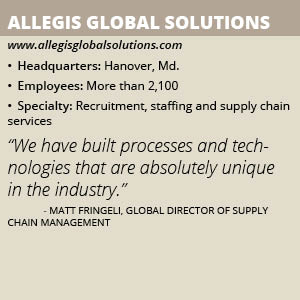 "There are tens of thousands of staffing suppliers out there. With that amount of volume, our clients want to know who they should be working with and who the best suppliers are and why they are the best," Fringeli says. "My team's job is to manage the supplier list and the overall relationships we have with suppliers and score and measure them from one MSP program to the next."
AGS uses another process called targeted distribution, a methodology that creates the most optimal distribution list for a lean supply chain utilizing performance data to align suppliers to specific locations and skill sets.
"Through targeted distribution, suppliers can focus on the areas in which they excel," the company says. "Instead of receiving roles they are not skilled in – resulting in an influx of off-target resumes that both AGS and clients have to weed through – this strategy allows suppliers to staff in their sweet spot."
AGS has service-level agreements in place with many of its suppliers that require them to submit a candidate within 48 hours. The company measures metrics such as cost, quality and speed. AGS coaches underperforming staffing agencies and learns why they are facing challenges.
"Metrics help us paint a picture of who our best suppliers are, as well as the ones who are hitting challenges," Fringeli says. "We can then show the client where they are getting value and where they are not."
Strategic Partnerships
AGS has relationships with more than 3,000 active staffing agencies. Of those, the company has a select number of strategic partners who represent the top 1 percent of staffing firms it works with around the world. The company selects strategic partners based on the criteria measured in its Dynamic Sourcing Model. "We measure suppliers on the impact they have on our programs based on the highest levels of quality volume they do with us and our programs, as well as how easy they are for us to work with," Fringeli says.
One of AGS' strategic partners is US Tech Solutions, a certified minority business enterprise that supports the company in many areas of contingent labor staffing and workforce solutions.
"Fringeli's team is critical to the success of our partnership. As an AGS strategic award winner, we rely on his team to understand the landscape of AGS's program and client portfolio," US Tech Solutions Senior Vice President Tim Bogan says. "[Fringeli's] supply chain management group has its finger on the pulse of AGS's clients and what is needed to meet and exceed the clients expectations. Strategic vision, partnering with the right supplier partners and proven creditability is imperative in MSP supply chain innovation. AGS understands this and puts it into practice.
"Fringeli's supply chain management group not only strategizes with contingent labor supply partners for short-term MSP goals but has the vision to execute on long-term MSP supply chain innovation," Bogan says. "The supply chain management group covers all aspects of SCM with the end goal of providing the best talent to the client at the right time."
Powerful Systems
AGS relies heavily on data to recommend supplier recommendations to its customers. Much of this data is derived from ACUMEN, the company's proprietary business intelligence platform, which it launched in 2016.
The platform is designed to provide AGS' clients, suppliers and program leaders with the ability to monitor key performance indicators. ACUMEN uses several distinct dashboards – including executive overview, spend, assignments, activity, quality, cost, speed and supplier comparison – to give clients insights into data, trends and program health. The platform includes data points on more than 5,000 suppliers.
ACUMEN's benefits include comparative analytics, performance benchmarking, daily access to data and data quality. Data is secured with state-of-the-art technology via a secure third-party hosted infrastructure as well as frequent vulnerability scans.
The company also recently introduced QUANTUM, a proprietary workforce acquisition methodology that serves as a bolt-on to the ACUMEN and clients' VMS systems. The system allows AGS to proactively manage contractors who are coming off of a recent assignment by aggregating several talent pools and leveraging artificial intelligence.
"When a person finishes a project, most of the time they are going back to the staffing agency, which may not have full visibility into other positions the company has available," Fringeli says. "QUANTUM looks across the open positions the customer has open and sees if there is a position opening up soon for the contractor.
"An AGS talent advisor on our team will see if there is a match between an existing contractor and a position that is about to be open at the same company. Then, will have someone engage the manager who has a role opening up and present a candidate to them and ask if they would like to speak to them," he adds. "[QUANTUM] is another means for companies to utilize the available talent they have at their fingertips that they don't know about and make matches."
QUANTUM also allows AGS' strategic partners to upload available talent into a cloud environment. The platform's AI then determines if there is a match between talent the cloud and an open role in any of AGS' client companies. The AI can search, match and rank talent. "At that point, an AGS talent advisor looks at the matches and rankings and further qualifies them," Fringeli says. "[The advisor] would then engage with a supervisor and supplier and ask if they want to talk to the talent and push the process from there."
Goals Achieved
AGS' technologies and methodologies allow its clients to reduce their cost of labor and get talent to their clients faster. One of the company's clients, a financial services company, was experiencing issues finding and retaining increased attrition, time-to-fill, time-to-start and first-time response from suppliers, specifically in the IT space.
"While AGS recommended using targeted distribution for several quarters, due to strategic relationships, our client was initially resistant to implement this strategy," the company says. "However, given the existing trends and AGS' proven strategic partnership, our client decided to implement our targeted distribution recommendations in 2017."
The client initially started with 40-plus suppliers. AGS' supply chain management team conducted several supplier performance reviews including key performance indicators around starts, submittal-to-interview ratios, quality of candidates, partnership with the team, ability to follow rules of engagement, quarter-over-quarter trending of submittals and submittal-to-start time.
"After the reviews, AGS was able to reduce our client's IT supply chain down to 22 suppliers divided into four primary distribution groups ranked top to bottom," the company says.
No more than 16 suppliers received requisitions for the highest volume roles, while roles with lower volume headcount were only released to five suppliers.
"From a visibility standpoint, AGS' program office and supply chain management team met weekly to review data and drive recommendations during the initial review process," AGS adds. "After our preliminary recommendations, we continued to meet with our client frequently to review and break down each suppliers' performance line by line to further understand their history with the client, diversity status and overall relationships."
AGS' client quickly realized various program improvements after downsizing its IT supply chain through targeted distribution. "With significant developments achieved in two quarters and steady enhancements continuing to happen through quarter three, we helped our client achieve reduced attrition from 34.3 percent to 17.7 percent over the year, and decreased time-to-fill from almost 26 days to less than 20 days," the company says.
The client also dropped its average time-to-start from more than 46 to less than 39 days, improved first-time response to .28 days from 1.14 days and drove significant cost savings through bill-rate adjustments, it adds.
Ready for the Future
Fringeli has been in his current role since last August, and has worked in staffing and recruitment positions within Allegis Global Solutions for more than 15 years. His most recent achievements include building the company's global supply chain organization (SCM) of more than 30 supply chain analysts and consultants who provide one global strategic vision. This includes mentoring and training the company's leaders.
Fringeli provides thought leadership and customer success case studies highlighting his expertise in the marketplace along with implementing the Dynamic Sourcing Model.
The company is continuing its journey toward greater efficiency and enhanced supplier relationships. "Our core values are open communication, serving others, commitment to excellence and relationships. We use these core values to build our strategy each year," Fringeli says. "To do this, in 2018 our primary focus is on building a high-performance team that strives for extraordinary results while creating opportunities for others, ensuring the highest level of quality in everything we do and transforming the way our clients acquire exceptional talent.
"By focusing on our people, our work and our customers, we are sure we will impact the lives of others by matching great talent to great organizations, preparing us for any future economic state," he adds.