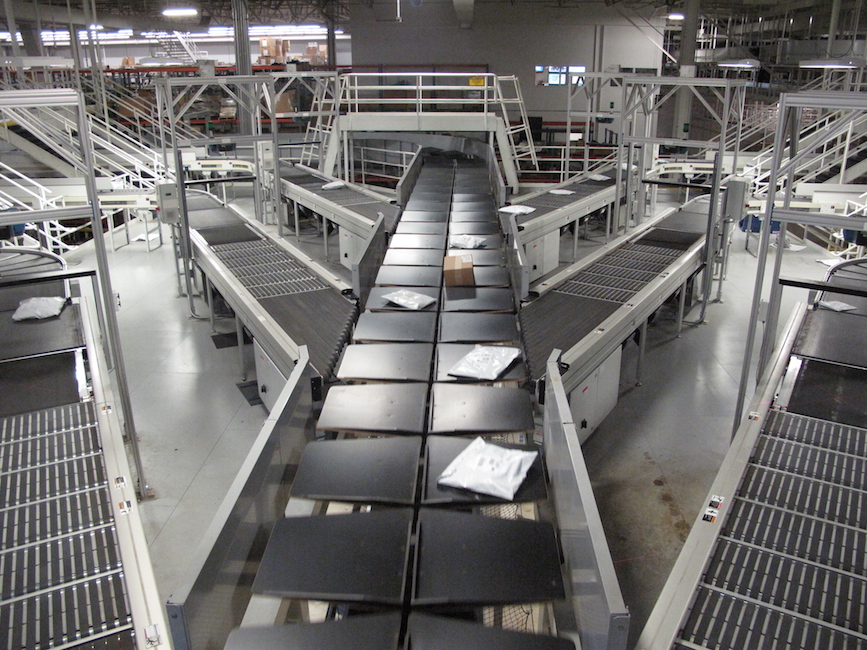 Pyramid works closely with customers to tailor material handling systems and software to their needs.
By Jim Harris, Senior Editor at Knighthouse Media
Pyramid believes in taking a personalized approach to overcoming its clients' material handling obstacles. "We apply a different methodology than a lot of others in our industry," says Gary Cash, vice president of solution development for the Cincinnati-based company. "We believe it's important to get to know our customers, because every solution may not fit every client. We want to facilitate growth in the best way that suits their business."
Pyramid designs and implements customized material handling software and control solutions to a variety of end users, systems integrators, distributors and material handling OEMs. The company provides a broad range of best-in-class warehouse control systems and warehouse execution software that conforms to its customers' requirements and meets the needs of their operation across multiple technologies, products, system platforms and material handling equipment.
"We like to get involved with our customers early in the process to learn what their pain points are, and develop options that will deliver the results they expect," Cash says.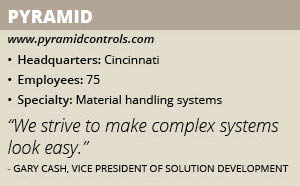 The company follows a defined set of steps to ensure its customers are involved in the system creation process. "They work with us hand-in-hand on the front end of the solution creation process," General Manager Mukesh Ram says. "Our customers are most interested in the integration touchpoints from a systems point of view and how their operations will work. If we don't initially have a clear definition of how the building is supposed to work, the back end system will be incorrect."
The majority of the company's customers are involved in direct-to-consumer sales. The company also works with third-party logistics providers who contract directly with retailers.
System Offerings
Many of Pyramid's partners have worked with the company on multiple projects. "We have built very strong relationships over the years with mechanical partners, consultants and many of our customers," he adds. "Our partners and customers will call us to say they're thinking about making a change in their facilities, but want to talk to us first."
The company offers Pyramid Director, a software system it developed in-house. "[Pyramid Director] is the core of our business," Cash says. "[The software] drives all of the activity occurring in a distribution or fulfillment center."
Pyramid Director is available as a warehouse control system (WCS) and warehouse execution system (WES). The WCS is an operational software that connects and communicates with conveyors, automated storage and retrieval systems and light- and voice-directed picking systems regardless of their brand. The WES is performance optimization software that seamlessly integrates, optimizes, balances, and dynamically manages a distribution center's operations end-to-end. The system can manage inventory, order, labor, transportation and other data from any brand of warehouse management or enterprise resource planning system.
Pyramid also works with a variety of partners to provide conveyor belts, sorting machines and other large pieces of equipment to its customers. "We work with partners to develop a material handling system that provides product flows to achieve the system requirements," Cash says. "One of our advantages is that we are not tied to any particular system. Our goal is to work with our customers to find a solution that works directly for their building."
Leading the Industry
Pyramid is part of Matthews Automation Solutions, a Matthews International company. Matthews International is a publicly traded company that operates in the industrial, brand solutions and memorialization segments. The company employs more than 10,000 employees at more than 100 locations on six continents.
Matthews International continues to acquire companies in the material handling industry. "These acquisitions help us increase the breadth of our offerings by bringing more products into the fold, which allows us to expand our resource base and offer the latest innovations," Cash says.
Pyramid credits its growth and continued success to the experience of its leadership team. Cash has worked in the industry for more than 25 years, and several other members of the supply chain department are similarly tenured. "We have many people who have been here for quite a long time," Cash says. "Our collective knowledge and experience really make us a strong partner, because our organization is constantly developing and improving year after year.
"We have built a conscientious culture that puts customers first, and that has helped us build a positive reputation and knowledge base," he adds. "We strive to make complex systems look easy."