Sonic Manufacturing Technologies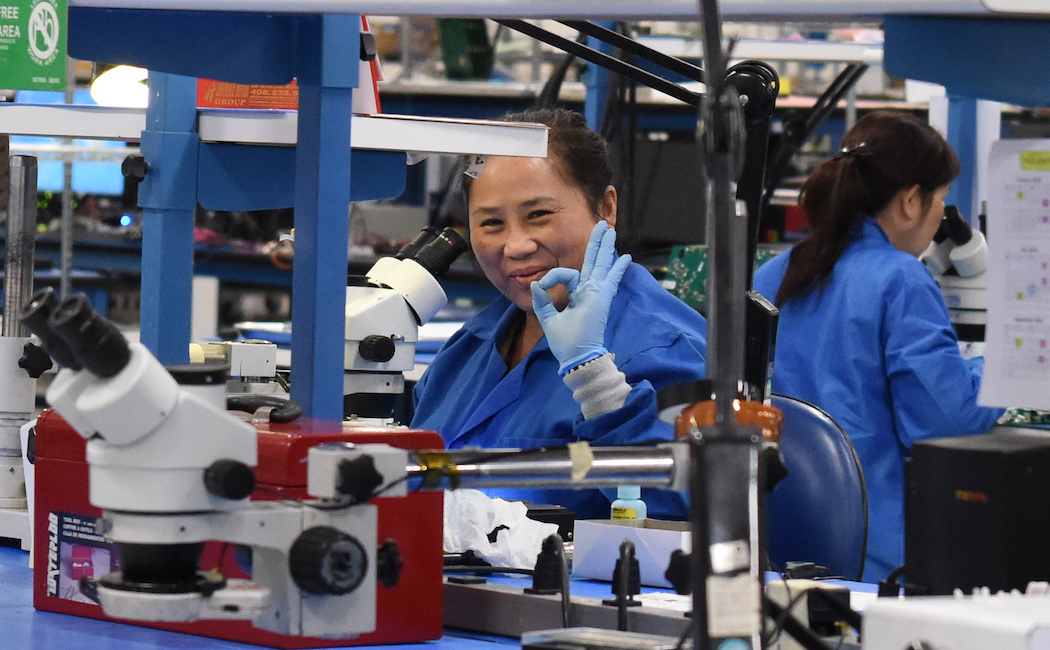 Sonic is 'razor focused' on keeping its clients happy and successful.
By Alan Dorich, Senior Editor at Knighthouse Publishing
For Sonic Manufacturing Technologies, the No. 1 goal is making customers happy and successful. "Everything is so razor focused on that one goal," Vice President of Supply Chain David Ginsberg declares. Regardless of schedule compression or engineering changes, delivering on time is Sonic's highest priority.
In many companies, he notes, the various departments are at odds. For example, financial departments are incentivized to reduce inventory while customer service teams will want to increase it. This leads to conflicting metrics, unaligned processes and therefore frustrated customers. "We don't have misalignment," he asserts.
Instead, all the associates at Sonic are focused on maintaining the optimal processes to get jobs done and keep clients satisfied. "Everything has come around to a counter-intuitive model that is customer focused," Ginsberg says. For example, standard metrics of inventory, capacity and utilization are of secondary importance at Sonic.
Based in the Silicon Valley (Fremont, Calif.), Sonic offers its clients in-house board design, prototyping and new product induction (NPI) through full production in as fast as five to 10 days. Its senior team, he notes, started the company after working in the defense industry and then taking on medical customers at similar quality standards. Now Sonic services over 100 Silicon Valley OEMs.
Today, the company operates from a single, 85,000-square-foot location with nine lines, two shifts and runs on 100 percent solar electricity. "We're pretty environmentally sound," Ginsberg says.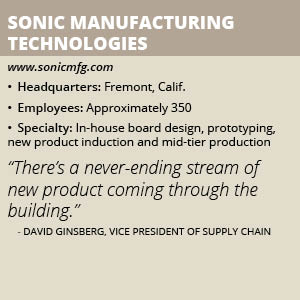 Sonic stands as a leader in its market space thanks to its ability to do prototyping and NPI at its engineering intensive location. "We can work hand-in-hand with engineering and operations, and companies can avoid the extended lead times and travel of going offshore," he says. Many engineers drop off products for design changes on their commute, and pick them up heading in the other direction. Others prefer to work on its floor side by side with its manufacturing and technical teams.
Sonic also serves a broad client base. "We'll take everyone as small as two engineers and a credit card all the way up to the Silicon Valley top 10," he says. "There's a never-ending stream of new product coming through the building. It's exciting to see all the things coming to market over the next few years."
Industry Pioneers
Sonic has pioneered a new business model with the introduction of application program interface (API) technology, Ginsberg says. "In our effort to have a very high service level at a very low cost, we recognized early on that API technology was the way to get there," he says.
One of the advantages of APIs, he notes, is that they automate two-way communications between buyers and sellers. "You can emulate the entire purchasing process between two companies, and generate 100 percent accurate purchase orders automatically," Ginsberg says.
APIs work with one-time prototype builds as well as cost-sensitive production builds. "It makes a good recurring ordering tool once you've located a supplier and negotiated a price," he says, noting that Sonic no longer needs someone to contact the vendor via phone or email on API purchase orders.
"The computer does the repetitive work much better. Human beings are best at sourcing and problem solving."
While 45 percent of Sonic's business is emulated by APIs, "We anticipate going over 50 percent within the year," he says, noting that the ultimate goal is to become 65 percent automated and 35 percent people-based. "There are always supply exceptions that people and their business relationships must solve."
One element that is critical for automated purchasing is having data that is 100 percent accurate. The traditional methods of correcting data via people and keyboards is no longer possible, Ginsberg notes. "A modern database of over a million, or a billion, records and attributes can't be 'typed accurate.' Only the computer can fix the computer. Accuracy must be scripted.
"We saw this coming even at the foundations of Sonic," he says, noting that the company now uses a self-correcting database, which can make changes if prices, lead time or sourcing change and then take accurate MRPs and convert them into accurate APIs. "The speed that this can move at is pretty incredible. This year our goal is to go from raw MRP calculation to picklist in the supplier warehouse in under a minute."
Sonic also has benefited from the use of analytics and metrics, for which Tableau Software is central. "It reads the database directly and formats data into charts and graphs without Excel manipulations," he says. "Since the analytics are from the database, the database must be accurate. An Excel 'fix' is not permitted."
This for example, allows Sonic to view its evolution in the amount of time suppliers have to deliver. Today, is the supply chain perfroms in under three days median delivery, while it was 20 to 30 days a decade ago. "We believe there is no one else placing a million parts a week on three-day median delivery in the United States," Ginsberg says.
The Right Mix
This August, Ginsberg celebrated 20 years at Sonic. "I started with the company a year after the founding," he recalls, noting that he left for five years to do Silicon Valley startups before returning. "I love startups, but the manufacturing for startups, labs and incubators is at Sonic."
Ginsberg says Sonic is well positioned in its market, which is seeing a strong desire for products made in America. "The market is becoming better educated on regional manufacturing," he says. "More product is staying, and more is returning. The added customer benefit is shorter delivery cycles and lower total cost with the corresponding reduction of freight and inventory."
Customers also are interested in how the company can help them avoid post-manufacturing taxes or tariffs they would encounter by using overseas providers. "Silicon Valley and Bay Area customers have come to appreciate us as their regional manufacturer for North America," he says.
Ginsberg sees a strong future for Sonic. "We are growing significantly," he says, "We have the right service mix for the future."