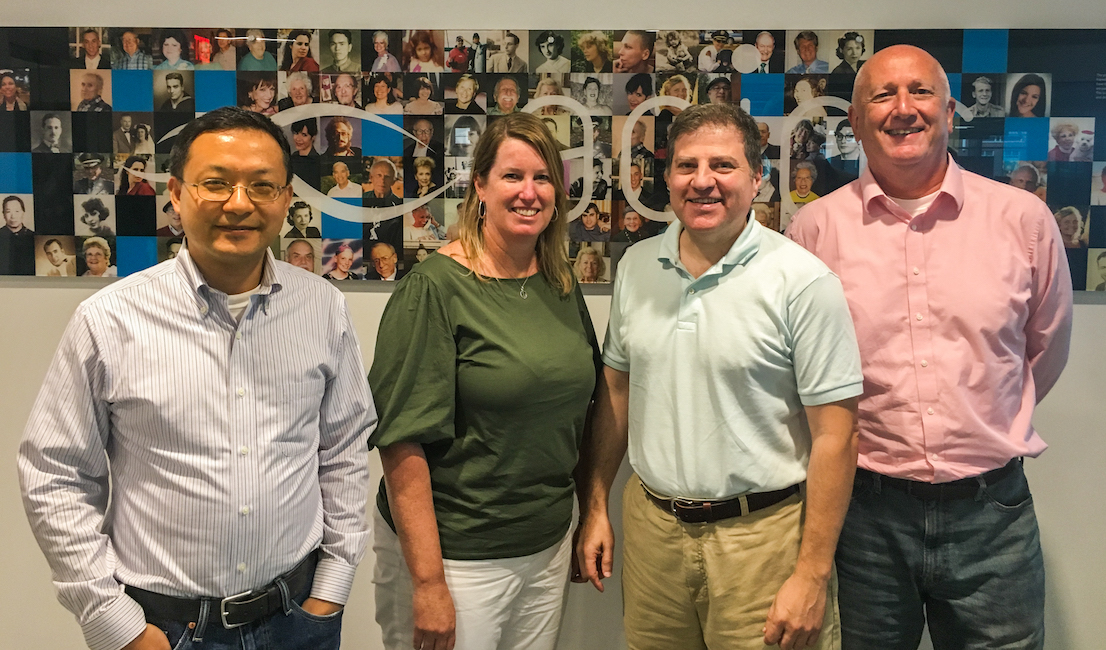 Agios Pharmaceuticals launches its first wholly owned precision medicine, TIBSOVO, in record time thanks to its highly-integrated supply chain.
By Janice Hoppe-Spiers, Senior Editor at Knighthouse Publishing
Agios Pharmaceuticals specializes in applying scientific leadership in the field of cellular metabolism to transform the lives of patients with cancer and rare genetic diseases. In addition to celebrating its 10th anniversary this year, Agios achieved another major milestone in July when it received FDA approval on TIBSOVO, the biopharmaceutical company's first wholly owned drug, and its second approved medicine from its internal research program within the last year.
TIBSOVO is used for the treatment of adult patients with relapsed or refractory acute myeloid leukemia (R/R AML) with a susceptible isocitrate dehydrogenase-1 mutation as detected by an FDA approved test. It is an oral, targeted inhibitor of the IDH1 enzyme, and the first and only FDA approved therapy for patients with R/R AML and an IDH1 mutation.
Upon FDA approval, Agios' philosophy was to make TIBSOVO available to patients as soon as it possibly could. "Typically, companies target launching a new therapy within 48 hours of approval. However, if not planned well, launch may not take place for a number of weeks or even months after approval," says Dr. Clive Patience, senior vice president of technical operations. "We were able to launch our life-saving medicine just nine hours after FDA approval, which was a remarkable feat that required extensive preparation, and seamless coordination, between the staff in our quality, supply chain, and chemistry manufacturing & controls (CMC) personnel."
The challenges of launching soon after approval are not the only ones that are present in the precision medicine space. There has been a fundamental shift in the pharmaceutical industry to reduce the time period from first-in-human trial to approval. "Typically, a new pharmaceutical takes seven to 10 years to be approved and launched," says Dr. ChongHui Gu, vice president of CMC. "But there is a new trend where the time is much shorter for precision medicines. Our first medicine, IDHIFA, took about four years from first-in-human trial to launch and TIBSOVO was about four-and-a-half years."
The reduction in time places significant challenges on the supply chain to be ready quickly from first human exposure to supplying a commercial product. "For Agios, part of that includes selecting the best suppliers, and that's been critical to us," says Franco Pasquale, supply chain lead. "It takes two years to produce the product from ordering raw materials, and the only way we can do that successfully is by selecting the best partners and doing a lot of planning."
Hands-On Production
With its currently approved therapies being in the precision medicine space, Agios is a low volume, high-value producer. For TIBSOVO, the supply chain spans three continents and five suppliers. "It's a white glove, high-touch environment," Pasquale says. "It takes a lot of manpower to produce one batch, and we focus on security of supply chain and ensuring uninterrupted supply. As an example, we have successfully implemented serialization such that each individual unit of sale has its own unique serial code so that its identity can be confirmed. That's just one of the number of things we do to ensure security of the supply. Our customers are patients; A single one not having their therapy available to them would be catastrophic."
Agios partners with suppliers who have a strong compliance record, as well as science and technology capabilities. The company establishes quality metrics that each of its suppliers must meet and monitors those quality attributes to ensure its medicine is manufactured in a consistent way.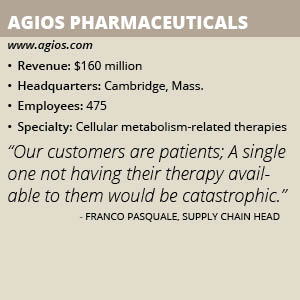 One of Agios' challenges as a low-volume producer is maintaining relationships with and training its contract manufacturing organizations (CMOs). "In certain cases, we are talking about producing one batch every year or two," Patience says. "Scientists and other personnel are on-site when critical operations are going on, which allows us to interact with the CMO operators, observe the process, as well as develop relationships and value. We have transparent conversations about the good, bad and ugly, which is critical because our CMOs also want to make a high-quality compliant product that is perfect for the patient's needs. We have real transparency and honesty and build relationships on trust."
"We are on-site during many manufacturing campaigns to provide technical and quality oversight which helps ensure we have strong collaboration with suppliers. We also meet with our suppliers on an ongoing basis to discuss quality metrics and compliance," says Sue Murray, vice president of quality. "If issues come up, we want them to be very comfortable reaching out to us. To that end, we invest significant time and energy in developing trusting relationships with our suppliers, and we find those relationships are very helpful in allowing us to move high quality, safe product quickly throughout the supply chain and ultimately to our patients."
Prepared to Launch
Agios was able to pull off a remarkably fast launch after the FDA approved TIBSOVO because of its supply chain coordination. "What we did was extraordinary," Pasquale says. "We started preparing two years before the anticipated approval of the product – we are talking about a 600-plus line project and breaking down the first 12 hours into 75 activities."
In preparation of the launch, Agios printed multiple labels depending on what it expected the FDA to approve. "We did things that most companies would not consider doing because we were able to mitigate the risks," Pasquale admits. "We worked with our vendors to print multiple labels and quality provided oversight to make sure that was done well, which provided us a huge advantage. Quality, CMC and supply chain had been working together for two years and went through a mock launch, which helped build teamwork and mitigate issues on the day of approval so we would have a flawless execution."
"The teamwork was incredible at Agios and with our supply chain partners, which made this possible," Murray adds. "We established a flexible quality system with appropriate controls that allowed us to perform some launch activities well ahead of them being needed. It was a really exciting day for Agios and very gratifying to see how the team's excellent planning, hard work and dedication allowed us to get product to patients so quickly after approval."
Achieving the extraordinary launch time was cause for celebration, but Patience says the realization of what Agios had just pulled off really hit home about a day after the launch. "We had a physician forward us a communication from a doctor who was thanking us for getting the product to the marketplace because up until the day of our approval they had a patient who had no therapy available, but now they could phone the patient and tell them there was now therapy for their life-threatening condition," he remembers. "That's what really makes it worthwhile for everyone and all the teams that work so hard here for so many years. And ultimately it does make an extraordinary difference launching in eight hours versus 48 hours, because there are real patients and their real families at the end of our supply chain depending on us."
Agios believes in sharing patients' stories with its staff regularly to motivate and help them connect with patients who are in dire need of therapy. "It gives us a purpose for what we do and why we come to work every day," Murray says.
Over the past 10 years, Agios has grown from a research company of less than 50 people with no commercial medicines to a staff of about 475 and launching two commercial projects in less than one year. As the company continues to mature, the complexity of development activities and the global nature of commercial activities will put pressure on it to adapt.
"The challenge is that the entire drug development process is one of uncertainty and risk," Patience says. "We are always balancing how much time and money can we afford to invest in the product when we don't have data for in-hand that says it's ever going to work. The challenge we will always face is how can we be ready to go quickly; and that puts an awful amount of burden on the CMO network who themselves plan to use their facilities efficiently, so we have to plan accordingly. Ultimately, it all boils down to doing what's right for patients, and we can do that by establishing truly mutually beneficial relationships with a small network of highly-skilled and like-minded CMOs. After all, without each other, we both fail. Patients do not deserve for that to ever happen."