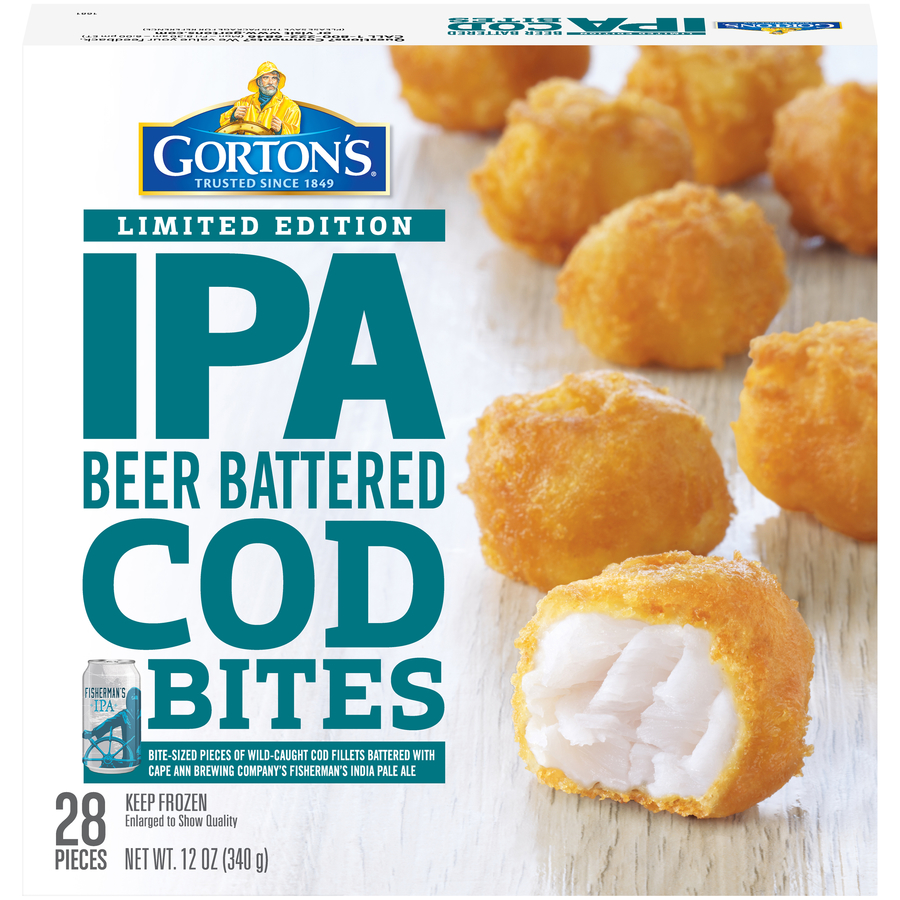 Gorton's Seafood enhances its supply chain as it continues to innovate to deliver the highest-quality products to market faster and more efficiently.
By Janice Hoppe-Spiers, Senior Editor at Knighthouse Publishing
For nearly 170 years, Gorton's Seafood sourcing the highest-quality seafood in Gloucester, Mass., America's oldest seaport and the birthplace of the United States fishing industry. The company is one of the most recognized brands in the country as America has been putting its trust in the Gorton's Fisherman for decades before its beloved jingle first appeared in 1975.
Gorton's got its start by setting sail in the Atlantic Ocean with company-owned schooners, fishing for cod and mackerel, and salt-curing them on board. As industry pioneers with a thirst for innovation, Gorton's was the first to develop a frozen convenience food in 1944 when it launched the frozen fish steak. "Now we are exclusively in frozen seafood," Director of Purchasing Greg Jeffers says. "We offer a variety of products from different species and we want to provide a variety of healthy, nutritious seafood to customers."
Today, Gorton's offers lines of delicious classics, smart solutions, everyday gourmet and crowd pleasers. The delicious classics are the company's "greatest hits," such as frozen fish fillets and fish sticks. Smart solutions are expertly seasoned, lighter options while everyday gourmet features chef-inspired, flavorful recipes. Its new line of crowd pleasers includes bites, appetizers and munchies that allow consumers to enjoy Gorton's anytime.
"The number and scope of different product offerings, as well as customers and business channels has increased," Jeffers says. "People want different and new products all the time, so we are offering limited time assortments and customization based on customers' needs. It's no longer the age of one-size-fits-all, so we do a lot more innovation, research and development, and more tailored tastes to the customer and retailer. Those are always changing and it's a much more complex world as far as producing products and sourcing materials needed. We are producing far more items and thus sourcing far more items than we were five to 10 years ago."
Innovative Growth
Gorton's has significantly increased its total number of items over the past five years as it strives to meet the needs of consumers who are focused on nutrition claims, local flavors and the slow food movement. As a result, Gorton's supply chain has become much more complex. "The sheer magnitude of producing more products and more innovations often results in a greater complexity, lead time challenges and potentially increased cost," Jeffers explains.
As the company continues to innovate, the supply chain looks to reduce lead times, become more efficient and drive cost savings to remain competitive. "We have chosen to become very tied in with our supplier and partner networks," Jeffers says. "Those partnerships are incredibly important."
Gorton's brings its partners in earlier in the process when it comes to innovation instead of at the end of development asking its supplier partners to meet its requirements. "We develop our line of products with their input so they jive with their core competencies to allow us to get to market faster and more effectively," Jeffers explains. "The speed and turn to market is so different as products are expected to be done better, faster and more cost-effectively."
Gorton's prides itself on having a long, rich history with many of its supply partners. "We tend to be dedicated to partners that are dedicated to us," Jeffers notes. "Our world of innovation, development and product mix does take us into new areas and new supply chains. We rely heavily on the long-standing partnerships with those who understand Gorton's business, but we do have a combination of both new and familiar suppliers."
As the company continues to grow and change, so must its suppliers. "Sometimes the older things get and the longer partnerships have been, it becomes difficult to change and evolve," Jeffers admits. "It's a challenge for the entire supply chain."
Smart Sourcing
As Gorton's seeks out the freshest, tastiest seafood anywhere, it does so by minimizing its environmental impact, raising the bar for the seafood industry and protecting global resources for future generations. "In all we do at Gorton's, there is an undercurrent of responsibility and deep respect for the environment – starting in the deepest oceans where we find our seafood and ending wherever you eat dinner," the company says.
Gorton's Trusted Catch? program goes beyond certification, utilizing the latest in scientific data and best practices to ensure that its seafood is sourced responsibly today and for the future. The company's seafood is fully traceable to the source. Nearly all of its products are made with wild-caught fish from the waters of Alaska, the Barents and Bering Seas and the North Pacific Ocean, and sourced from fisheries certified as sustainable by credible third parties recognized by the Global Sustainable Seafood Initiative (GSSI), such as the Marine Stewardship Council.
"We have strict specifications and requirements our suppliers must adhere to in order to prove they are meeting our traceability, sustainability and supply chain visibility policies," Jeffers says. "Today's consumer wants greater traceability – they want to know what boat it was caught on and what day, and the name of the captain, etc. It goes beyond sustainability and visibility as consumers have new expectations of product information at their fingertips when they are considering a purchase. That information has to be driven through the supply chain and vetted. That's on us and that's what we do."
Technology plays a huge role in the collection of data that needs to be communicated. Gorton's supply chain not only implements technology for data, documentation, information gathering and sharing, but also for its vendor management programs. "We try to be transparent with our needs to drive their production and take out things that could bog the process down," Jeffers adds.
Culture of Quality
As much as Gorton's wants its products to taste good, be nutritious and for people to love them, its products have to be safe. "Food safety is priority No. 1 and we take quality extremely seriously from the raw material to the finished product," Jeffers says. "We have some of the most stringent requirements for incoming and finished product in the industry. It's too important for our business and our customers to not have safe products."
Gorton's goes above and beyond government requirements when it comes to the quality of its seafood. "If something comes in and fails our rgorous inspection we simply don't buy it – we won't go out and buy material first, inspect second and then figure out what to do with it if there is a problem," Jeffers explains. "We don't do business with people who can't meet our quality standards, so there is some risk there if you are a supplier. There are some suppliers out there who might be reluctant to do business with us because they find our specs or quality requirements too difficult to achieve or risky to try and achieve."
Gorton's prides itself on its experienced quality assurance and supply chain teams. "The purchasing function of our supply chain consists of a small group of seven people, a mix of buyers and business support personnel," Jeffers says. "For all the components and magnitude of things we procure, we are a pretty small group, but we have a lot of experience, including some with more than 30 years here. At Gorton's, it's not uncommon for people to say with the company for 30 years or more. Additionally, most of the buyers in our purchasing group have worked in other areas of the company prior to moving into the purchasing department. That cross-functional experience helps them understand the business more holistically."
"Their dedication to the company and helping Gorton's provide the highest-quality and tastiest seafood to consumers is what I'm most proud of," he continues. "We take pride in our work and the environment. The feeling here is you are involved in projects from beginning to end, and every step along the way. Everyone is an integral part of the whole company and it's a great place to work because there's a truly comfortable family feel here. Everyone helps drive decisions as key contributors to the business."
An Evolving Supply Chain
The biggest challenge for Gorton's supply chain today centers around cost. "It's becoming so much more of a global economy and supply chain, and with that comes complexity and cost concerns," Jeffers says. "We will have to evolve and find ways to do things more efficiently and more quickly."
"The consumer wants something nowadays that naturally should be more expensive because it's sustainable, traceable and all these things that add cost to the product," Jeffers explains. "But the challenge most consumer packaged goods companies face is delivering high-quality products at lower cost. We need to figure out ways to drive out cost and inefficiencies while asking for more, so the supply chain will have to evolve in a way that delivers. Strong partnerships are a huge part of that evolution."
Moving forward, and as things require change on an almost daily basis, Gorton's will continue to become more innovative in its operational and supply chain strategy. Part of that strategy is to continue to look for partners who are willing to innovate and adapt themselves to provide synergy rather than maintaining the status quo.
"Those capable of identifying ways they can evolve to become like us – faster, nimble and more adaptable to a changing environment – those are the companies that will make it," Jeffers adds. "What worked yesterday rarely solves today's difficulties and certainly the future will continue to bring new challenges."