Giant Eagle uses technology to enhance its supply chain and improve optimization and efficiency.
By Kat Zeman, Senior Editor at Knighthouse Publishing
Integrating new technology into existing operations can help increase customer satisfaction, reduce operating costs and streamline supply chains. People no longer use technology. They live it.
As a result, consumers are more demanding in today's tech-savvy world. They want the latest technology and they want it yesterday.
"With the explosion of technology and AI, it's really coming at us at a really rapid pace," says Joseph Hurley, senior vice president of supply chain at Giant Eagle. "From the supply chain side, it's evolving very quickly because our customers' needs are changing."
Pittsburgh-based Giant Eagle operates more than 400 supermarkets and convenience stores in Pennsylvania, Ohio, West Virginia, Indiana and Maryland. They range in size from 120,000 square-foot supermarkets to small neighborhood markets and fuel and convenience stores.
Like most logistics management professionals, Hurley aims for supply chain optimization and efficiency and seeks to reduce overhead, speed up delivery and increase overall satisfaction for the customer.
"What type of automation do we want to employ to improve customer service?" asks Hurley. "How can we employ AI to better schedule and procure goods for inventory? And how can we utilize everything to increase safety and traceability?"
Evolving The Chain
Giant Eagle has been very proactive when it comes to employee technology in its supply chain and overall operations.
To increase safety, the company has instituted cameras for its entire commercial fleet. "It helps us understand situations much better while protecting our driver and company while greatly improving our commercial fleet safety record," Hurley says.
On the material handling side, Giant Eagle uses fully-automated vision guided vehicles to haul pallets through its distribution centers. The vehicles coexist with the company's workforce to improve productivity related to pallets per-hour put away.
They can also handle loads that range from a few pounds to tens of thousands of pounds, transporting materials securely, ensuring accurate delivery, eliminating human error and reducing product damage.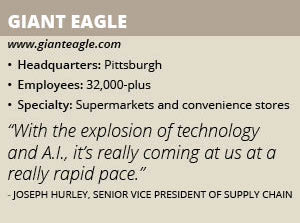 In addition, Giant Eagle partnered with a company called Dematic to incorporate a multi-shuttle system with an automated palletizer and stretch wrapping. This material handling solution enables the company to make substantial efficiency savings in the way that it handles and stores totes destined for outbound deliveries to its retail outlets.
"Inventory is like blood," Hurley says. "It's only good when it's moving." Being a food retailer presents some industry-specific challenges with inventory management.
Giant Eagle is known for running weekly specials and advertisements for products. That creates peaks in inventory and a need for a spot-on forecast system to avoid running out of product or having too much of it.
"But our data integrity and being closely connected to the suppliers and distribution centers ensures a spot-on forecast," Hurley says. "We know what's going to happen and the amount we'll need."
Growing Expectations
Aside from inhouse improvements to the supply chain, Giant Eagle has also made a number of enhancements that are visible to consumers.
It introduced a curbside pickup and home delivery program in 2016. To date, the curbside express is available to customers in 64+ of the company's locations. Forty-nine out of the 64 locations offer home delivery.
"The home delivery request are growing," Hurley says. "So, we need to figure out the best solution to service the end customer on the last mile journey."
In addition, Giant Eagle rolled out a new app platform earlier this year. It's available for the company's Market District, Giant Eagle and GetGo banners. Among other uses, Consumers can use it to place mobile food orders at GetGo, purchase and download electronic retailer gift cards and to check loyalty and rewards earnings.
"Customer expectations are growing," Hurley says. "Customers want more options. They want to use their handheld devices. They want transparency. We have to create different capabilities within the supply chain to make sure the customer gets the product when they want it, at the right price and at the right time."
Giant Eagle, Inc. is one of the nation's largest multi-format food, fuel and pharmacy retailers with roughly 32,000 employees and $8.9 billion in annual sales. Founded in 1931, Giant Eagle has grown to be the number one retailer in the region with more than 400 corporate and independently-owned and operated supermarkets and fuel and convenience stores throughout western Pennsylvania, Ohio, north central West Virginia, western Maryland and Indiana.