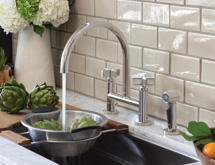 One word perhaps best defines the supply chain and overall operations of Kohler Co.: diversity.
Although the Kohler, Wis.-based manufacturer, founded in 1873, is perhaps most well known to retailers and consumers for its kitchen and bath fixtures, the company's portfolio extends to every part of the home and beyond. In addition to its internationally recognized kitchen and bath brands, the company operates three other business units:
A global power group that dates back to the company's development of a cast iron gas engine used to power the world's first engine-driven electrical generator in the early 1920s. The group today provides power systems including generators, automatic transfer switches, monitoring controls and accessories to the residential, industrial and marine markets and manufactures gasoline and diesel engines for the lawn and garden and construction markets;
An interiors group – composed of the Baker, McGuire, Ann Sacks and Kallista brands – which offers furniture, tiles and other products; and
Kohler's hospitality and real estate group, which is comprised of work and living communities and golf resorts.
Providing all of these units and their customers with the products they need on a timely basis is a challenge Vice President of Supply Chain and Operations Support Steve Cassady says the company is more than ready to face.
"Kohler's supply chain delivers the most innovative products in our various industries to diverse customer-defined lead times year after year," he says. Cassady, a seven-and-a-half-year veteran of the company, oversees the supply chain operations of all four business units. Before being promoted to his current role in 2012, Cassady served as the company's director of global procurement, among other roles.
One Model, Many Markets
Although product segmentation and market service requirements differ among Kohler's four business units, the company applies a core supply chain model across all of its markets. The model, based on the supply chain operations reference (SCOR), is a cross-industry diagnostic tool developed in the late 1990s to address, improve and communicate supply chain management practices among manufacturers, suppliers and other stakeholders.
The company uses an Enterprise Resource Planning (ERP) software as the backbone of its supply chain operation. "We have configured each supply chain to execute consistently day in and day out utilizing the ERP software's planning capability and the execution tools," Cassady says.
Most of Kohler's products are supplied to end-markets including retailers and dealers. The company's global power group also serves OEMs, which pick up engines and other products used in their own product lines directly from manufacturing facilities, he adds.
Kohler's supply chain operation has evolved over the years from an internal focus, primarily on manufacturing and logistics cost management, where the company "pushed" product into distribution, to a customer integrated pull system – valuing even more their OEM and distributor relationships. This includes working with customers to develop demand planning and other tools to forecast supply needs.
In addition to the SCOR model, Kohler in recent years has implemented collaborative planning, forecasting and replenishment (CPFR) practices. The CPFR model seeks to combine the knowledge of multiple trading partners in planning and fulfillment.
Kohler's emphasis on standardized supply chain practices and collaboration with clients is a great source of pride for Cassady.
"At the end of the day, although we do have the most innovative products in the industry, it all boils down to being able to deliver what the customer wants, where they want and in the quantity they want it," he explains. "We've worked hard to build standards across all of our businesses and monitor performance on a regular basis."
A Unified Effort
Kohler operates more than 50 manufacturing facilities and offices on six continents, and employs more than 30,000 associates around the world. "By and large, we produce within the countries we serve, but are able to utilize our production capacity around the world to provide the best cost solutions to our customers," Cassady adds.
The company owns a private fleet of trucks to ship products from its distribution centers in addition to partnering with third-party logistics (3PL) providers. Kohler's 3PL and other supply partners are a critical part of the company's efforts. "We would not be able to hit a high level of service to our customers if our suppliers weren't making the same improvements and efforts we are," Cassady says.
Key partners include Jacobson Companies, a 3PL provider that operates a Kohler distribution center in the south-central United States, logistics provider Expeditors International and packaging supplier International Paper. "We're pleased to have developed longstanding relationships with all three of those companies," he adds.
Staying Innovative
Kohler leverages its supply chain to bring to market many of the most innovative products available in the industries it serves. The company's newest products include:
The Numi Toilet, launched in 2011, is "a smart toilet that celebrates the most technologically inspired experience in personal convenience," the company says. Features include bidet functionality, a built-in music system and heated seat and foot warmer.
The Moxie Showerhead, launched in 2012, is an easy-to-install showerhead with a Bluetooth-enable waterproof speaker that syncs with smartphones and MP3 players.
The Kohler KDI diesel engine, launched in 2011 and developed in collaboration with Italian affiliate company Lombardini, is the company's newest Tier 4 Final emission compliant heavy-duty diesel engine.
The Command PRO EFI propane engine, launched in 2012, "combines the company's closed-loop electronic fuel injection (EFI) technology with the benefits of propane to aid lowering the overall cost to landscape contractors and other green industry professionals," Kohler says. Features include an oxygen sensor and fuel-efficient design.
In addition, Kohler's hospitality and real estate division in 2012 introduced the Sandhill Cabin, a secluded private cabin on more than 350 acres near the company's American Club Resort in Wisconsin. ­­­