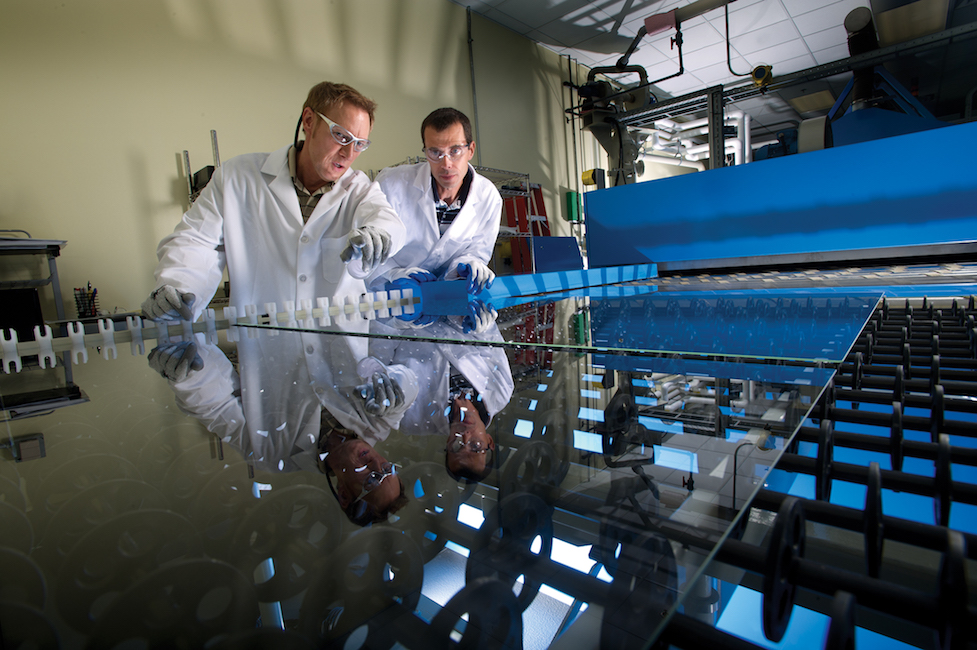 Corning Incorporated is transforming its global supply chain through innovative solutions.
By Kat Zeman, Senior Editor at Knighthouse Publishing
Driven by a desire to create a better experience for its customers and partners, Corning Incorporated is transforming its global supply chain.
Corning is a multinational technology company that specializes in specialty glass, ceramics and related materials and technologies including advanced optics, primarily for industrial and scientific applications.
When it comes to materials science technology, Corning believes that customers' decisions to purchase products and solutions are often influenced by the strength of a company's supply chain and the character of its supply chain professionals. Its customers value suppliers that have fast, flexible and reliable supply chains at a competitive cost.
"The traditional viewpoint for reducing the cost of goods is becoming more challenging," says Cheryl Capps, vice president of global supply chain management. "But it's our objective to deliver the most value to our customers."
Corning's global supply management and supply chain organizations are focusing on improving the company's processes and tools to bring new value propositions to its business partners and customers.
"We started by establishing a supply chain council and engaging all of our businesses," Capps says. "We worked with different teams to develop a vision for the future."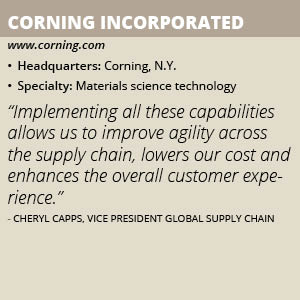 A critical step for transforming its global supply chain was to establish 12 targeted service lines: category management, logistics control tower, contract manufacturing, negotiations, trading, low cost scalable supply chain solutions, value optimization, collaboration hosting, source to pay, quality/compliance, project management and strategy.
Central Hubs
Recognizing the importance of talent, Corning established three supply management service centers, called central hubs, throughout the world: United States, Switzerland and Singapore.
"We use these hubs to give us access to the resources who can enable the global service offerings for all Corning businesses," Capps says.
The company also has regional operating centers in India, Mexico and Hungary. It strives to recruit talented individuals that are forward-thinking and excited to participate in the advancement of its supply chain.
"Our objective is to strategically locate our talent so that we can optimize the equation of leveraging deep supply chain knowledge, providing local support for our businesses partners and reducing the cost of transactional work," Capps adds.
This enables Corning to continue to advance its skills and capabilities while managing its costs.
Digitalization is Key
With its foundation built, Corning is aggressively pursuing the digitalization of its supply chain to capture untapped value. That includes end-to-end visibility, integrated planning tools, comprehensive data platforms, advanced analytics and next generation tools such as 3-D printing and robotic process automation and smart supply chain enablers like Blockchain.
"It is no longer acceptable to be as good as your competition in supply chain," says Scott Robinson, director global supply management programs. "We need to get ahead of them and deliver a competitive advantage for our business partners and customers."
To better tackle its digitalization initiatives, Corning has allied itself with four strategic partners: Elementum, Bristlecone, Aquiire and Trade Shift. Each partner plays a different role in the company's digitalization initiatives.
Elementum, an online platform that unifies procurement, logistics, manufacturing and inventory operations in real time, is instrumental in helping Corning improve supply chain visibility.
Aquiire and Trade Shift specialize in helping companies improve global purchase-to-pay tools. Aquiire, known for its innovative procure-to-pay technology, provides intelligent and intuitive real-time procurement shopping, guided buying, business intelligence and supplier management tools.
Trade Shift helps businesses connect with suppliers digitally, remove paper and manual processes across procure-to-pay, seize early payment discounts to save money and manage supplier risk.
Bristlecone, a premier supply chain advisory firm focused on enabling digitally connected and anti-fragile supply chains, is supporting Corning's innovative data platforms and advanced analytics.
"Implementing all these capabilities allows us to improve agility across the supply chain, lowers our cost and enhances the overall customer experience," Capps says.
Improving Visibility
Leveraging its enhanced resource base and digitalized capabilities, Corning is pursuing new value streams, including a focus on engineering specifications, working the tail of the spend distribution, improving value-to-serve, reducing the overall cost-to-serve and delivering improved agility across the supply chain.
Corning is improving visibility to its costs by product line, customer and location. This enables its supply chain teams to identify opportunities and deliver more value in the overall supply chain.
Although the transformation initiatives enable Corning to optimize its supply chain and remain competitive, they are also beginning to bring significant value to its customers.
For example, the deployment of an end-to-end supply chain visibility solution drastically reduces risk for its customers. Both Corning and its customers now have increased visibility across the supply chain and are able to react quickly when disruptions in the supply chain occur.
A Corning supplier was recently impacted by a flood, but Corning was able to react quickly to ensure continued supply of product to ensure all customer commitments could be met without compromise. The company is also investigating integrated solutions with strategic customers to expand this value further.
"What makes us unique is our investment in our talent, our processes and our technologies," Capps says. "We've invested in all three equally and we would not be as successful had we not implemented that strategy."
Corning says that partnering with its suppliers remains critical. While the company appreciates that there are unfavorable forces at work in the market, it seeks suppliers that are willing to partner to find creative solutions to offset or minimize the unfavorable effects while bringing new value to its supply chain.
"We are on a continuous journey," Robinson says. "While we have made significant advancements in our supply chain, we continue to look forward and pursue innovative solutions to enable a highly competitive supply chain."
Corning was recognized at the World Procurement Awards this year. The company received the Cross Functional Transformation award for developing strong internal relationships.